What's on my iPad: wallpaper, dock, apps and widgets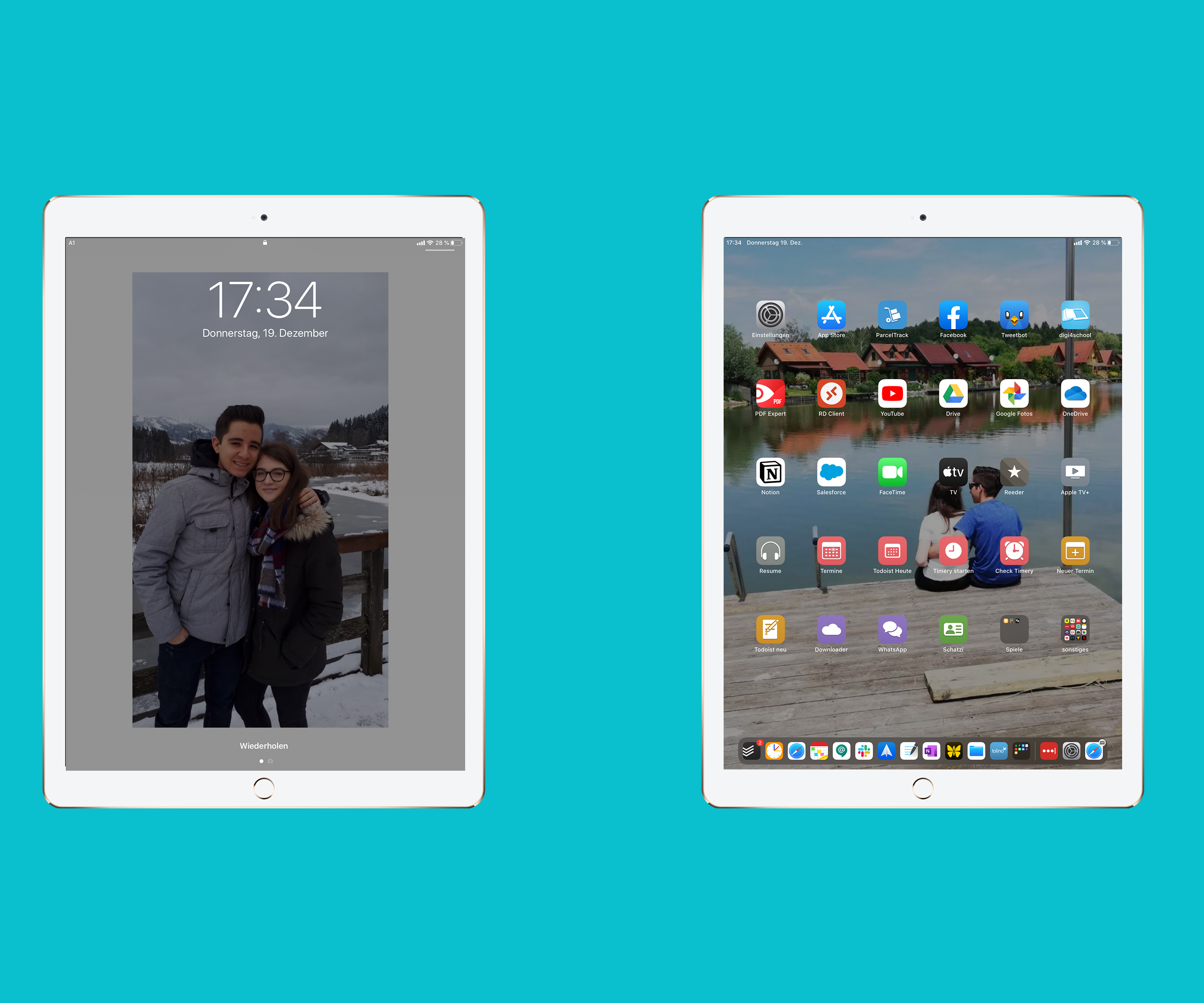 (Post picture: © 2019 TechnikNews )
Appeared some time ago my test report for the iPad Air 3 here TechnikNews. So I thought it would be interesting to show which apps I use.
The iPad has become a very important device for me. I can get almost all of my work done there – wherever I want. In addition, I can get through a day with the battery, even if the runtime has deteriorated since the last update. Unfortunately, the update to iPadOS 13.3 that followed later didn't help much either. The very wide selection of apps always helps me proto be productive. And with Apple Arcade I can now and then easily bridge one or the other train journey.
First of all, a disclaimer: My setup is very special Article from MacStories inspired. Because I found the idea behind it very good, I took it over and adapted it for myself personally. The whole thing was implemented on my iPad Air 3 with Apple Pencil, Smart Keyboard, LTE, 64 gigabytes and iPadOS 13.3.
Wallpaper
I like to use personal photos for my wallpapers, as you saw in my test report on the Apple tablet. On my lock screen I have a picture of my girlfriend and I that was taken a short time ago, while on the home screen I have a photo of us sitting together by a lake. At least for me, this gives me occasional motivational boosts at work and school when I look at my iPad. When I got the device proI also tried pre-installed backgrounds.
Dock
For me, the dock is also the place on the iPad where the apps are, which I use almost every day. On the iPad there is also the fact that there are also apps that I start in split screen or in slide over, since this is the easiest way to do this (and in every app, since the dock can be accessed from anywhere). Here is a short tour from left to right:
My task manager of choice is still T. I stumbled upon the service a good two years ago and have been using it almost every day since then. Most people will probably get by with the free features, but I chose Todoist Premium.
Immediately after that comes Untis. This is the timetable software that my school uses, where I can see all the lessons including substitutions and cancellations. The software even offers a homescreen widget, which unfortunately is only included in the paid version. I didn't want to buy this one.
Safari is next in my dock. Originally, I also used Chrome on the iPad, but with the jump to iPadOS 13, Safari improved a lot. I don't regret the change.
The fourth is seen fantastical, my calendar. All my appointments can be found there, so that I can keep track of things on the iPad. I find the "Natural Language Input" particularly practical, so that you can enter "Dinner with Anna at 18pm" and the date is set correctly.
Google Chat uses the company, where I work part-time, as a chat service. It does what it should SlackI still think it's even better what the app is chatting immediately afterwards. We from TechnikNews chose this app for all communication.
Spark is my mail app of choice. The app is available on pretty much every platform, which I very much welcome as a device tester. Also, I only have to enter my Google account so that all of my email accounts appear on a new device.
It follows GoodNotes. I mainly use this at school in connection with the Apple Pencil for writing notes. I proI would like to use the app in other areas of my life as well.
OneNote I use GoodNotes alongside GoodNotes when it comes to typed notes, as the handwriting recognition and the tools for the Pencil are not as good as in GoodNotes.
Slumbers right next to it Ulysses, a Markdown app I'm currently using TechnikNews-Write articles and other things. I also used time Bear, but I wanted something new probeer Who knows, maybe I'll switch back at some point or protry another app.
Files-App from Apple contains the files of all cloud services that I use. So I have quick access to it if I need something quickly. But then I use the native apps for the individual services to manage the data.
Tolino is the app where I save my ebooks. I can continue reading where I left off on my smartphone or e-reader and download content for offline use. The synchronization doesn't work that fast every now and then, but I've been able to cope with that well so far.
On the far right there is a folder called "Dock Splitscreen". There are apps in it that I mainly start in slide over or in split screen, as this is very easy to do from the dock. This includes, for example:
yoink: Yoink is my clipboard manager for everything, if you will. I can put photos, files, copied elements and URLs there and paste them somewhere else with drag & drop. For example, I use Yoink to take pictures TechnikNews upload. I first drop all of the graphics I need there, name them correctly, and then drag them into the window.
MyScript Calculator I use it very often in school. Simply write in an invoice with the Apple Pencil so that the correct result is displayed immediately.
timers is the next app in the folder that not every reader may be familiar with. This is a client for Toggl, the app I use to record working times. It's designed very simply, but does what it should.
Widgets
Okay, widgets are no longer big news for iPadOS 13 or iOS 13. The possibility of attaching them to the start screen together with the current time and date is already possible. Up to four boxes can be pinned so that they are permanently visible, and any number more can then be made visible by swiping upwards. I built my widget bar like this:
At the top you can see the next task in T lies. This means I always know what to do next. However, every now and then I notice that the tasks displayed are not always completely up-to-date.
Fantastical is my calendar app, and I have attached the appropriate widget directly. I always see which appointment is next and how many minutes it will take before it begins.
Carrot Weather is the next widget to be seen. There I can see the current temperature at my current location. It also shows me the highest and lowest temperatures and wind speeds.
The windows for the Siri shortcuts are not pinned, Authy (this is my 2FAApp) and the battery widget, which comes from Apple.
Apps
Now let's take a look a little further to the right, where all of my remaining apps are slumbering. There I mainly placed the things that I use every now and then and don't use in slide over. Apps that ran out of space and that I hardly use are left in the "other" folder. LastPass I also have it there, for example, because I only use it via the native auto-fill function and almost never open it in the normal way. I usually search for the apps in there with Spotlight, which I can call up via CMD + SPACEBAR or a swipe downwards. Now let's take a closer look at the grid, I will also only go into the apps here that maybe not everyone is familiar with:
ParcelTrack is the first perhaps unknown name here. The app allows you to track deliveries from various parcel services. All you need to do is enter the send number.
My twitter client of choice is this Tweetbot. What I like most about the normal Twitter app is that the tweets are arranged in chronological order. In addition, the available display space better used
In digi4school I "drag" all my school books around with me. The app isn't really special now, it just does what it's supposed to.
With PDF Expert I edit all of my PDF documents. There I can write notes in my documents with the Apple Pencil, sign forms and insert or change text passages.
On the RD Client I have access to my Asus Zenbook UX530UX, which I currently have lying around at home since I've been using a MacBook for a few months Pro walk around Thanks to this app, I can also work on the go Prostart programs that aren't available for the iPad if I don't have my notebook with me.
Notion can be thought of as a database for all conceivable things. Regardless of whether you want to manage tasks, create a wiki, write notes or save appointments - that's just the beginning of what the app can do. I used to use the service almost every day, but now I have outsourced my data again.
Salesforce uses the company I work for as a CRM system. I can use the app to access the system while on the go.
My favorite RSS reader is this Reeder 4, even if I had to switch from Feedly to Innoreader. Reeder is simple and beautifully designed and shows me all the important news in different views.
The bottom two rows are mostly Siri shortcuts. I have most of them from the MacStories archive, as I don't have that much experience with the tool. Among other things, you can see a launcher for the TV app and a shortcut that creates a new appointment for me in Fantastical.
In addition to the "miscellaneous" folder, I have a second one for all games. I've been a subscriber to Apple Arcade since the update to iPadOS 13 and have since played three titles that the service has to offer. these are oceanhorn 2, UR: The Rink and Mini motorways. Oceanhorn is what I call "The Legend of Zelda" for iOS or iPadOS, while Mini Motorways is building a road network that connects residential buildings with shopping centers. UR is a hockey game that was released recently.
I am currently not using a second page with apps.
What's on my iPad: That is still to come
In principle, I am very satisfied with my layout. In the future I would like to improve the shortcuts I use now and adapt them better to my workflow. I also want to deal with shortcuts for opening files and folders. I do not plan to introduce the previously indicated second page.
Recommendations for you