Gamescom 2019: highlights, tips and tricks for next time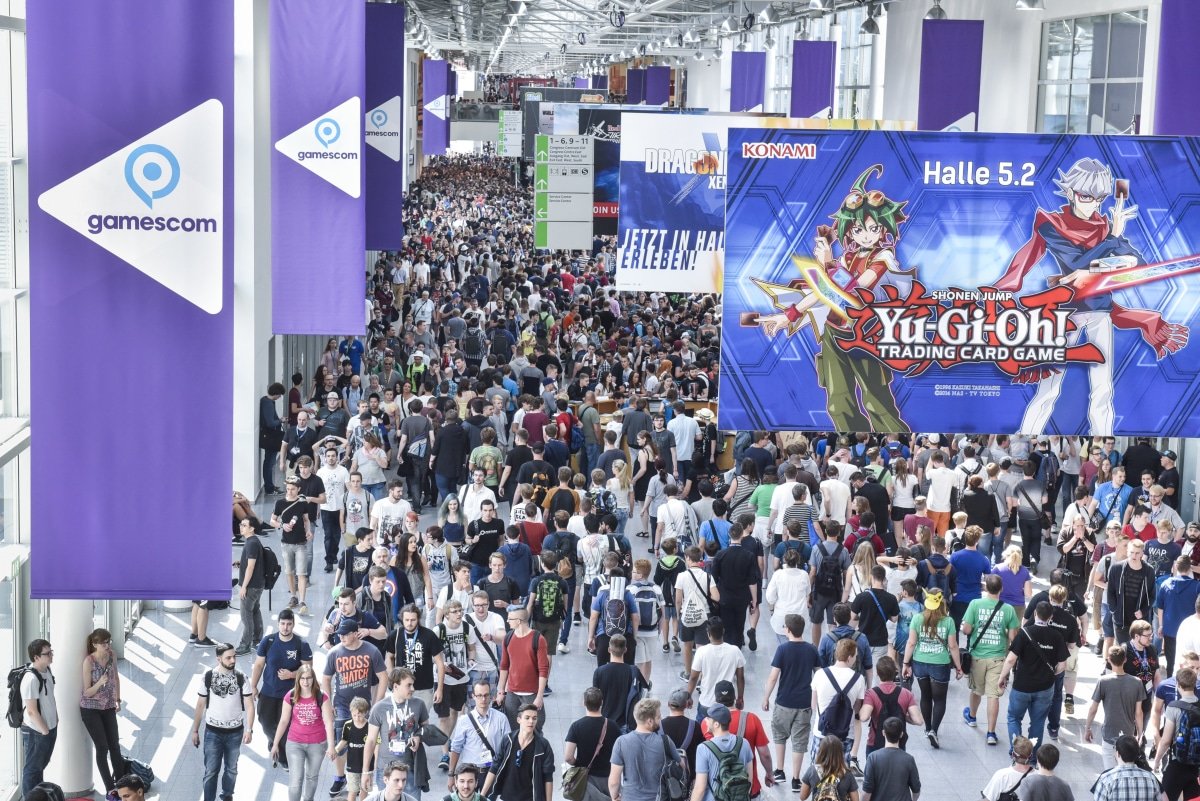 (Post picture: © 2019 Gamescom)
Anyone looking for the gaming event of the year found it at this year's Gamescom 2019 in Cologne. I was there to share my experiences and give you tips for your next personal visit to Gamescom.
At Gamescom you not only have the chance to play the latest "Triple A Titles" (video games from the biggest game manufacturers) on the best hardware of the time, but also to explore new technologies such as VR (Virtual Reality) and much moreprobeer The fair itself began on August 21.8st. and ended on August 24.8th. – what I experienced myself at this fair, I will share with you here.
Preparation
Anyone who has ever been to a major trade fair knows that you are by no means alone there. This year's Gamescom was visited by more than 370.000 people, which means that you sometimes spent several hours waiting at the more than 1.100 exhibitors. I recommend taking a small folding chair or something similar with you. You can get these at the local hardware store, they cost less than 10 € and can make the waiting more bearable. It is also advisable to pack some snacks and drinks, as the food at Gamescom is good but quite expensive.
Accommodation and public transport information
I do not recommend booking the quarter too far from the city of Cologne, as the access road can be characterized by traffic jams, especially on these days, and delays can therefore occur. A plus point is that in addition to your Gamescom ticket you can get a free ticket for buses and trains in public transport (öpublic Ppersonnahverkehr) and should also make practical use of it. So to speak, there is no need to come by car. You can also rent e-scooters in the city of Cologne for little money.
When should I be there?
The best thing to do is to move into your quarters one day before the start of the fair or at least on the day of the fair (depending on the ticket) before 6 a.m. when you enter the fair (if you want to be one of the first).
How about the entrance and the tickets?
At 7 a.m., the gates to the security staff are opened, where the utensils brought along are checked. The Gamescom team itself does not recommend carrying large bags. After waiting for at least another hour, the next barriers will be opened and you can enter the building. There you have to wait until 10 a.m., then you can scan the QR code of your ticket at the machine and you can finally get in.
If you 100 euros instead of 15-20 euros pro If you spend the day for a ticket, you not only get a VIP ticket, you can also get in an hour earlier. In addition, as a VIP you can get to some stands faster, or there is a separate fast lane queue. If you want to go into the business area, you have to get a trade visitor ticket.
The fair itself
Tips and Tricks
This was my first Gamescom, so I'd like to help you fix the common rookie mistakes right away.
Don't be late or at rush hour if you really want to play the highlight games. The best example here is Borderlands 3: after just one hour, a line formed there and you had to wait up to 5 hours. "The early bird catches the worm" is the motto at the game fair - if you are one of the first at the fair and know where you want to go, you can save yourself the 5-hour queue one or the other time.
You can find out everything about plans, who, what and, above all, where the stands and exhibitors are at Gamescom Website . You should also know what to see and what to try out. In any other case you just wander blindly through the halls on the first day and miss half of it.
The folding chair tip, as already described above, should really be taken to heart, just like the snacks and co. - is really helpful in the long term - but please do not take your eyes off the folding chair! (Cardboard folding seating is available everywhere on the exhibition grounds - stability well ...)
Now really the fair itself
My first day initially went as described above - despite good preparation, I kept wandering around because the exhibition area is very large at 218.000 m².
My first booth was that of PlayStation. I was able to test out the new VR glasses with the Ironman VR demo. As Tony Star, you flew over the sea in an Ironman suit, with the controls in both hands. You also had to shoot targets with lasers, smash them and at the same time fly through a course, which at first didn't turn out to be all too easy. But when I got used to the glasses and the controllers, it was quite "awesome".
Towards the end you fought against drones and ended up in the parking lot of Tony's hideout. Personally, I like the implementation and the demo very much. The glasses provide a 1080p screen on both sides and an amazing refresh rate of 120 Hz. I can only recommend these VR glasses, especially to those who already have a PS4 and want to start with VR gaming.
"Triple A Titles"
Another VR gaming booth was offered by Facebook in cooperation with Oculus. The standalone Oculus Quest was used here, which really offers very good performance without a powerful gaming PC, wireless and without external tracking sensors. The only thing you need is a smartphone with the Oculus app running. The game that was running on the quest was the classic Beatsaber, in which you had to hit the beats (blocks in red, blue) to the music with laser swords. I've heard a lot about the game myself and was even more pleased to finally be able to play it myself. You feel like you are in another world and you don't run the risk of tripping over a cable - because wireless. In my opinion, this is a very good alternative to the conventional console or PC.
Now we come to the stands with the longest (up to 5 hours!) Queues that I managed in terms of time (also nervously): Borderlands 3 and Ghost Recon Breakpoint.
Let's start with Borderlands 3, an action role-playing game for first-person shooters. The style is inspired by animation and the game follows on from its predecessor, which was released in 2012. The game was played with a controller at the fair, but anyone who, like me, prefers a mouse and keyboard, can of course play the game like that.
Now for Tom Clancy's Ghost Recon Breakpoint, a tactical open-world game. Unfortunately, I can't say much about the gameplay, as the headphones didn't isolate as well as in Borderlands 3 and the microphones of the other players were set louder than the game itself, which unfortunately drastically reduced hearing. The game itself is based on Ghost Recon Wildlands and you play a soldier named Nomad alongside three other characters and try to take the headquarters of a very dangerous billionaire, loudly pcgameshardware. You can find more stories under the link above.
Xbox booth
At this Gamescom, Xbox delivered many different stands, you could test everything from retro games to the latest games and indigames.
I was also given a passport on site with which I could collect up to four stamps. From three punches you could turn the spin. The prices were Xbox Gaming Pass vouchers for up to 12 months of free use.
At one of the booths I played Halo, a game from 2001. The game is a first-person shooter set in the future, it's very popular among veteran gamers. One of the more well-known retro games is Battletoads - here even an additional mission was added just for Gamescom. It's about fighting frogs fighting their way out with very funny and clumsy suits. It was played at Gamescom with three people on a couch, using new Xbox controllers. Furthermore, as already described above, I have made quite a few smaller old and new indigamesprobiert which were very fun to play and also show how the games have improved over the years.
Omen by HP
Omen's booth introduced us to the new gaming notebook lineup this year, which includes 2 monitors, one on the main screen and one above the keyboard. The game that is made on the machinesprowas allowed to beer Sea Of Thieves. It's an action-adventure video game that also relies on cartoon-like gameplay. It's about pirates at sea and many missions that can be played online or offline. You can find treasures, board and plunder other players' ships. Omen also asked for a competition in which one was lowered blindly by crane into a sea of ​​blocks of fabric. The aim was to get as many blocks as possible hanging from the crane in order to then exchange them for great prizes.
fordzilla
Ford can also be seen at Gamescom and that too fordzilla. This is what Ford calls the new esports team that is looking for members here at Gamescom. You had to master the racing game in top time and secure one of the first places on the leaderboard. The driving experience was really amazing - you sat in a go-kart with pedals, steering wheel, monitor and camera and drove against six other competitors. The race itself was shown on a huge monitor, so you could see me on the screen.
Unfortunately, since I usually hardly play any racing games, I didn't manage to drive a time below 5:10 and so couldn't test the 4D racing simulator shuttle, which swiveled in 4D with hydraulics in the corners - too bad!
Alienware
This year's Alienware booth showcased not only Alienware's latest and greatest gaming notebooks, PCs and accessories, but also PCs to the HTC Vive Pro connected, which makes for a very good VR experience in the combo, since a desktop PC brings more power to the table and can therefore render better graphics. You could only play indigames there, but they were extremely sharp and high-resolution. In one of the games you had to shoot coffee beans under water with energy balls in the form of a puzzle. This was one of my favorite stands. It may not have been the most visited, but it was one where you could play an exceptional number of gamesprocould beer. You could also gain a lot of experience with VR glasses. Alienware has already qualified for a place on my list for the next Gamescom.
Cosplay Village
Anyone who likes to dress up or want to take a real-life selfie with the most famous game characters has found what they are looking for at the Cosplay Village. Half a hall full of wandering costumes. You can find pictures and further information on the Gamescom page.
All in all, I had a lot of fun at this year's Gamescom and can already recommend the next one to every gaming freak. (Don't forget the folding chair!)
Recommendations for you