Amazon presents new Echo Dot, Echo Show, Echo Plus, Echo Sub and Smart Home accessories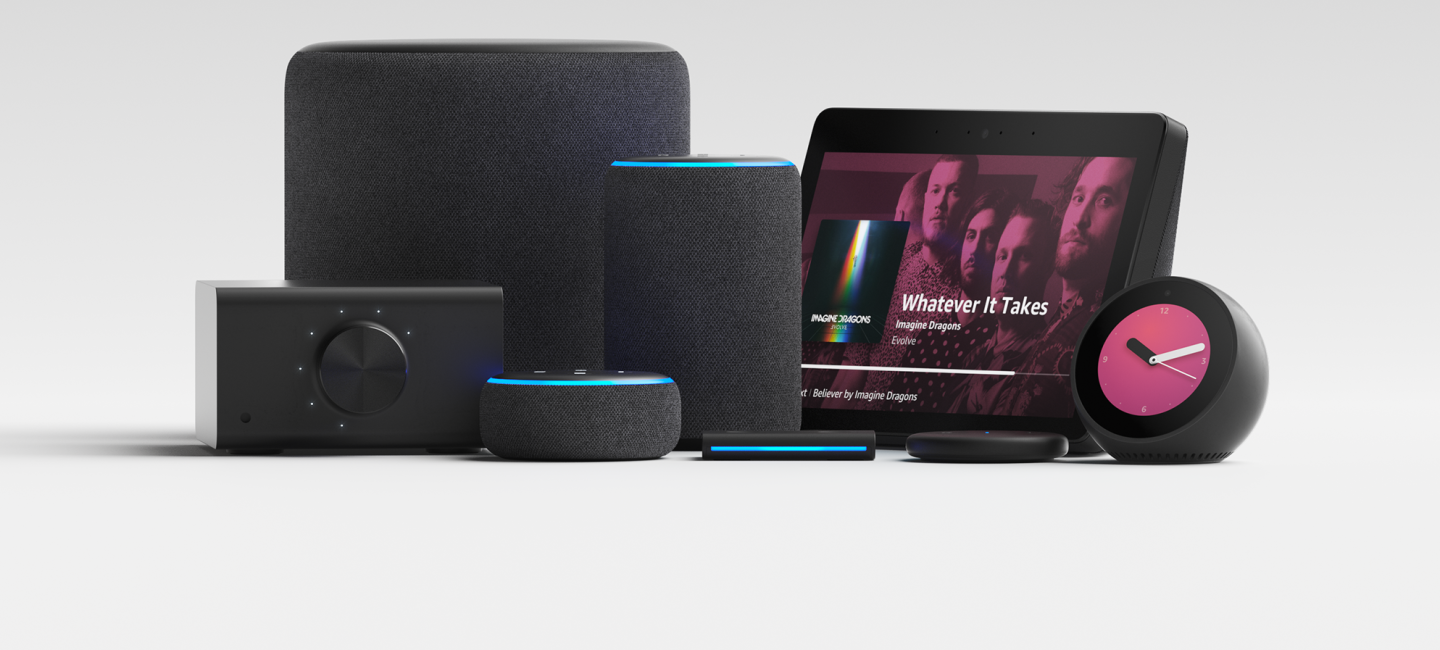 (Post picture: © 2018 Amazon)
As every year, Amazon presents its innovations in the Echo range at the end of September. This year the existing speakers are being polished up properly. So the Echo Dot has now become even smaller. In addition to the new Echo Sub, Amazon also presented a number of smart home accessories and bundles.
Amazon Echo Show 2
The new version of the Echo Show now offers a 10-inch display instead of the 7-inch display of the predecessor. The sound should also have been improved and Zigbee support is now integrated. It is now also possible to use the Echo Show 2 as a smart home hub. In order to be able to use the camera, which has a resolution of 5 megapixels, properly, Skype calls are also possible with the device. Amazon's own Silk browser and Firefox are available for surfing. The starting price is 229,99 euros.
Echo Sub, Echo Link, and Echo Link Amp
If you take a closer look at the published devices, you might think Amazon wants to compete with Sonos. The Echo Sub is a 100 watt subwoofer which, together with 2 compatible Echo devices, can become a 2.1 sound system. In the course of the month, the Echo Sub should be available for pre-order for 129,99 euros.
With the Echo Link and Echo Link Amp, Amazon is trying to connect the home system to existing Echo speakers. Both devices offer multiple audio inputs and outputs, with the Echo Link Amp also offering a 60 watt two-channel amplifier to connect speakers directly to it. An audio receiver, for example, can only be connected to the simple Echo Link. It is important to mention, however, that both devices are not Alexa-enabled because they do not have integrated microphones. The version without an integrated amplifier starts at $ 199 and the version with a 60 watt amplifier starts at € 299.
The new Echo Dot and Echo Dot Plus
When you first look at the new Echo Dot, the first thing you notice is the new design, which should also produce a better sound. Instead of a plastic case, it is now placed on a frame made of fabric, which also leaves more space for speakers. If this sound improvement is not enough for you, there is now the Echo Dot Plus. Outwardly, it is somewhat reminiscent of the current 2nd generation Amazon Echo and offers a 63,5 millimeter neodymium woofer for more bass and clear mids or highs. In terms of price, the two versions differ greatly, because the Echo Dot starts at 59,99 euros and the Echo Dot Plus at 149,99 euros.
Alexa Guard and Echo Auto
With Alexa Guard, Amazon wants to convert the Echo devices into a security system. The microphones of the smart devices should recognize noises such as shattering glass or the beeping of a smoke alarm and inform the owner, who may not be at home. How exactly the system works here is not yet clear.
If you are on the road, Alexa now not only takes care of home security, but also of entertainment on the journey. With Echo Auto, every car with a Bluetooth interface or an Aux connection can now be turned into a smart car. It doesn't matter whether it is supported by the car manufacturer or not. Echo Auto starts at 49,99 euros.
Fire TV Recast, Echo Input and Echo Plug
The so-called Fire TV Recast can receive, stream and also record TV content via the supplied antenna. It sends the received signal either to an Echo device, a Fire TV device, a Fire tablet or a smartphone with iOS or Android. As part of the new devices, it is touted as the perfect complement to the Echo Show 2. The device is controlled either via the app or by voice control from an Echo device. There are also two versions here. Once for $ 229,99 with up to 2 recordings at the same time and 500 GB of storage capacity and once for $ 279,99 with up to 4 parallel recordings and 1 TB of storage space.
If you use your home system or your existing speakers for music streaming and also want to control them by voice, the Echo Input could be of interest. This can simply be connected as a supplement or in combination with the Echo Link. The price starts at 39,99 euros. If you want to switch off your system by voice command, the Echo Plug is now also available from Amazon. This is a smart socket for a price of 29,99 euros.
Amazon basics microwave and new skills system
In addition to the many common Echo devices, Amazon is now also bringing something completely new onto the market: a smart microwave. This can be controlled by voice and also has an integrated dash button, for example to reorder popcorn if it is no longer available. However, in order to be able to use voice control via Alexa, an additional Echo device with Alexa integration is required. It is still unclear whether this particular microwave will also appear in Germany, but it is now starting in the USA for 60 US dollars.
There should now be 50.000 skills. Amazon finds too many to search for the perfect skill manually. Therefore, the skills system is now being adapted so that Amazon can automatically search for useful services. This change is still in the early development phase and therefore a release date is still unclear.
Recommendations for you