>> Test the latest technology and much more: apply to us! <
Amazon Prime Day 2018: This is what you can expect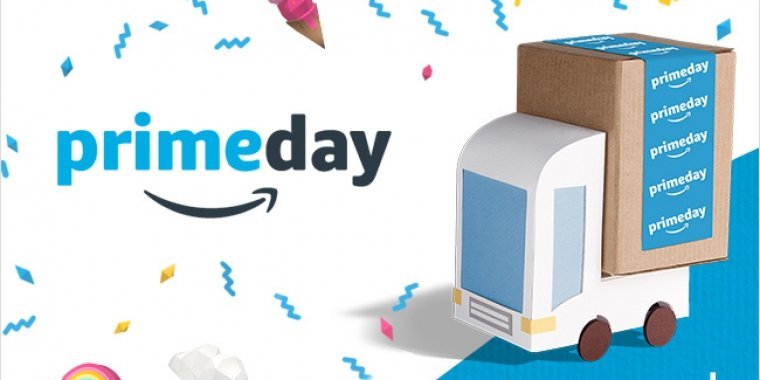 (Post picture: © 2018 Amazon)
On July 16 from 12 noon the time has come: the next Amazon Prime Day starts. On this, many articles are again greatly reduced for all Prime customers for 36 hours. But not only on this day there are good offers to be picked up, customers with Prime membership can already enjoy special advantages.
Twitch Prime
Since the live streaming platform Twitch was bought by Amazon, advantages can also be enjoyed there. There is one free game every day until July 16. Of course, these are not blockbuster games, but rather smaller indie titles. These can then be called up and played in the Twitch desktop application. In addition to whole games, there is also game content. For example, skins for Fortnite, card packs for Hearthstone or weapons for Call of Duty Word War 2. There should be something for every taste.
Prime Music
As the Prime customer you already have the possibility to stream about 2 million songs. If you want to access a similarly high number as with Spotify, for example, you need the MusicUnlimited subscription. As a Prime member you currently get 4 months for one euro. After these 4 months, the subscription will be €7,99 pro Month continued should not be canceled in time.
Prime Video
If your favorite series or film is not included in Prime Video's streaming offer, you may be able to buy or rent it up to 50% cheaper. Popular films such as Deadpool or The Wolf of Wall Street are currently heavily discounted. But the respective channels that allow access to other films have also been reduced at the moment. Filmtastic, for example, can be tested free of charge for 3 months and many other channels are currently available for € 0,99 for three months.
Amazon article
Typical of Prime Day are the reduced physical items on Amazon. Already now are isolated Proproducts reduced. For example, there are 15% off selected car accessories and 20% off warehouse deals. At the Warehouse Proproducts are overhauled or used devices, which are therefore cheaper than the new ones Proproducts are. Also own Proproducts – amazonbasics and other Amazon brands – are already discounted by 20%. Amazonbasics primarily manufactures everyday items such as backpacks, bags, towels and cables. Manufacturers such as WMF or TP-Link are already reducing by up to 55% and up to 35%.
Otherwise, from July 16, you will always have to take a look at the Amazon flash offers or daily offers. If you are already thinking of buying something bigger soon, such as a new laptop, Prime Day could be quite interesting.
For these articles we will like last year on Prime Day publish an overview of the best deals.
Recommendations for you