Android: Better interaction between devices planned for 2022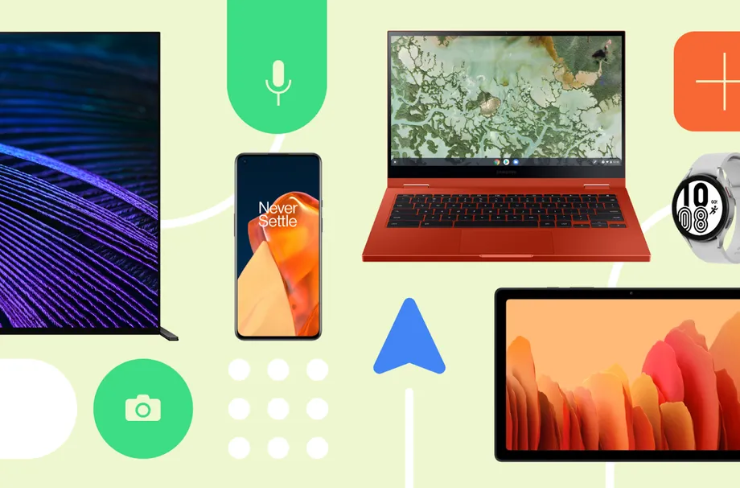 (Post picture: © 2022 Google)
Apple is known for being the most diverse Proproducts of the ecosystem interact well. Google knows that too and wants to catch up with Android and Co. this year.
AirPods owners know it: You open the charging case and the in-ears are already connected to an Apple device. on another Product of the manufacturer starts playback? No Proproblem, the AirPods are automatically switching their connection. This and many other features are self-evident for people who have chosen the Apple ecosystem.
With Google, things are a little different. Again and again there is a function for better interaction with others ProProducts, such as Fast Pair for quickly pairing Bluetooth devices, are added, but even that happens rather slowly. As part of the CES 2022 it has now been announced that a lot will develop here this year.
Android in 2022: Improvements for Fast Pair and more
Before that, Fast Pair was briefly announcedprochen, for which Google plans the biggest innovations in 2022. One of them is that Bluetooth headphones are designed to switch connections to another device faster – including Google TVs, Android TVs, and some Windows computers. You also want the pairingProcess to the latter devices and the rapid setup of smart homeProproducts that communicate via the Matter standard.
A few words about the integration of PCs. At the start, Google teamed up with HP, Acer and Intel to bring Fast Pair, the synchronization of text messages and "Nearby Share" for files to Windows. Chromebooks, on the other hand, will get a slightly bigger piece of the pie. Among other things, Google wants to allow every chat app to mirror its content on the company's computer OS. In addition, the exchange of photos with a smartphone should be made easier.
Back to Android. With an Apple Watch it has been possible for about a year now unlock an iPhone. This is exactly what Android and Wear OS should work in the future. The only requirement, however, is that the smartwatch must run with Wear OS 3, which has been the case so far is still more of a rarity.
Android in 2022: when will the changes come?
It is not yet known when we will come out with these innovationsprocan beer. Google only states that they will reach users spread over the year.
Recommendations for you