>> Test the latest technology and much more: apply to us! <
Apple Watch Series 6 and SE Introduced: New Colors, Blood Oxygen and More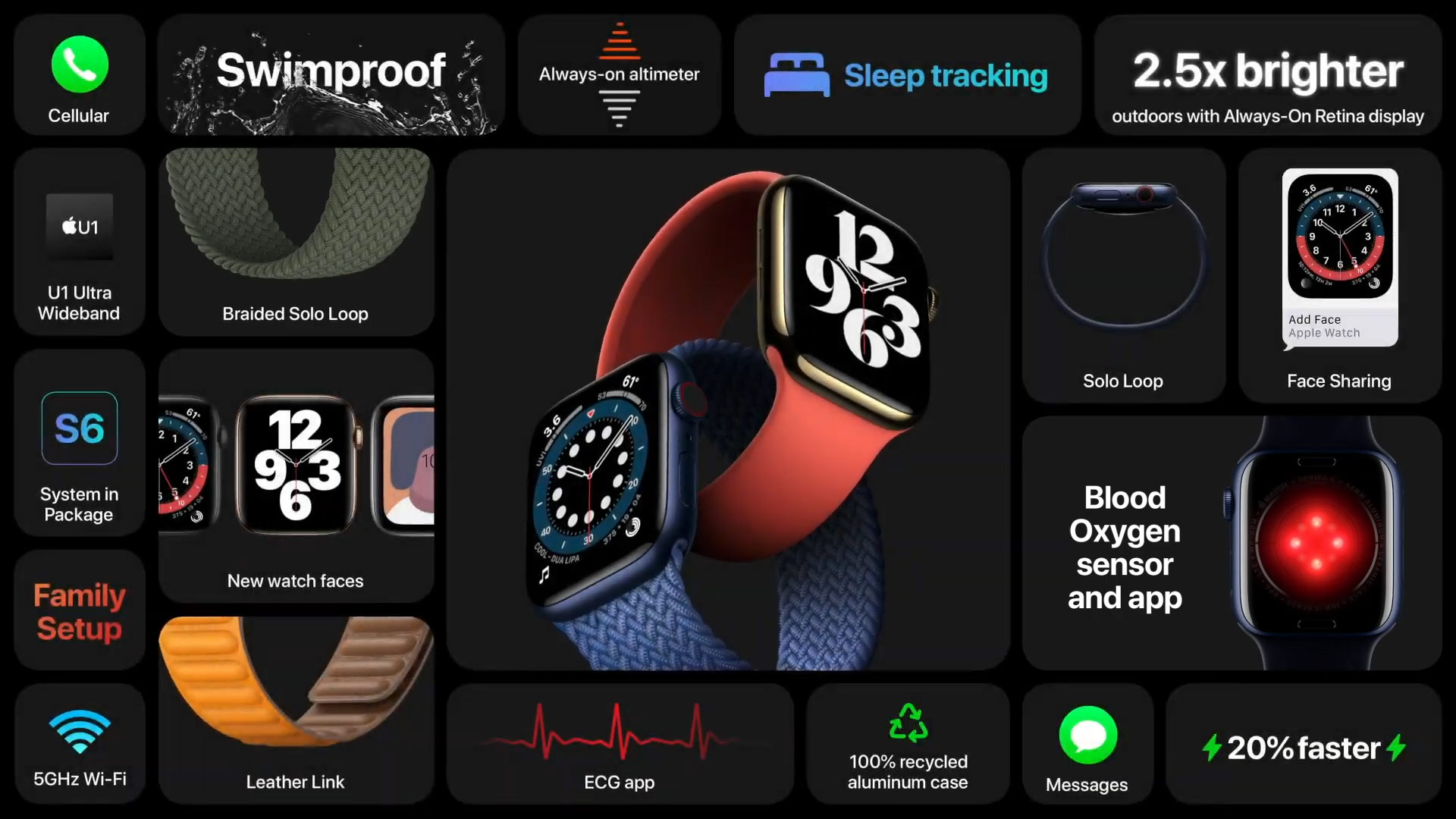 Today Apple introduced the Apple Watch Series 6 and Apple Watch SE. You can find out which new features these come with here.
The Apple Watch Series 6 comes in two new colors. Red and blue. The rest of the design stayed the same. So there is still a 40- and 44-millimeter version with the edge-to-edge touchscreen. The blood oxygen sensor on the back is new. With the Series 6 and Apple Watch SE, this can not only be measured, it can also detect malfunctions of the heart. It is also intended to be used for COVID-19 studies.
Apple also showed new bracelets, the Solo Loops. These are straps without a clasp. Due to the elastic material, it is no longer needed. Another innovation is Family Setup. With this, parents can determine, among other things, which contacts their own children can interact with and see where the child is currently. You don't even need an iPhone for this, an Apple Watch with LTE is sufficient.
The Series 6 is powered by the S6Processor, this should be at 20 Procent faster than its predecessor. The S5 works in the Apple Watch SE, which is twice as fast as the Series 3. It also enables some other nice things. Because it is more energy efficient, the always-on display can be brighter, for example.
Apple installed watchOS 7 as the operating system. In addition to the well-known innovations such as sleep recording, the manufacturer integrated a number of new watch faces.
Apple Fitness +
Apple Fitness+ is a new workout service from Apple. This works in conjunction with the Apple Watch. With the app for iOS, watchOS and tvOS you can start one of the many workouts, which is then synchronized with the watch. These are also accompanied by music. The motto: "Workouts - no matter when, no matter where". More exercises will be added over time. The service costs $9,99 pro month or $79,99 pro Year. This will be available from the end of the year, but not with us.
Apple Watch Series 6 and SE pricing and availability
The entry-level configuration of the Apple Watch Series 6 costs 429 euros. The price of the Apple Watch SE starts at 299 euros. You can pre-order both watches from today, they will be available from Friday. Apple will keep the Series 3 in its range.
Recommendations for you