Spotify vs. Youtube Music: Which is Better?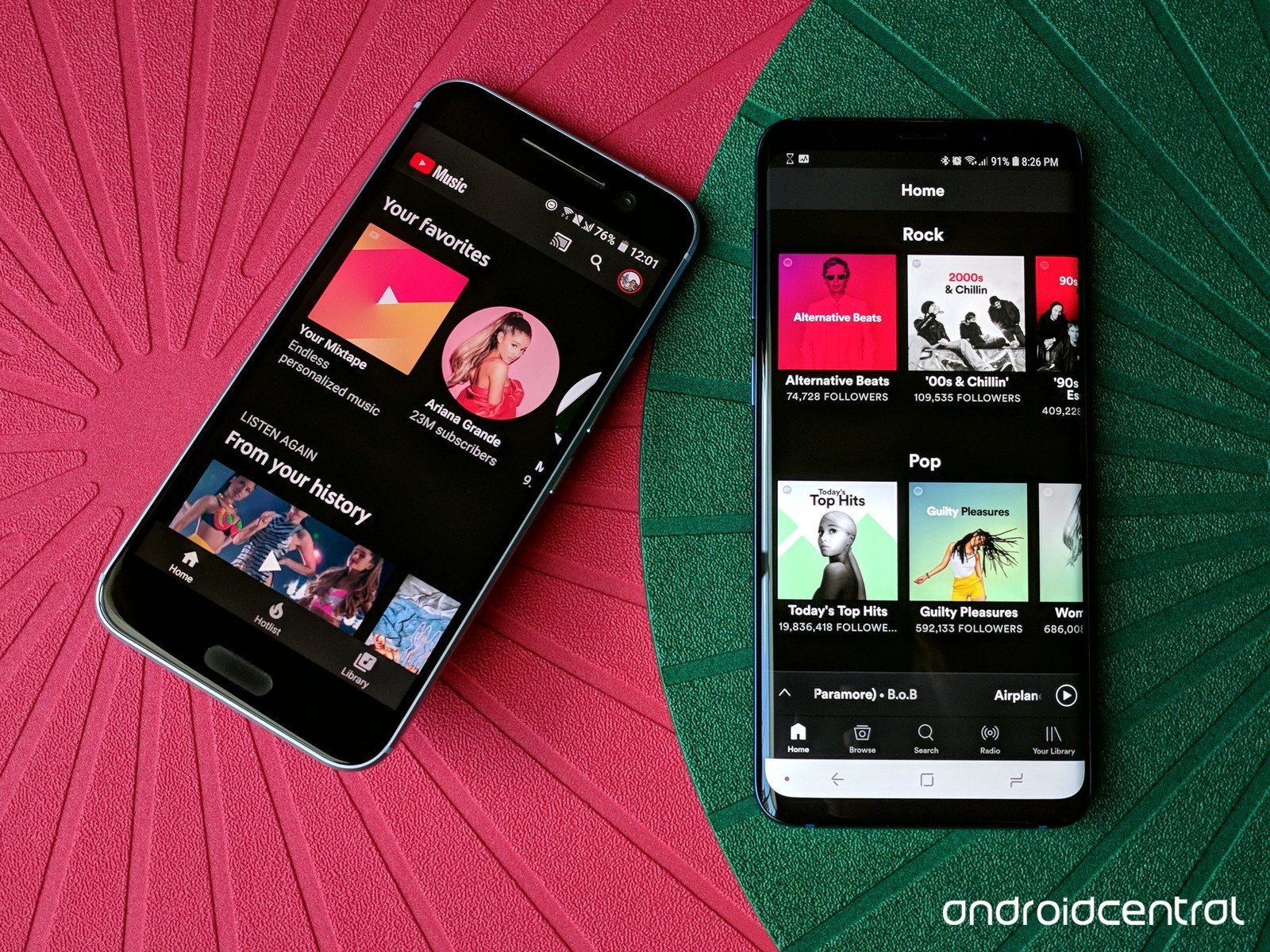 (Post picture: © 2018 Android Central)
It has been for a few days Youtube Music now available. Of course, Google wants to compete with Spotify. I compared both services and saw which one is better in the end.
Design
A little note in advance: With this topic I will only refer to the apps for the smartphone and the tablet, the apps and websites on the PC look a little different.
Spotify's design is mainly based on black elements. But there are also colorful buttons under the Browse tab. I will come back to the structure of the two services in more detail later. All in all, I like Spotify better than Youtube Music from a visual point of view, and it also looks more modern to me.
The design of Youtube Music is very similar to that of the normal Youtube app. However, Google also uses a lot of black elements. In addition, the font used for the headers on the homepage in particular stands out, as it has never been used on YouTube before.
Structure of the services
similarities
When setting up the two services, I was able to find some similarities in some cases. There are several tabs on Spotify and Youtube Music, behind which further content of the app can be found. In the mobile apps, the bars with the tabs are even both times at the bottom of the screen. In both cases, another bar is displayed above this, where you can see which song is currently being played. The current playback can also be expanded with a simple tap so that the current playback extends over the entire screen.
Differences
If you take a closer look at the individual tabs of both apps, you will notice that they differ in number: Spotify has five, Youtube Music only three.
The first tab on Spotify is called Start. There, playlists, mixtapes, albums and artists are suggested that might be relevant to the at the moment. Next is Browse. Relevant playlists are also displayed there, this time only in the upper area. These include a wide variety of genres and categories that are intended for different occasions, such as a category called Summer.
Then comes the search for what should be self-explanatory. Under radio you will find various mix tapes that can be based on playlists, artists or genres. You can follow individual channels so that they are displayed in your own library.
Behind Library, the next tab, there are a few submenus. The first is called Made for You. Behind it you will find your own mix tapes and the weekly playlist that Spotify automatically creates for you. With playlists, all your own playlists and all playlists that you follow are displayed. As mentioned before, you will find all the radio stations that you are following after stations. Saved content can be found behind songs, albums and artists. In the case of podcasts, all podcasts that you follow are listed.
Youtube Music is a little simpler with only three different sections. The first is called, the same as with Spotify, Start and works exactly the same. To the right of Start is the hotlist. Music videos that are currently in fashion are shown there.
The search feature has not been given a tab of its own, it only has a simple icon. The last tab was reserved for the library. Here, too, there are further subdivisions, such as playlists, albums or songs, through which your own music is sorted.
Special features
Both services have a handful of features that I think should be mentioned again. Let's start with Spotify. The app for his mobile devices supports Google Cast and also streaming over a Fire TV. Personally, I really appreciate the running mixes. These are playlists whose songs are played as a continuous mix. There is also a suitable mix for every tempo. As an example: In the Run to Rock playlist, a heart rate of 170-190 BPM is given as a comparison. So this list is very suitable for fast runners.
Another special feature is that you can control your music remotely from other devices. So I can control the songs that are played back on my Zenbook via Spotify via the Spotify app on my smartphone.
Podcasts - lovers will be pleased that Spotify offers podcasts. The offer is also very large. The only thing I haven't found is the CURVED cast. For people who like to hear the latest charts, pretty much every country has its own playlist that is updated daily.
At the end of the year there is always the wrapped analysis. There you can see, for example, how many minutes you have listened to something on Spotify. Comparing these values ​​with friends is a lot of fun from my own experience.
Continue with Youtube Music. The app for this service also supports playback via cast-enabled devices. Music videos from YouTube are also integrated. The practical thing here is that you don't even have to watch the video. You can also just listen to the audio.
Offer for your event.
Spotify states that several million songs are available for streaming on its own platform. That means there should be pretty much every artist, album, and genre. Then there are playlists that Spotify created itself. Their content is mostly based on certain genres. However, under Browse there is, for example, a whole section with lists that can be used for the background music at dinner. Finally there are the running mixes and the playlists with the charts for each country, which I mentioned earlier.
Youtube Music's offer is slightly smaller than Spotify's, but it should be sufficient for most people. For example, Adele's album 25 does not exist natively. The advantage of this platform is that you can access all of the music videos from YouTube should a song not be available. Youtube Music also has its own playlists for different occasions or genres.
Availability
Spotify is available for Android, iOS and even Windows Phone, in case anyone else is using it. Windows and macOS are also covered with their own app. If the latter doesn't appeal to you at all, you can still use the web player.
Youtube Music is available for Android and iOS, Windows Phone is not supported. There is no app for the PC, but you can still access the service via your own web browser.
Prices
Spotify is basically free to use. However, you can then only create playlists and play them and all other lists with Shuffle – Play. The latter is also possible with albums. For €9,99 pro month you get Spotify Premium. With this upgrade you will no longer hear ads, you can skip songs endlessly, listen to music offline and play any song immediately without shuffle-play. For €14,99 pro Month you get the family subscription, to which you can add six different accounts. However, one must note that the same residential address must be specified for all accounts in order to be able to claim this subscription model. Each account then gets the same features as Spotify Premium.
YouTube Music can also be used free of charge. Here you get access to official albums and songs. It is also possible to play titles of your choice, you are not forced to shuffle play here. For €9,99 pro month you get access to Youtube Music Premium. With this subscription, you can enjoy music without commercial breaks, play songs while doing something else with your device, and download songs on the go. There is also a family subscription for €15,99, to which you can add six different accounts.
If you take out a subscription on an iOS device, the prices may be higher because the billing takes place via Apple and not via Google.
Recommendations for you