CES 2018: These are the highlights of the technology fair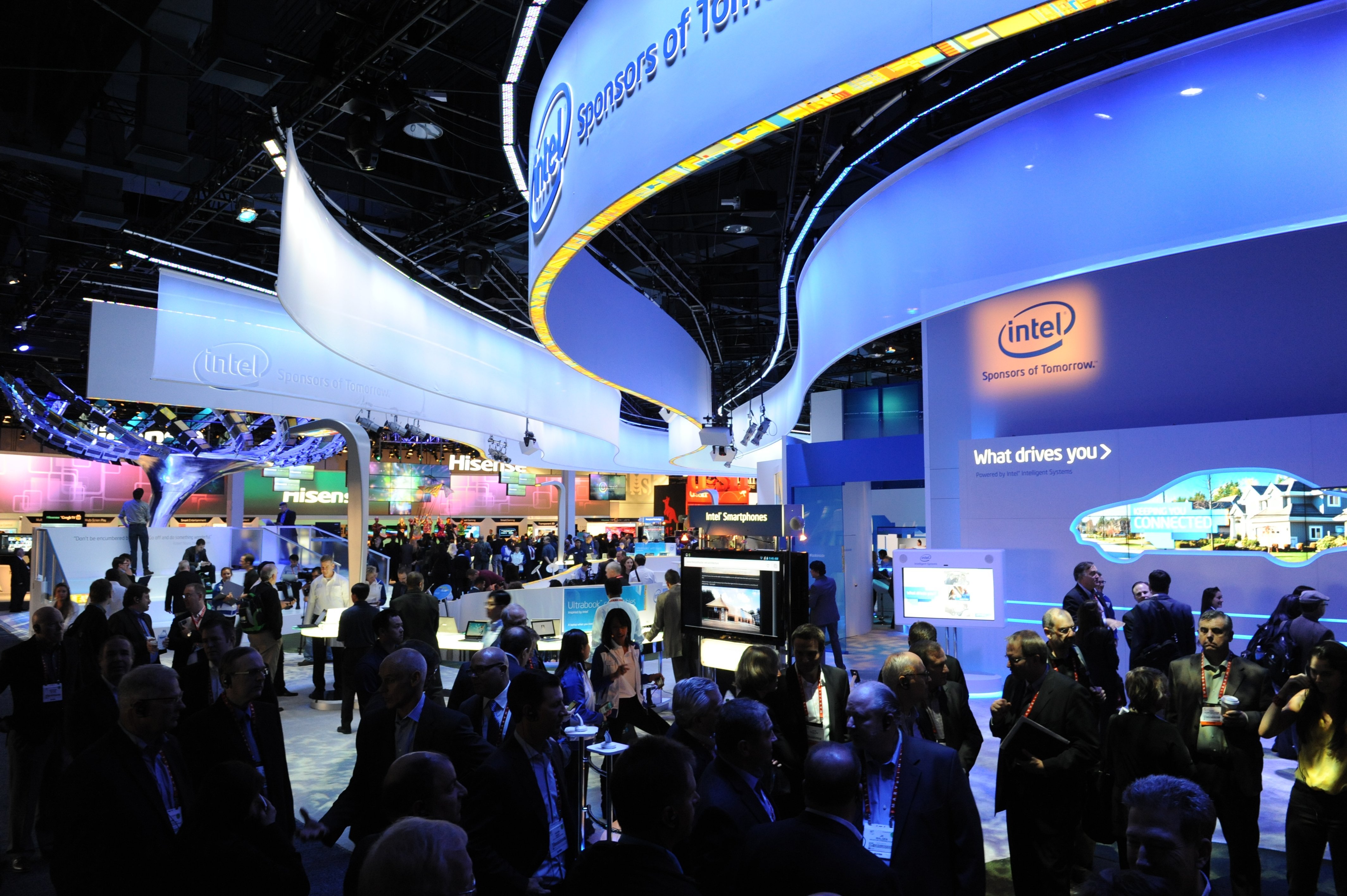 (Post picture: © 2018 INcyberdefense)
This year, the CES had one main focus: The arguers Amazon and Google tried to install their smart home assistant in all possible devices. According to experts, Amazon is still ahead. By the way, various manufacturers also showed their new devices. You can find all the highlights of CES 2018 here at a glance.
Smartphones
Cell phones are probably the first thing most people associate with consumer electronics. They also represent the piece of technology that has become an indispensable part of our lives. The tried and tested manufacturers naturally also presented their smartphones, but there were also surprises.
Essential
For some, the manufacturer Essential was a new concept in the industry. The company was founded by none other than Andy Rubin, the inventor of Android. With the Essential Phone he proved that he really knows what he's doing. With the specifications, one thing quickly becomes clear: this smartphone wants to compete in the upper class. A Snapdragon 835, 4 GB of RAM, a 13 and 8 megapixel camera and a 5,7 inch QHD display are installed. This is in 19:10 aspect ratio and almost borderless. A 128 GB internal memory is available so that you can enjoy enough films and series on it.
Special features are the housing, which is not made entirely of aluminum or glass - as is usual with other manufacturers - but contains elements made of titanium. This should make the smartphone more durable. They also rely on easy modularity, for example by attaching a 360° camera to the smartphone via magnetism. The whole thing should also hold up well, after the first tests the magnet even seems to be too strong. ProUnfortunately, there are already problems: The fingerprint sensor is not always supposed to work reliably.
LG
The LG press conference was just as surprising. A rethinking of smartphones has been announced. So you don't want to keep bringing new devices onto the market just because the competition is showing you how to do it. One would prefer to rely on variations of the top models, so one can count on devices such as an LG V30 Max, Mini, S, Plus etc. Details were not announced. They started with a new, but very feminine, color for the V30.
Alcatel
Alcatel is now known for being more in the lower price range. Announcements regarding three new smartphone series confirm this. So the whole thing starts with the 5 series, which should be designed for price-performance. Alcatel did not mention many details, but face recognition should be available and an 18: 9 display. This should apply to all new series. After all, evolves 18: 9 format is currently a trend. During the presentation, it was important to make it clear that the devices will have large batteries.
The 3 series should be aimed at younger users. Reference was made to a large display with high resolution. Perhaps that should appeal to younger consumers with regard to Netflix or mobile games. For good photos, a dual camera should be built in here, which resolution the lenses should have is not yet known. What is clear, however, is that attempts are being made to pack high-end equipment into inexpensive devices.
The cheapest series is the 1 series. A unibody design and face recognition were highlighted. Alcatel did not provide any further details, an exact presentation and thus a release of the devices is in Barcelona at the MWC expected.
Sony
One company that has been declared dead by some in the smartphone segment is Sony. They are still fighting for market share and are releasing 3 new smartphones straight away.
This is based on the middle and entry-level class. The former is enriched with the devices XA2 and XA2 Ultra. At the ProThe processor is both the Snapdragon 630, supported by 3 and 4 GB of RAM. Pictures taken on the XA2 with the 23 MP front camera or 8 MP selfie camera are saved on the 32 GB memory.
The XA2 Ultra has 32 or 64 GB of internal memory and has 2 lenses above the display. One with 16 and the other with 8 megapixels. A flash is also available for low light situations. The displays are 5,2 inches or 6 inches in size. How sharp the display looks is still questionable with a resolution of Full HD. The devices cost € 349 and € 449 respectively at market launch.
The entry-level class is expanded with the L2. This has a 5,5 "display that is only HD ready. It is powered by 3 GB of RAM and a Mediatek MT6737T. The cameras have a resolution of 13 or 8 MP. It quickly becomes clear that this is an entry-level device. With 250 € the price underlines this again.
ASUS
Once we get to manufacturers fighting for market share, let's move on to ASUS. These announced the ZenFone Max Plus. Thus the big brother of the big brother, as the name also shows directly. A 5,7-inch display in 18:9 format is installed. The middle class Prozessor Mediatek MT6750T drives the device with 3 GB of RAM. There's an unusual surprise in storage. In addition to the 32 GB of internal memory, which can be expanded with an SD card, there is also 2 years of 100 GB of Google Drive storage space.
Samsung
Now to a brand that everyone should know: Samsung. Many rumors circulated on the net, but Samsung presented all the less. It was indeed the Processor des Galaxy S9 leaked, however, the device itself is - as is typical for Samsung - only presented in spring. However, the A8 and the slightly larger A8+ were presented in full. Both are available in 4 colors and have a 5,6 or 6 inch FullHD+ display, which also has an 18:9 aspect ratio. The cameras are similar to the competition in the mid-range. At the Proprocessor is Samsung's own Exynos 7885 in combination with 4GB RAM.
Many eagerly await the smartphone revolution with the Galaxy X. It should have a foldable display and thus function like a normal smartphone, but when unfolded it should be the size of a tablet. One speaks of a market revolution, as it also occurred in 2007 with the first iPhone. It should be clear, however, that the price for such a device will be galactic.
ZTE and Vivo
If you don't want to wait until the Galaxy X, you will find it at ZTE. With the Axon M, they already have a foldable smartphone. It doesn't work as well, but it has two displays, which together measure almost 7 inches.
Vivo showed something completely new. They have placed the fingerprint sensor directly in or under the display and it should actually work very well and reliably. Qualcomm already announced such a technology in the summer, only in December the company Synaptics announced that with a massproproduction of these sensors has started. OnePlus fans can be happy, because Vivo also belongs to BBK Electronics, so the OnePlus 6 could also get such a sensor.
Notebooks
Even the typical notebook manufacturers Acer, Lenovo and Co. did not shy away from introducing new devices. The focus this year seems to be primarily on convertibles. Many of the new devices are now 2-in-1 devices.
Lenovo
Lenovo in particular got off to a flying start with three new devices. Starting with the X1 Carbon (left) and the X1 Yoga (right).
Basically, everything remains as usual with both devices in terms of form and function. As is well known, the X1 Carbon is a classic notebook with a clamshell design. The properties of the Yoga series are also retained with the 360 ​​degree hinge. However, designers and editors can look forward to a small innovation: the display is now HDR-capable and has a resolution of 2560 x 1440 pixels. If you don't need this and prefer to save a little, you can also purchase the devices with Full HD or W-QHD displays without HDR. Also the inside is through an Intel Proprocessor of the 8th generation (Coffee Lake) up to date.
The ThinkPad X1 Tablet is Lenovo's direct competitor to the Surface Pro. The 3:2 touch display now grows to 13 inches and has a resolution of 3200 x 2000 pixels. However, these improvements in size and performance also have negative effects. The modularity is measured here completely, there is neither the expansion slot of the previous model, nor is the battery replaceable.
Dell
Those who value mobility and design often think of Dell. Here a new XPS 15 2-in-1 and a now even thinner Dell XPS 13 notebook were unveiled at CES. The surprising novelty is the XPS 15, which has now turned into a convertible since it has a 360-degree hinge. The previous model did not have this option. Only through the space-saving architecture of the new Intel Processors with AMD graphics unit and a thirty proOnly after the motherboard has been shrinking has it become possible to offer the Dell XPS 15 as a convertible with a 2-in-1 function.
Unlike one Proprocessor with a separate Nvidia graphics unit, Dell now relies on the new Intel Kaby Lake G series, which is powered by a special AMD Radeon Vega M GPU. Up to 32GB of RAM can be selected and, depending on the configuration, up to one terabyte of SSD storage. The display is again a Full HD or Ultra HD display. From the spring of 2018, the device should be available from around 1300 US dollars.
The Dell XPS 13 (9370) updates the previous model in smaller aspects. The technology has of course been refreshed, but above all the mobility has been improved enormously. The device is now only up to 11,6mm wide and has a maximum weight of 1,21 kilograms. Dell limits the connections to 3x USB Type-C and a 3,5mm headphone jack. The display is available with either Full HD or Ultra HD and the option of a touchscreen. At the Proprocessor is either an i5 or an i7 Intel Proprocessor. An additional graphics unit from AMD or Nvidia is not possible due to the narrow design.
As usual, the XPS 13 is aimed at home or business users and not at designers or even gamers. The device starts at 1349 euros, the rose gold version with an inner coating made of white glass fibers starts at 1749 euros. The market launch is scheduled for February 5, 2018.
Hewlett-Packard (HP)
HP was also interested in the 2-in-1 design and presented the Specter x360 15 with it. With this device you want to appeal to demanding and proaimed at professional users. That should also be clear to everyone when you take a look at the equipment. So is in Spectre x360 an i7-8705G. The G makes it clear that there is an Intel Proprocessor with additional Vega graphics unit hidden. If you don't like this, you can also use the model with a dedicated graphics unit from Nvidia. This is then an MX150.
The display has a touchscreen and has an UltraHD resolution. Because it is a convertible, input using a stylus is also possible. Because of this, Gorilla Glass 4 is installed, which is supposed to protect against possible scratches and also supports input with a pen. In this regard, the device is also perfect for designers or people who like to digitize their drawings in this way. Like the competition, the connections are based on the modern USB Type-C.
Acer
Acer is self-confident and proud of its "thinnest computer in the world". We're talking about the Acer Swift 7, which has a height of just 8,98 mm. According to their own statements, there is no competitor model in a clamshell design that can undercut this height. But the question arises whether thin also means good. Inside there is only a two-corePro7th generation processor from Intel. Not an already available eighth generation quad core. The size of the RAM is decent with up to 8 GB and the display with FullHD on 8 inches is average. If you need this feature, you don't have to do without the touchscreen here either. The battery life should be up to 14 hours. If you value the design of the device and have a fable for thin notebooks, you can expect it from March 10 at just under 2018 US dollars.
But for the gamers who have felt disadvantaged until now, there is also something new. This is how Acer shows their new Nitro 5 (AN515-42). In addition to the 15,6 inch full HD display, it also has an AMD Proprocessor and an associated AMD graphics unit. Above all, it should lure with a good price-performance ratio, so the device starts in March 2018 in the USA with a starting price of $800. Exact information about Prozessor are not yet known, we only know that it is a Ryzen Mobile Proprocessor and this operates the device together with an RX560 GPU. The amount of RAM is up to 32 GB DDR4. The hard drives will probably be a combination of a 256 GB SSD and an HDD.
ASUS
The well-known manufacturer ASUS also presented new devices at CES. For example, the ZenBook 13 with a weight of just 985 grams and a battery life of up to 15 hours. At the Prozessor is an eighth generation i7 in combination with 16 GB of RAM. The 1 TB SSD provides storage space. A sound system from Harman Kardon is also installed so that you can also enjoy films comfortably.
The Vivo AiO V272 is also worth mentioning. This is also based on an i7 of the latest generation, which is supported by an NVIDEA GeForce MX150. It is interesting here that the built-in 27-inch display has an integrated multi-touch system. This should increase the sRGB color space to 100 Procent can cover. At first glance, it is noticeable that the designer has probably oriented himself to Apple's iMac. But this is not negative, but ensures a timeless design.
Razer
Razer, in particular, amazed the notebook scene. That's the way to go Project Linda can turn the smartphone – more precisely the Razerphone – into a notebook and also use it as a touchpad. The focus is of course placed on playing mobile apps on the PC. For gamers, of course, it's worth considering whether you shouldn't go to the Razer Phone should take effect, because these aspects should definitely bring you advantages.
The laptop is a 13,3-inch model, similar to the current 13-inch edition of the Razer Blade Notebook. What is different here is that the operating system is Android. There are USB ports on the notebook to connect a mouse, for example, and the internal technology is probably limited to a 200 GB memory. Because according to previous information, the computing power should come from the Razerphone alone.
TV
Again and again new technologies come onto the market, so Sony once presented their technology to combine display and sound or Philips the so-called "Amiblight". Other manufacturers showed OLED or new bests in terms of resolution. But what was shown this year surpasses any other fair so far in my opinion.
Samsung
"The Wall" is what it calls it Samsung their new television. This is a gigantic panel with a screen diagonal of 146 inches. With this device there is no backlight, every single pixel of the 8K display also acts as a diode to make the display shine. In addition, the device should be equipped with artificial intelligence. Above all, the modularity is impressive, because the television is made up of many different micro-LED tiles that are the size of a smartphone. With it you can theoretically adjust the TV in shape and size.
LG
LG's flexible display was just as amazing. The device is advertised as the "first rollable OLED TV". What is so strange here is that an interference-free image is displayed when the device is extended and retracted. Thus, when watching movies, the display can simply be retracted a little and you can enjoy the movie without an annoying frame. Incidentally, the 65-inch TV has a 4K resolution.
And much more
Of course there were many other things to see at CES as well. Even things that are not mentioned in this article, just listing everything is almost impossible. My highlights of the other categories are now here.
HTC
The manufacturer HTC, actually known for smartphones, has this time concentrated fully on virtual reality and presented the HTC Vive Pro. The new edition should offer increased comfort and now also has integrated headphones. There was also a small technical innovation: The DUAL OLED displays now have a resolution of 2880 x 1600 pixels, which corresponds to a DPI of 615. This should make the whole thing feel less virtual and more like reality.
VUZIX
Many will still remember the Google Glass flop. Since then, smart glasses have been frowned upon and useless. Vuzix faces these allegations with her glasses called "Blade" and tries to turn the trend around. So you rely on a more modern design of sunglasses. The principle remains the same, however, the area on the temples is used as a control panel and possible search queries are displayed directly in front of the user's eyes. What is special here is that the Vuzix Blade also supports Alexa and is compatible with both Android and iOS. The market launch should take place in the 2nd quarter of this year.
Garmin
The smart watches or also Smart Watches, are now also part of everyday life for many. But if you don't like it too chic, but rather value health and fitness, you will be able to identify with Garmin's new smartwatch. The Garmin Forerunner 645 offers everything an athlete needs. Garmin referred to heart rate sensors, thermometers, barometers, competitionPrognoses and a swim mode. The measured values ​​are titled as "triathlon-ready". The wearing comfort should be good, since the watch weighs only 42 grams. An excellent battery life is also promised, even if you use the 645 Music version constantly to listen to music.
Byton
It is no longer a secret that cars are now getting smarter. When it comes to electric cars, most people think of Tesla first, but at CES a startup is showing that they can easily keep up. Byton is the name of the German-Chinese wonder company that presented an electric SUV with a starting price of 37 euros. The car should have a range of up to 000km and support autonomous driving. It should also be noted, however, that Byton's team includes former Google and BMW employees. Carsten Breitfeld, former BMW development manager who was also responsible for the i500, is one of the most important men behind Byton.
The interior of the car is impressive, a 125cm long and 25cm high display replaces the conventional dashboard and is the eye-catcher in the car. The applications on the display can be controlled very easily using gestures or voice commands. Technically everything that is possible in terms of sensors and cameras is in the car, but also every little thing. The front seats can be rotated by 12 degrees, the display automatically adjusts the brightness and color to the surroundings, and doors can be unlocked using face recognition and opened using a touch sensor. The passengers in the back seat also have displays in front of them and can thus use the entertainment package. Assistants such as Amazon's Alexa or Google Home can also be added. Of course, there is also a display on the steering wheel that shows information such as speed or navigation arrows. But there is a catch: the car has no rear-view mirrors. Sounds like a joke, but it's not. These were replaced with the help of cameras. However, since a rear-view mirror is mandatory in some countries, the car cannot be released there.
CES 2018: conclusion
The technology fairs and thus also the CES are becoming more and more extensive as more and more devices become smart or receive technical features. My personal highlight at CES is and will be Byton with their surprisingly good car, which they presented there. What is your highlight at CES 2018 and what do you think of the digitization of all everyday objects? Leave a comment with your opinion under this article.
Recommendations for you