Dell Duet and Ori: Folding and folding notebooks shown at CES 2020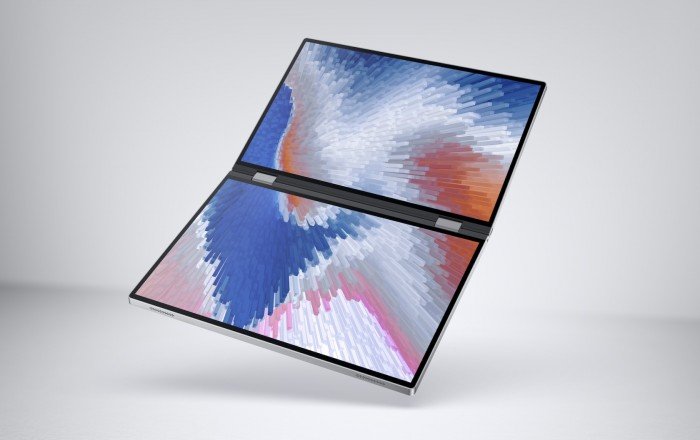 (Post image: © 2020 Dell)
Just in time for CES 2020, Dell has the latest Prointroduced to the notebook world: the Dell Duet and Dell Ori. In idea they are quite similar to this Surface Neo from Microsoft.
While the Microsoft model only comes with an almost continuous screen and thick bezels, Dell has installed two full, almost borderless displays with a touchscreen. So there is also a thicker hinge and it looks more like a normal laptop. The biggest unique selling point: the notebook does not need a keyboard at all, or it can be docked onto the lower touchscreen.
Dell Duet with two displays and an extra keyboard
Dell has come up with a solution so that you don't have to cumbersome typing on the on-screen keyboard with two touchscreens. There will be a keyboard to buy as an accessory, which can be docked and pushed around on the table on the lower screen to work. If you slide the keyboard into the upper area of ​​the display, you get a software touchpad underneath.
Without using the keyboard, both displays act as full touchscreens. Program can be seamlessly moved up and down – it should also be specially adapted for this in the future Progive gram. So could video editingprogram show the timeline on the bottom screen, which you can scroll on and work on the top screen. The Bluetooth keyboard can then be placed in front of the laptop and you have two full displays to work with.
Details on the equipment, prices and availability are still unknown - Dell is explicitly talking about one here Prototype. All we know so far is that there will be two USB-C (Thunderbolt) ports for connectivity.
Dell Ori is the slimmed-down model, but foldable
The foldable Dell Ori (gami) should probably cost less and be the slimmed-down version of the Dell Duet. As a disadvantage, you will find thicker display bezels and no possibility of docking a keyboard. For the latter, you can only use the on-screen keyboard. Unlike the Dell Duet, there will be a continuous, foldable display here. In the end you have an extended screen, which is probably not as practical as two independent displays.
Here, too, there are no more details - but Windows 10 X should be used as the operating system for both models. This is specially optimized for devices with foldable or two displays.
Here you can see the keyboard of the Dell Duet in action:
Recommendations for you