First press photo for the Galaxy S10 Plus appeared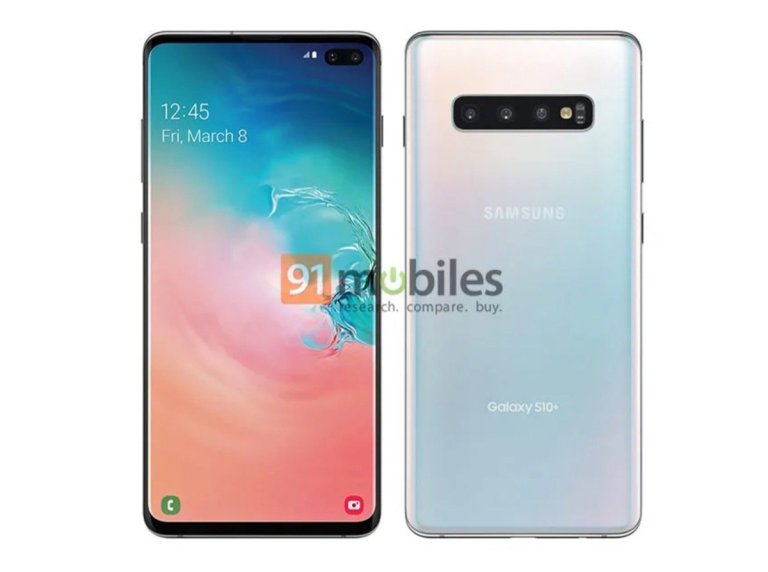 (Post picture: © 2019 91 mobiles)
Not for long, then the Galaxy S10, S10 Plus and S10 Lite will be presented. In addition to the leaks, a press photo of the S10 Plus is now making the rounds.
The press photo for the Galaxy S10 Plus was taken by MobileFlip discovers and shows the new flagship smartphone from the front and back. The first thing you notice is the color of the device. This very bright (and shimmering) blue has never been seen on any Samsung phone before. Then I immediately noticed the dual front camera. This was built into a hole in the display.
Where is the fingerprint sensor?
If you take a closer look at the back, you will notice that there is no fingerprint sensor to be found there. In the case of the S devices from the last two years, there was one more. So there is a presumption that the scanner is under the display, same as for example OnePlus and Huawei. Then there is a triple camera on the back. Thus, leaks of the past weeks correspond to the reality. Other rumors suggest that the Galaxy S10 Plus will have a battery with a capacity of 4000mAh. the Purchase price for the entry-level version with six gigabytes of RAM and 128 gigabytes of memory, it should cost 1049 euros.
Recommendations for you