Grundig OLED and Grundig Vision 7 - Fire TV Edition presented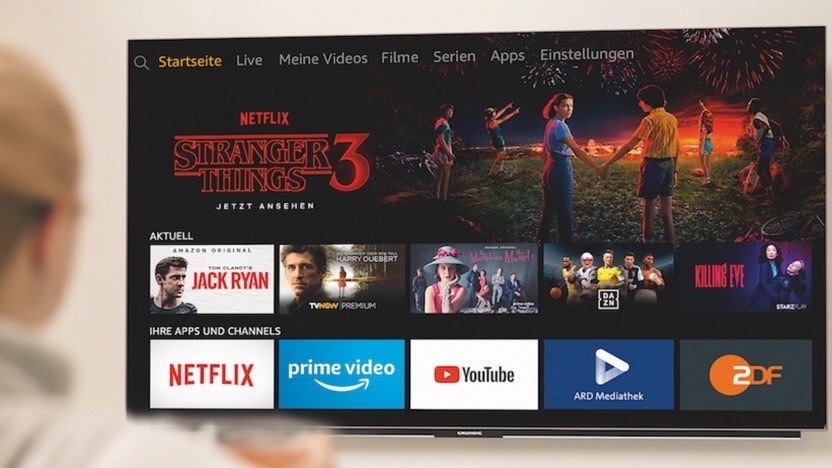 (Post picture: © 2019 Amazon)
As part of the Amazon keynote at IFA 2019, the online giant presented two new televisions together with Grundig. These run with FireOS as software - so they have directly integrated the classic Fire TV from Amazon.
Today Amazon showed several televisions in a "FireTV Edition" - but in the article we limit ourselves to Grundig under which brand the televisions will be available here in Germany and Austria. In England, for example, there are JVC televisions with FireOS.
Grundig OLED - Fire TV Edition
This is the name of the first, new television. This comes with 55 or 65 inches, has a resolution of 4K, supports HDR 10 & Dolby Vision and runs with FireOS. So it can do all sorts of things that you could do with a Fire TV or Fire TV Stick up to now. In addition to the size, you can also choose between the hands-free and the "standard" model. The first TV also has microphones built into the TV - the other comes with an Alexa voice remote control.
For the model with hands-free, i.e. Alexa integrated in the television and not just in the remote control, you have to pay 100 euros more.
The Grundig OLED - Fire TV Edition with 55 inches costs 1.299,99 euros, for the 65-inch model you have to add another 1.000 euros. Both versions will be available from November 21st - you can already pre-order them now on the Amazon website. Anyone who also chooses the hands-free version in the pre-order phase will receive one Ring Doorbell 2 for free.
Grundig Vision 7 - Fire TV Edition
In addition to the expensive models, a cheaper television was also shown. The Grundig Vision 7 comes with a resolution of Full or Ultra HD and comes in several sizes. There are 43, 49, 55 or 65 inches for the Ultra HD version and sizes 32, 40 and 43 inches for the Full HD version.
All models are available in black and white and come with an Alexa voice remote control. There are no microphones built into the television.
The prices of the Grundig Vision 7 start at 239 euros and go up to 699,99 euros. There are of course no extras like HDR 10 and Dolby Vision. The pre-order is now on the Amazon website possible, delivery will start on November 1st.
Recommendations for you