>> Test the latest technology and much more: apply to us! <
iOS 14 presented: new homescreen, app clips, card suggestions and more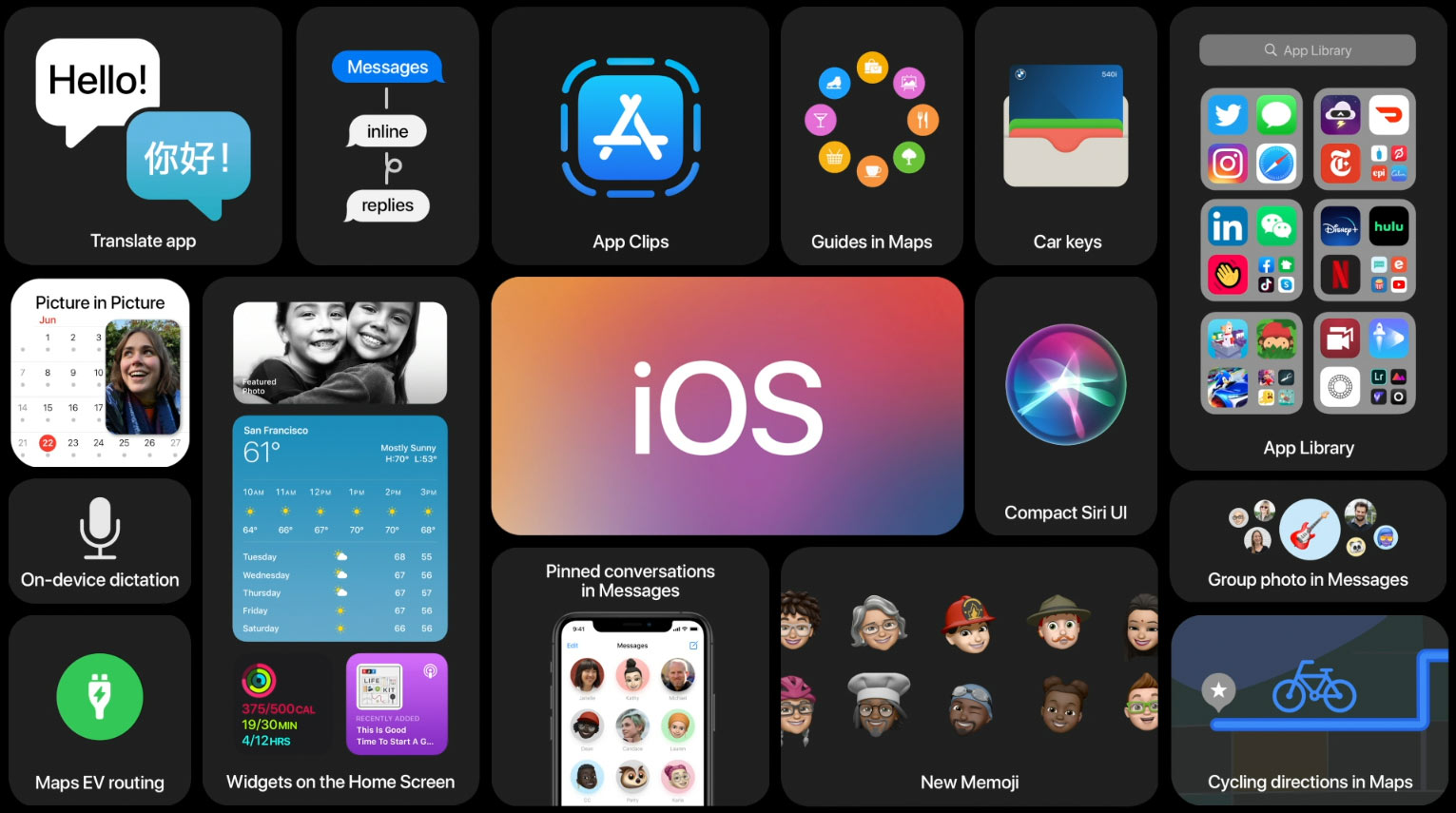 (Post picture: © 2020 TechnikNews/Screenshot)
The opening keynote of WWDC 2020 will take place today. Apple presented iOS 14 there. That is new.
The iPhone home screen has remained largely the same over the years. Not infrequently, this has led to chaos. Apple wants to counteract this. You want to achieve this with the App Library, which is located in iOS 14 after the last app page. There you can find all apps sorted into categories that you don't need that often. These apps can be selected using the familiar edit mode. What is new about this is that you now get a miniature view of all pages. In the App Library you can then orientate yourself on the categories mentioned, or you can use the search.
If you swipe left on the home screen, you get to the widgets. These now look more modern and can be of different sizes. If you go into edit mode, you can now also place them on the home screen. But you can also opt for a smart stack that allows you to switch through several widgets.
Crab
It continues with Siri. When you call it up, it now appears as a small speech bubble at the bottom of the screen. In addition, the display of the result of the executed action no longer takes up the entire screen. In addition, Safari, for example, can be opened immediately when you submit a search query.
Then there are some small improvements for the voice assistant. For example, iMessage audio messages can now be created and sent away.
News
The next innovations are for the news app. And Apple copied the first new feature directly from WhatsApp. In iOS 14, it is now possible to pin people who are often contacted at the top. Another new feature is that in a group, the photos of all participants are arranged around a central image. The innovations for Memoji are a bit less. There are only three new stickers.
Cards
With iOS 14, it should be easier to discover new places such as restaurants. For this purpose, Apple has teamed up with several companies and apps to feed suggestions into the software. Maps also shows areas that are heavily traveled in cities.
C
CarPlay also got some nice new features.
So that the display does not appear so gray, wallpapers can be set, which should spice up the whole thing a little. There is a whole bunch of new apps for the car. For example, a parking space search that shows the next parking space quickly and easily. In addition, you can now order food quickly via the display. The new version should find its way into cars from next year.
Besides, you have over carkey gesprochen. This feature allows compatible cars to be unlocked with the iPhone. At the start BMW is part of the party.
App Store
The first innovations for the App Store are app clips. These are parts of an app that you may need quickly, but have not just installed. Example: If you want to get a ticket at the parking meter, the company responsible can offer an app clip that you can use to do this without having to load the app. App clips can be received via NFC, QR codes or iMessage. There are also app clip codes, which are comparable to QR codes and which work in the same way with regard to app clips. Developers can integrate these for their own apps via Xcode.
Availability
The first beta for Programmer is available today. The first public beta will follow in July. The final version of iOS 14 will come in autumn, probably in connection with new iPhones. And these already available devices get the update:
iPhone SE (2020)
iPhone 11, iPhone 11 Pro, iPhone 11 Pro Max
iPhone XS, iPhone XS Max, iPhone XR
iPhone X
iPhone 8, iPhone 8 Plus
iPhone 7, iPhone 7 Plus
iPhone SE (2016)
iPhone 6S iPhone 6S Plus
Recommendations for you