IFA 2020: Pictures, highlights, review and summary of the technology fair in Berlin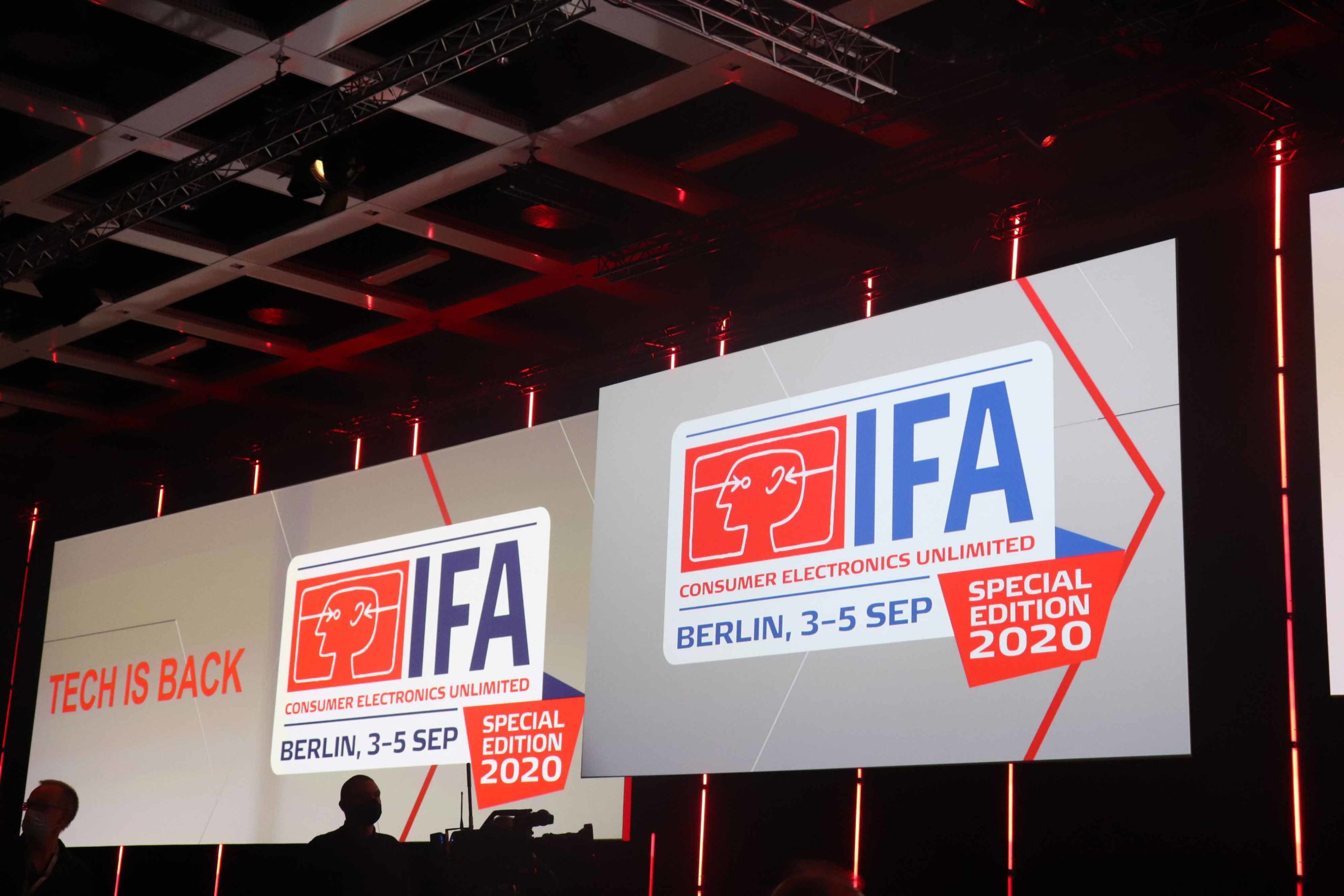 (Post picture: © 2020 © 2020 TechnikNews)
In the past three days it was TechnikNews on the occasion of IFA 2020 on site in Berlin. Despite Corona, the technology fair took place - this year, however, very slimmed down and with special hygiene measures. We summarize the highlights and give a review of three days of IFA 2020.
Already last year and 2018 we were from TechnikNews for you at the technology fair in Berlin. There we followed all the innovations in the tech industry live. Actually, IFA 2020 should also be a completely normal trade fair - until Corona the whole one Dash through the bill has made.
The "Corona-IFA"
Messe Berlin allowed the international radio exhibition (IFA) to take place anyway, however exclusively for journalists and a person limit under the motto "Tech Is Back". In addition, a special hygiene concept was considered, which is required by law in Germany. Visitor counters measured the occupancy rate in each hall and kept it below 750 people. Special traffic lights indicated the occupancy in front of each hall - if it had turned red, entry would have been refused.
Empty, empty, empty
However, the traffic light never changed to red and thus to the next point - the number of visitors. As the title suggests, it was really very empty at the fair. At no point would you have had to worry about being able to keep a distance of less than 1,5 meters (or for the Austrians: a "baby elephant").
Nevertheless, many visitors were expected and hundreds of chairs and tables were set up in the catering as well as in the press hall - which in the end were not used. It's a shame when you see all the work that has been put into it here. Additional announcements every hour also drew attention to the need to keep an appropriate distance along with the recommendation to wear a mask.
Highlights of IFA 2020
Anyone who has followed us on Twitter knows that there were still some exciting things to see - even if not from the "big players". Here are a few highlights that we believe were the most exciting.
Day 1 - Mask with air filter from LG
On the first day of IFA 2020, LG held its press conference. Aside from smart houses, there was also a new mask that was presented. With a special air filter, which is operated by a battery, it should be much easier to breathe than with normal masks. However, the wearable is not yet that relevant for us, as our market is not yet served.
Day 1 - Fitbit Sense in hands-on
We had the opportunity to discuss the new Fitbit sense to see in real life. The new top model can measure skin temperature, for example, and has stress measurement and an EKG function on board. Together with the new one Fitbit Premium, there are special insights for users about their activity and sleep data. Warnings when the heart rate is too high are also possible with the premium subscription. We got an introduction on site - looked very promising. The subscription will also start soon in Germany and Austria.
Day 1 - Oppo FlashCharge in action
We had the chance to see the new Oppo FlashCharge in action. With 125 watts, the power supply charges the smartphone from 20 to 0 in 100 minutes Procent on. Colleague Nils has a video ready for you on Twitter - that's what it really looked like, without any time lapse or other editing.
Gotta go almost 🤯 @OPPOGermany@TechnikNewsNET #FlashCharge pic.twitter.com/AhiP2ECI0B

- Nils Ahrensmeier (@NilsAhrDE) September 3, 2020
Day 2 - Miele brings artificial intelligence into the kitchen
In addition to new dishwashers, a new coffee machine and a new refrigerator, there was also a lot about artificial intelligence at the Miele press conference. For example, the new premium ovens from Miele can recognize which dish is being put in and thus automatically adjust the operating mode and temperature. Miele calls the technology "Smart Food ID", which is rolled out to supported ovens by means of a software update. From the end of the year, the function will initially only appear in Denmark, after which the update will be distributed in other countries.
In addition to the new Honor MagicBooks, where there is more information here about it, Honor has two new smartwatches presented (our hands-on). The most exciting here is the Honor Watch GS Pro, which actually attacks the premium sports watch manufacturers like Garmin with its special sports functions. In our hands-on article we have all the details about the new sports watch and what exactly it offers for athletes - very exciting.
Day 2 - realme with big plans
The company "realme" should not be known to that many people. In order to change that, the company presented itself at IFA 2020 this year as a young brand that specifically wants to reach young people. This is exactly what you want to achieve with a beautiful design and good hardware at a low price. You should already have over 50 million smartphones have delivered. You also have six new smartphones shown - in under two minutes.
By the end of this year, they want to have 150 experience stores worldwide, and they want to have more than 50 IoT stores this year.Produkes have in the range. So big plans.
Day 3 - Modular and green smartphones from shift
The last day at IFA 2020 was completely occupied by start-ups and smaller companies. So had a company with shift their press conference, with the aim of making modular and sustainable smartphones proinduce. The company has been operating under the name "shiftphones" in Germany. In addition to all the other press conferences where it's all about your own Proto market products and want to prove how good they are not, a very pleasant press conference.
Urban gardening by BerlinGreen at IFA NEXT
In addition to the IFA press conferences, there was a separate trade fair area for small companies and start-ups with IFA NEXT. There we visited the booth of BerlinGreen, which with the "GreenBox" you Proproduct on the subject of "Urban Gardening". This term stands for your own garden, which is not a real garden, but also procan be raised in an apartment without any problems.
With the help of an app, you can see how your own little plants are doing in the GreenBox at any time and see things like the status of the water tank. seeds for planting the Products can direct ordered by BerlinGreen but other seeds can also be used. Unlike the seeds from BerlinGreen, however, these are not "prepared" and not immediately ready for planting. The seeds from BerlinGreen come as "pods", which you can plug in and then get started.
Edible chocolate from the 3D printer
At the booth of chocolatehigh3 there was edible chocolate to taste straight from the 3D printer. So the boring chocolate sticks are over, but from now on there is chocolate in the form of company logos or other figures simply printed out. This will be a very exciting topic in the future - and the chocolate also tasted really good.
The trailing suitcase
Future candy also had a few on board at IFA NEXT - so there was a suitcase to see, which after a scan of the person could easily run after him. That went very quickly and was very practical when the suitcase follows its owner without having to constantly grab it. who TechnikNews on Instagram followed, saw it in our story - it worked quite well. If you missed the video, neither Problem, you can find the video to watch again in our story highlights.
Robot that tells jokes and guesses age (at least it tries)
He was able to cheer up the robot Pepper, who was also part of IFA NEXT at IFA 2020 in Berlin. During our tests he told us his elaborate robot jokes (You can find the video here on Twitter). He could also guess the age of the person in front of it (at least he tried) - and I was a proud 59 years old and on the second attempt I was 12 years old. Well, a bit off the mark.
Jokes Robot Pepper has loads of them on her #IFA20 in stock. 😂 #IFA2020 @IFA_Berlin pic.twitter.com/VQgZ9F75WK

— TechnikNewsNET @ IFA2020 (@TechnikNewsnet) September 5, 2020
Figures for IFA 2020
On the last day of IFA 2020, the final press conference to hear exciting numbers. According to their own statements, this was the case this year 1.450 exhibitors (150 of them on site) represented, 6.100 visitors on site, 78.000 visitors online and 262.000 views were counted in the IFA Xtended Space. That was appreciated - for precisely this reason, the IFA Xtended Space will be available with the retrievable content until the start of IFA 2021 and will be used again next year.
Conclusion on IFA 2020
IFA 2020 was different - but still not in vain. In contrast to the otherwise very overcrowded last few years, this was the first time that you had the opportunity to visit the respective exhibition stands in a very comfortable and relaxed manner. There was no "being pushed through" or scrum this year. There was no need to be afraid of an infection with the coronavirus - Messe Berlin has ensured a lot of gaps here and set up disinfectant dispensers in every hall.
Apart from that, the IFA 2020 was also a good place to make new contacts, to meet many people again for the first time after the lockdown and a trade fair without any hustle and bustle. Of course, the international consumer electronics exhibition cannot with such numbers of visitors promust have been fitable, but a good sign was given that, with good planning and consideration, a trade fair can also take place in times of Corona.
So it was an experiment to see and show what is possible in times of a pandemic. And, in my opinion, this experiment succeeded in spite of the abandoned halls - what the organizers have planned and put together is amazing.
Date of IFA 2021
The date for IFA 2021 has already been set - from September 3rd to 7th, 2021, the international consumer electronics exhibition in Berlin will enter the next round. According to the organizers, there are already 60 Procent of the exhibitor places booked, and one would like to go with full Program can start again next year.
Recommendations for you