>> Test the latest technology and much more: apply to us! <
IFA 2022: Outlook, exhibitors, events, dates and tips for the technology fair in Berlin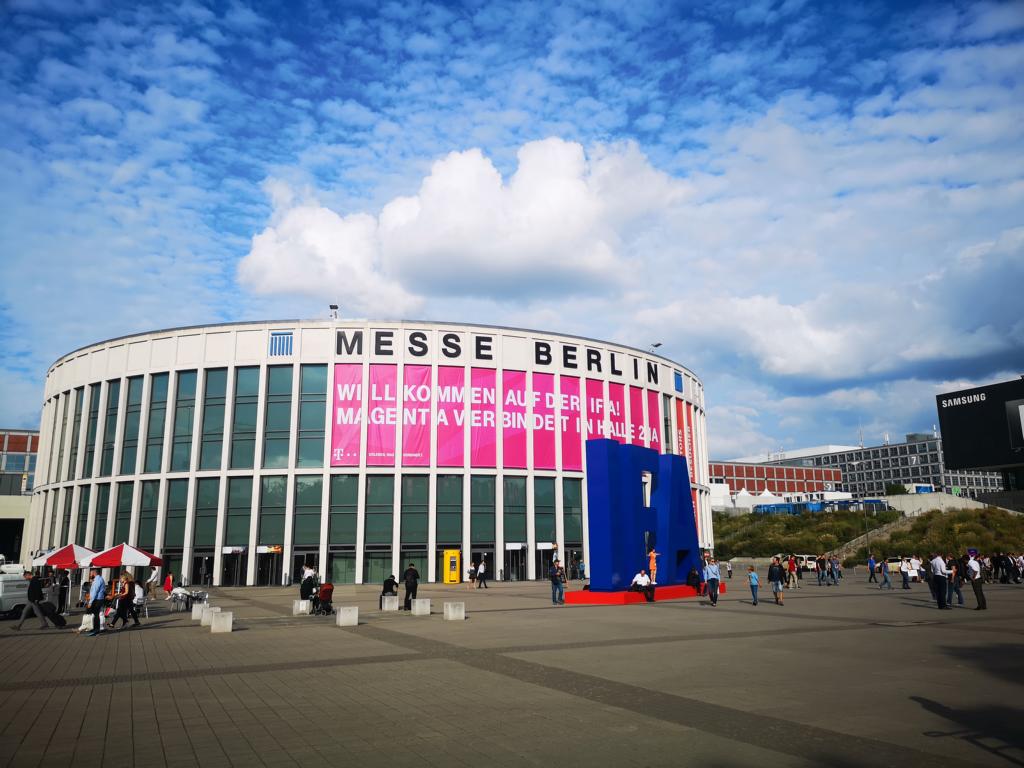 (Post picture: © 2018 © 2018 TechnikNews)
Bags already packed? In a few days the IFA 2022 will start in Berlin. Finally back in presence, without further restrictions. We have summarized all important dates, keynotes and events for you. As trade fair experts, we also have a few helpful tips for you.
Last year is the IFA completely failed, a year earlier – the IFA 2020 – was only sparsely attended. So since 2019 It's been a while since we traveled to Berlin, Europe's most important technology fair, when we were in full swing. We're really motivated. For the Team TechnikNews Fabian, Kevin, Nils and I - David - will be there. Are you there too? Connect with us on twitter, then we can meet and exchange ideas on site.
Outlook for the IFA 2022
Even if not all companies will be there yet, most of the names are represented in Berlin again. As in previous years, the first two days, August 31st and September 01st, will be reserved exclusively for journalists, bloggers and content creators. After that, from September 02nd to September 06th, the visitor days will take place. Then everyone else with a ticket will also have the opportunity to marvel at the innovations from the world of technology.
The most important events and dates
Let's look at the calendar. We're not allowed to reveal all events, but most of them are public knowledge. It's on our calendar (the full list is here to find, we picked a few).
Wednesday, August 31 (press day)
10:00 a.m.: Siemens press conference
11:00 a.m.: Miele press conference
12:00 p.m.: Bosch press conference
13:00 p.m.: IFA Opening press conference
16:00 p.m. Panasonic
Thursday, September 01st (press day)
10:00 a.m.: Amazfit press breakfast
11:00 am: Samsung press conference
14:00 p.m.: TCL press conference
15:00 p.m.: Toshiba press conference
15:00 p.m.: Dinner
Friday, September 02th (start of visitor days)
Morning: IFA Opening Tour (to be announced)
10:00 a.m.: Qualcomm press conference
11:00 a.m.: Schneider Electric press conference
13 p.m.: Beurer press conference
17:00 p.m.: Honor Keynote
Saturday, September 03st
10:30 a.m.: Huawei keynote
17:00 p.m.: experts
stand visits
In the meantime we will be traveling all over the exhibition center and visiting some companies. Among other things, the following stand visits are planned:
Amazfit
ASUS
Shopping Mall
dreame
Fitbit
Garmin
Lenovo
LG Electronics
nextbase
Nokia/HMD
Move
Sennheiser
showstoppers
devil
Withings
XGIMI
invite
If you have any ideas about which manufacturers we should definitely visit, please let us know.
These exhibitors are at IFA 2022
Unfortunately, not all companies are represented at the fair this year as they were in 2019. However, many well-known companies are still there, especially up-and-coming companies and start-ups use the IFA stage in Berlin. The entire exhibitor list is here to find.
We'll keep you up to date: IFA updates from TechnikNews
As you are used to from us, we will follow all events as best we can for you. We bring you the IFA experience directly in front of your screen. On the one hand through new posts here on the blog and social media posts. However, we will concentrate on the former - with as many pictures and first impressions on site as possible.
As was the case last year, it is best to follow us on:
The best IFA 2022 tips for trade fair visitors
Are you visiting the IFA Berlin directly? Welcome! However, a larger trade fair like the IFA requires some preparation in order not to despair on site. We have the best tips for you in each category.
Ticket Categories
Important: The ticket must be bought online, there is no ticket office on site.
Normal ticket: Access to the exhibition center
Trade visitor ticket: Fast Lane for fast entry, entry to IFA Global Markets, shuttle services, IFA keynotes, trade visitor tours, free WiFi at the trade visitor reception at the south entrance, trade visitor reception with breakfast: daily between 8 and 10 a.m. – south entrance, conference and meeting rooms, and much more
Arrival
In a big city like Berlin, you also have to plan your arrival. The best way to get to the IFA is by S-Bahn, but there are several options:
Train: Messe Nord/ICC, Messe Süd
Subway: Kaiserdamm, Theodor-Heuss-Platz
Car: Parking lot Berlin ExpoCenter City (Messedamm 22), CityCube Berlin (Messedamm 26), hub27 Berlin (Berlin Exhibition Grounds, Jafféstraße, Gate 25)
Visit to the booth
Are you planning to visit some exhibitors directly at the booth? Plan using the IFA site plan the visits well. It is advisable to approach the halls one after the other so as not to walk from one corner of the exhibition center to the other.
Use the IFA shuttle
With a trade visitor ticket you can use the IFA shuttle on the site free of charge. This will take you to all possible points at the fair and drive the lines drawn on the shuttle plan (Download link) along. This saves you a lot of walking.
Comfortable shoes
We already anticipated it earlier – a visit to a trade fair means a lot of walking around. At least as a visitor. Be sure to get comfortable, good shoes - trust me: we often have more than 13.000 steps on one day of the trade fair pro person put back.
Take a backpack or bag with you
Many companies give out goodies or other things at the booths. A backpack or a bag for these things should definitely be planned. But don't stuff too much in either: the backpack should be light and comfortable.
Good food
There are a number of food stands waiting for you directly at the exhibition center both indoors and outdoors. Our experience shows that card payment is not possible everywhere. So some cash is definitely recommended. A bottle of water in your backpack or pocket can't hurt anyway.
Don't dress too warm
You won't get cold in the exhibition hall - especially because there are many people in one room. So don't dress too warm, we would recommend loose clothing like a shirt and jeans. Very few people wear suits there.
Use the trade visitor breakfast
Morning refreshment? Absolutely. Do you have a trade visitor ticket? Take advantage of the free trade visitor breakfast, daily between 8 a.m. and 10 a.m. at the south entrance.
With our tips you have already gotten the most difficult things behind you. Pack your bags, travel to Berlin and off you go. We wish you a lot of fun and maybe we'll see you!
Recommendations for you