>> Test the latest technology and much more: apply to us! <
iOS 15 officially revealed: The new version of the iPhone operating system can do that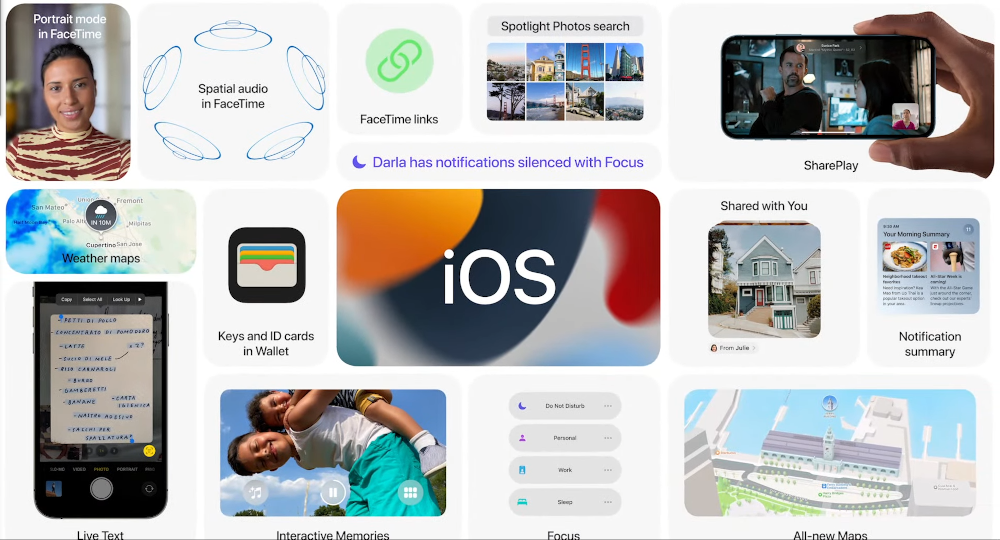 (Post image: © 2021 Apple)
As every year, Apple showed a new iOS at WWDC today. We are now at iOS 15, we will show you what it can do.
After Tim Cook welcomed a horde of Memojis, Craig Federighi immediately came to iOS 15.
FaceTime
Federighi started with the innovations for FaceTime. In the wake of the ongoing pandemic, the video phone call app has been further improved. The first thing that people spoke of was Spatial Audio. This was introduced last year and is intended to make the sound even more natural. "Voice Isolation" was developed to go with this. This feature ensures that your own voice is better emphasized. If the environment is to be included, you can switch quickly.
The view for group calls has also been revised. There is now a completely new gallery. In addition, the portrait mode in FaceTime made it.
"FaceTime links" is also new. You can now organize calls and share them with others, for example via the calendar. Now you can even invite Android and Windows users, as FaceTime now also lives in the browser.
With these group calls with "FaceTime links" you can also turn off "SharePlay".probeer Here you can share content from your device, including music, series or just the screen content. The whole thing also works with AirPlay for even easier operation. An API was also introduced for developers so that they can optimize their apps.
iMessage
It continued with iMessage. Once again, the chat view has been given some changes. Several images are now shown, for example, as a "pile of photos". And for easier organization of messages, you can pin individual messages with iOS 15. "Shared with you" ensures that your iMessage content that has been shared with you is shown in the respective apps. For example: If someone sends you an Apple Music playlist, it is immediately listed in the music app and it says who it is from.
Notifications
Most recently, Apple worked on notifications on iOS 12. There are now more new features for this area in iOS 15.
For better order, Apple introduced "Notification Summary". This sorts notifications based on various criteria, such as the time of day. Messages from contacts are shown at the top so that they cannot be overlooked.
Next to Do Not Disturb, Focus is new. This new function ensures, for example, that only certain notifications are delivered in a certain mode. Apropos "Do Not Disturb": If you activate this mode, your iMessage contacts will also see it from now on.
Live text
Apple also introduced "Live Text" for iOS 15. Think of it like Google Lens. You scan a text, use it in apps or carry out further research thanks to "Lookup" with it.
Spotlight
Apple also announced news for Spotlight. You can now search for photos without opening the gallery. And for a search query, all associated information is now shown, including calendar appointments with a specific contact.
Gallery
Next up was the Photos app. In the "For you" tab, the app creates its own "memories" for you with iOS 15. These are photo films that the app automatically highlights with music from Apple Music. You can also create these yourself.
Wallet app
In addition to your Apple Pay cards, other entry passes are now supported in Wallet. It was also announced that, together with BMW, further models would be equipped with "CarKey". In addition, Wallet now accepts key cards and ID cards. For the time being, the latter can only be used in the USA.
Weather
The weather app got a new user interface. Information is now in individual tiles, which is a lot clearer. New map views provide information on, among other things, how much precipitation there is in an area. And: There are new backgrounds that better show what the current weather is like.
Cards
There were a lot of announcements for the Maps app last year. These will be rolled out in Spain, Portugal, Italy and Australia by the end of the year. Not a word about Austria, Germany or Switzerland. Optical additions can be found in the map app with iOS 15 on all corners. In addition to sights, the app also shows street details that are needed for navigation.
And while we are on the subject of navigation: navigating by public transport is now a lot easier.
Recommendations for you