Kensington StudioCaddy introduced: charging station for all Apple devices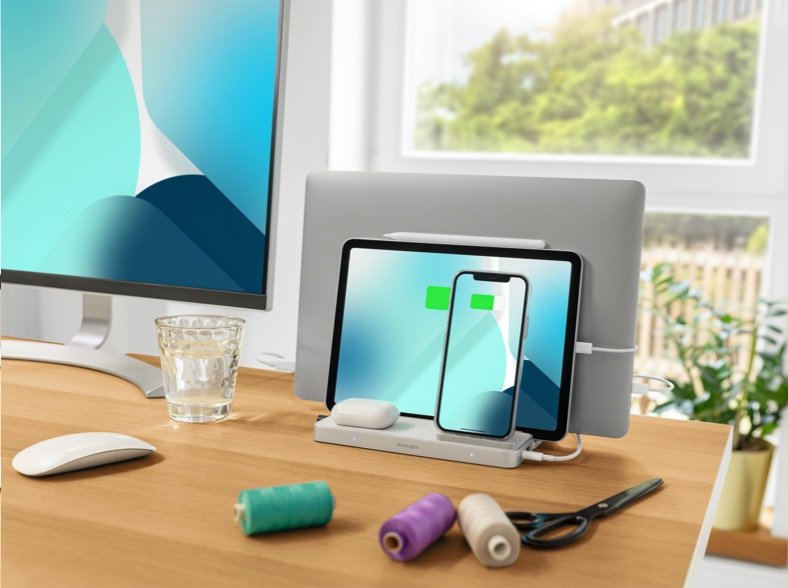 (Featured image: © 2021 Kensington)
Kensington is no longer known only for its laptop locks. This is shown, among other things, by the new Kensington StudioCaddy, which can be used to store and charge your Apple devices.
The Kensington StudioCaddy consists of two parts. One part is intended for an iPhone, an Apple Watch and AirPods. While there is a Qi charging surface for the phone and the in-ears, there is a USB-A and a USB-C port for the Apple Watch charger. The power connection for the StudioCaddy is installed on the opposite side of these.
The second part is an aluminum frame with two slots. MacBooks or iPads can be inserted into these. The component does not have its own charging connections, but you can use the free ports of the first part.
The two Qi plates support charging with up to 10 watts. Even if at Proproducts of the competition is more in here, that's still not a bad value. The current for the USB-C port is up to 2,25 amps (nine volts) and 2,4 amps for the USB-A port (five volts). Apart from the power pack for the power connection, no other cables are included in the scope of delivery.
Kensington StudioCaddy pricing and availability
The Kensington StudioCaddy is currently only on the Homepage of the manufacturer available. At the time of publication of the article, this is ProHowever, the product is also sold out there. The price is $179,99.
Recommendations for you