>> Test the latest technology and much more: apply to us! <
macOS Monterey: Some features only run on M1 Macs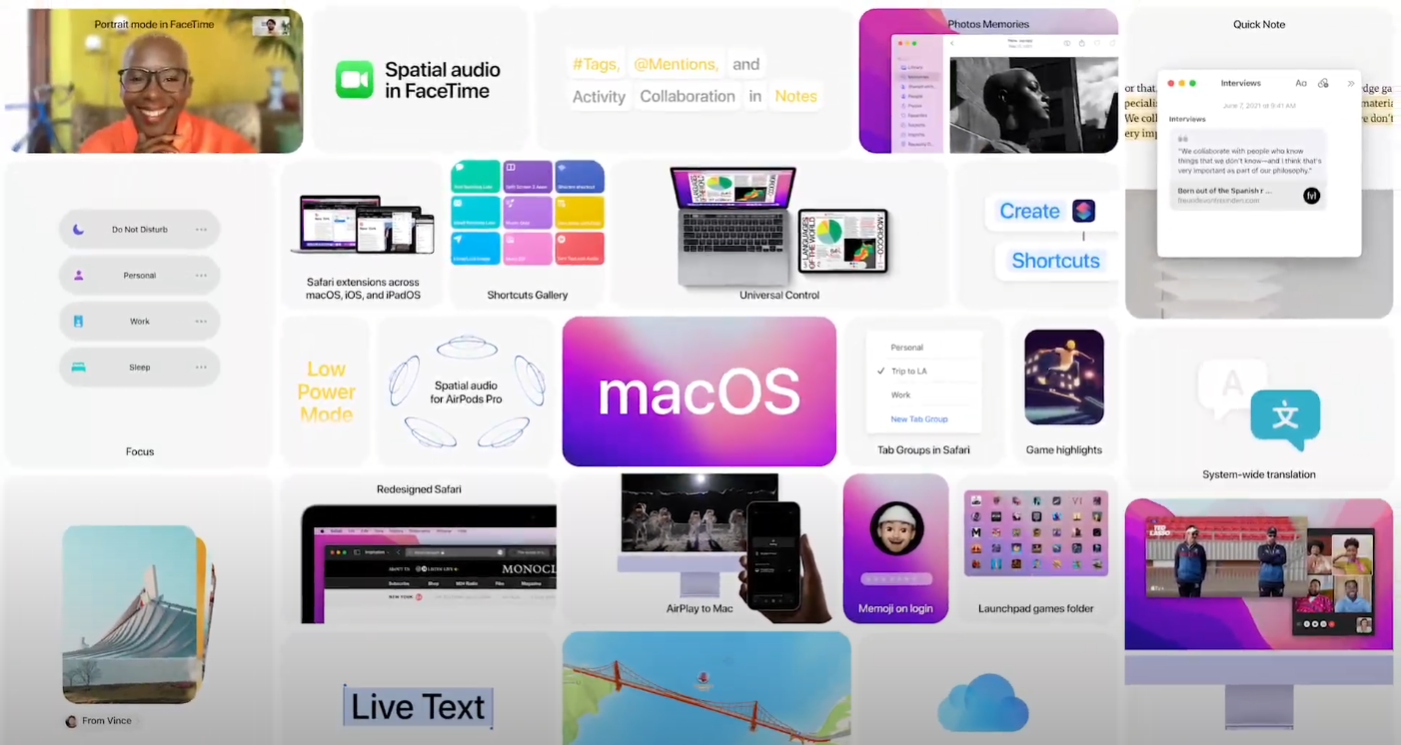 (Post image: © 2021 Apple)
Last Monday revealed Apple macOS Monterey. What was kept secret: Some features are reserved for the M1 Macs.
Lots of Macs will receive the update to macOS Monterey later this fall. This brings some interesting functions with it, including "Universal Control" and its own app for creating shortcuts. Then there are still many innovations for iOS 15 and iPadOS 15that will also come to the Mac. This includes, for example, "Live Text", thanks to which texts can be extracted from photos and processed further.
If you look at the fine print on the Preview page of the operating system, one detail catches the eye. Some functionality is not available on Macs with an IntelProprocessor not available. But what are they and why is that?
macOS Monterey: Neural Engine required for some features
Specifically, these functions are not supported by Intel Macs:
Portrait mode in FaceTime calls
"Live Text"
3D view of the earth in the Maps app
Detailed map views
Text-to-speech
Processing of the voice input on the device
Apple itself did not provide an explanation as to why these things would not work on Macs with an Intel chip. Rene Ritchie then spoke up on Twitter and claimed that macOS Monterey needed a neural engine for these features. This neural engine is only integrated in the M1, which results in this restriction:
It's because Intel Macs don't have the neural engine these features require. M1 is on A14X +. T2 is on A10 (pre-ANE). T1 something about S2 (watch SiP). Previous Intel Macs had nothing. These features all lean on the neural engine. https://t.co/jxqB7LsR2Q

- Rene Ritchie (@renerichie) June 9, 2021
Apple is currently upgrading its own computers to its own ARMProcessors like the M1. It is therefore understandable that new components of the OS are gradually designed accordingly. So it remains exciting to see how the older Macs will be handled in the future. The big question is whether users of these models will eventually no longer get any innovations, since everything only works with the newer devices. Here we can only wait and see.
Recommendations for you