>> Test the latest technology and much more: apply to us! <
New Apple TV with 4K and HDR presented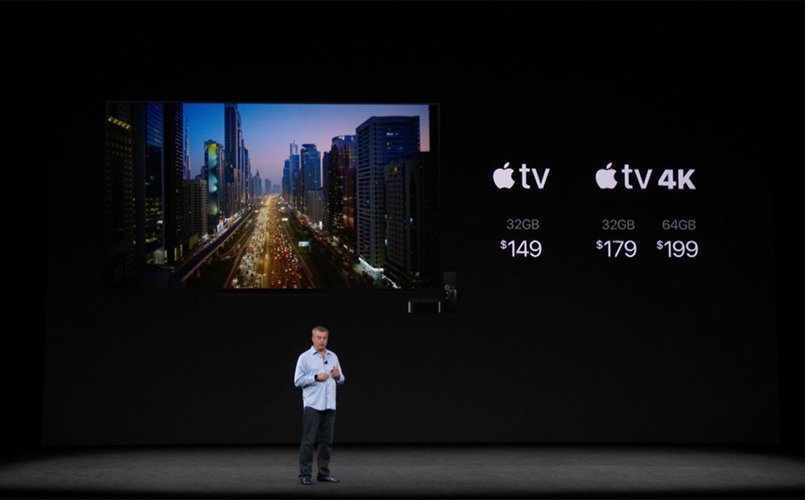 (Post picture: © 2017 TechnikNews/Screenshot)
The Apple TV 4 was launched in 2015. In the meantime, however, a lot has happened with the set top boxes. 1080p is no longer standard, today there is only 4K and HDR. Apple also had to accept that, which is why they presented the Apple TV 4K at their keynote yesterday. The device can do that.
Design
The design of the Apple TV 4K is pretty much the same. It is still a "cube" that comes in black with the Apple logo on it. Most of the connections stayed the same. This means that in addition to Gigabit Ethernet and a Lightening Port, the new Apple TV also has an HDMI 2.0 connector. This is necessary in order to be able to display 4K content smoothly. The Siri Remote from Apple is also still included. Nothing has changed with this one.
Specs and Software: A definite improvement
The in-house Apple A4X Fusion works in the Apple TV 10K Proprocessor. This can also be found in the current iPad Pros. In the new set-top box from the Californian company, this ensures that the performance is twice as good compared to the fourth generation. The graphics performance has even been quadrupled. Therefore, you can play 4K videos in 60FPS and HDR 10 on the connected TV. Provided the television supports these standards. The software used is tvOS in the second version. You want to know what the software can do exactly? Just read our article on WWDC 2017, there you will find all the details. 3GB of RAM was installed for multitasking and app management.
Film offer
Because of the new video resolutions, Apple's store for films and series has also been adapted. Purchased content is instantly converted to 4K video. And the whole thing doesn't cost a cent. It also doesn't matter whether I choose HD or 4K material when I buy it in the store. Both versions of the desired content cost the same. That's really cool and not something you can take for granted. Of course, you can also get suitable content from Netflix, Youtube or the upcoming Prime Video app, which also was announced at this year's WWDC, stream.
Prices and availability
The Apple TV 4K will again be available in two versions. The version with 32GB of internal memory will cost around 180 €, if the memory is not enough, you can get 200GB in your new Apple TV for around 64 €. Pre-orders will be accepted from September 15th, in the store we will find the streaming box from September 22nd.
Recommendations for you