>> Test the latest technology and much more: apply to us! <
New tablets from Samsung: Tab S4 and Tab A 10.5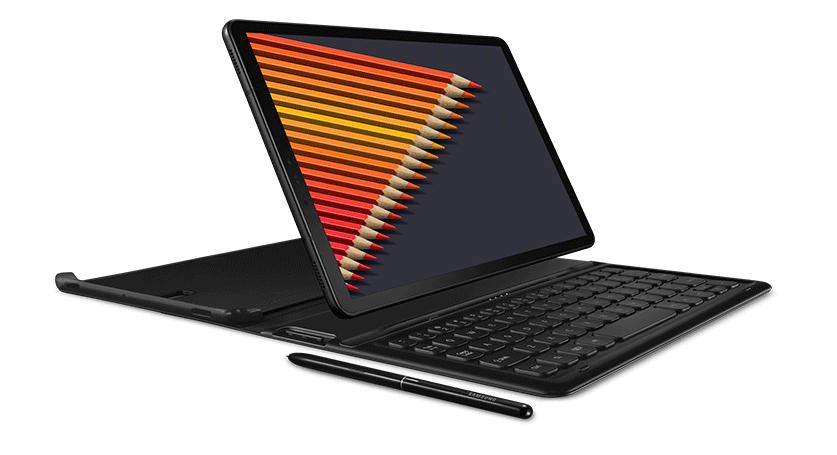 (Post picture: © 2018 Samsung)
Surprisingly, Samsung presented two new tablets just before the IFA. The tablet market continues to be multi-track. The Tab S4 is a high-end device for Proproductivity. This is shown above all by the DeX function. The Tab A devices are primarily mid-range devices for entertainment. But which device can do what and is the significantly higher price of the Tab S4 worth it?
Galaxy Tab S4
The new high-end device from Samsung comes in black and a light grey. The main focus here is on that proproductive work.
Book Cover Keyboard and above Proproductivity
The new Book Cover Keyboard in particular makes it clear: Samsung wants competition hereproduct to the iPad Pro launch. Samsung could well have succeeded in this, because the S-Pen is already included in the scope of delivery. Only the Book Cover Keyboard has to be purchased separately for an RRP of €149,99. This can then also be easily attached to the tablet using the magnetic POGO connection. But within limits Proproductivity, we go one step further here. The concept is called DeX (long: Desktop Experience). After this you can simply connect a monitor using the Dex Cable (an HDMI adapter) and then work with peripherals such as a mouse and keyboard like on a desktop. This also works without an external monitor on the tablet by starting the function via the status bar.
The new S-Pen for quick notes
The now Bluetooth-enabled S-Pen comes with a 0,7 mm thin, rubberized tip. The support of Bluetooth brings new features such as controlling the camera, music or opening apps at the push of a button. However, the real purpose is to write on the tablet. For quick notes, Samsung offers a very special feature called "Screen Off-Memo". This allows writing to the device while it is in standby mode. This could be useful for a quick to-do list, for example, or as a homework book at school. But writing handwritten messages to friends will also be possible. A very interesting feature for schools is the integrated translator, which recognizes handwriting. You can use this on pictures by marking certain words or sentences with the S-Pen, but also on your own notes.
Technical data
While other manufacturers rely on a display in 4:3 format, Samsung supplies a 4″ Super AMOLED display in 10,5:16 format in the new Tab S10. This is particularly positive for watching films or videos, which should also look razor-sharp due to the resolution of 1600x2560 pixels. The 7300 mAh battery should provide enough power during the day, which can be quickly recharged via fast charging on the USB C port. If you also want to use complex apps or games on the device, the Snapdragen 835 is available Proprocessor to the side. This is an octa core Proprocessor that clocks at 2,35 GHz and 1,9 GHz. Important for proProductive working with multi-window is above all the main memory, which is sufficiently large with 4 GB. The internal 64 GB memory can be expanded by up to 400 GB using a MicroSD card. That should be enough space to store all the photos taken with the 8,0 MP camera. This offers an aperture of f/1,9 and a 4K video function.
Features
The first thing that strikes you is the lack of a fingerprint sensor. Because with the Tab S4, Samsung only relies on face unlock and an iris scanner, in addition to the established options for entering a PIN, password or pattern. If the device is used for entertainment, four speakers are available. These have been optimized by AKG and offer Dolby ATMOS support. This guarantees a spatial sound experience. If you don't want to charge your device via the normal USB-C cable, you can also purchase the POGO charging station. In this, the tablet is used as a picture frame to display pictures. Useful information such as weather or time can be displayed using the Daily Board.
Prices and availability
From August 24th, the tablet will be available for either € 699 without LTE or € 799 with LTE. The Book Cover Keyboard costs an additional € 149,99. However, if you pre-order a Tab S4 by August 22, 2018, you will receive the book cover free of charge when you register the device. If you want to use the device with a contract, alternatives with contracts with Telekom, Vodafone or O2 are already available on the Samsung homepage.
Galaxy Tab A 10.5
"The tablet for the whole family" is how Samsung is currently advertising the device. It actually seems like the little brother of the Tab S4, because here too we find a 10,5″ display, a 7300 mAh battery and quad speakers from AKG. But there is only 3 GB of RAM and an octa-core Proprocessor with a clock speed of 1,8 GHz. The display here has a resolution of 1920 x 1080 pixels.
Multi-user mode, augmented reality and POGO charging station
This new feature in Tab A allows different usersprocreate file. You can imagine this as on a real PC, because every user should be able to experience the tablet in their own way. For example, there is also a children's mode here, which can limit the period of use, for example. Up to 8 different ones are supported Profile on a tablet. But you can also do several as one person Prouse file. So it may be useful to have a Profil for work, another for entertainment using films or videos, and a third Profil can be used for reading.
Tab A can also be used on the POGO charging station and shows not only images but also information such as weather or the time. Using augmented reality through Bixby Vision, information about restaurants on the street can be displayed, but also signs or the memory card can be quickly translated. The whole thing is shown on the recordings of the camera, which also has a resolution of 8 MP.
Availability and prices
The Tab A 10.5 is also available in black and a light gray. The WLAN variant costs € 329 here. If you want to use the device on the go via LTE, you pay 389 €. The purchase with a contract is also possible here on the Samsung homepage. There is also a pre-order campaign here, where you can get the POGO charging station free of charge.
Recommendations for you