Nokia 9 PureView: The first smartphone with five cameras is here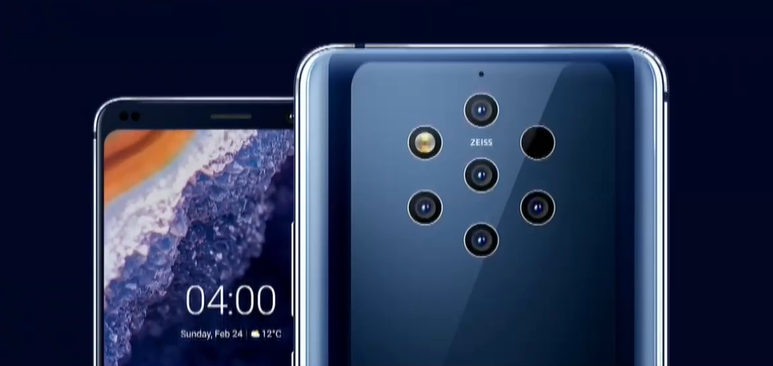 (Post picture: © 2019 TechnikNews/Screenshot)
Nokia today has a downright Product fireworks ignited. Four cheap smartphones were shown - now the fifth with the Nokia 9 PureView. In this article you will find all the details and specs.
The Nokia 9 PureView is the Finnish flagship camera. The MWC was used for this in 2019 and has been doing so for a long time now Smartphone shown in leaks to finally let it out of the bag. With five cameras, it is the first smartphone on the market with that many cameras.
Nokia 9 PureView: These are the specs
The camera king with the dimensions of 155 x 75 x 8 mm comes with a 5,99 inch pOLED display on the front, which has a QHD+ resolution – without any notch. The Snapdragon 845 with 6 GB of working memory and 128 GB of internal storage is also at work inside. The camera comes with five lenses, which total 60 MP for a photo proinduce. Three lenses are monochrome, the other two take care of RGB color photos. All have a resolution of 12 megapixels and come with an aperture of f/1.82. The front camera, on the other hand, has a resolution of 20 megapixels.
The battery is 3,320 mAh and can be charged via wireless charging. The Nokia 9 can also be charged using USB-C using the quick charger. The fingerprint sensor is also located under the display - as is the case with some competitor smartphones. In addition, it is waterproof and dustproof according to IP67. The software solution is Android 9 Pie. Unlike other manufacturers, Nokia leaves the operating system completely unchanged ("Stock Android") and does without its own user interface.
The latest Bluetooth 5.0 and NFC are also on board. LTE Cat16 4 × 4 MIMO also ensures decent cellular speed. The Nokia 9 PureView is also dual SIM capable.
The Nokia 9 comes at a price of 649 euros (RRP) and will be available from March. The pre-order starts today on the Nokia website. The only color variant is midnight blue.
Recommendations for you