Nreal Light: Vodafone brings AR glasses to Germany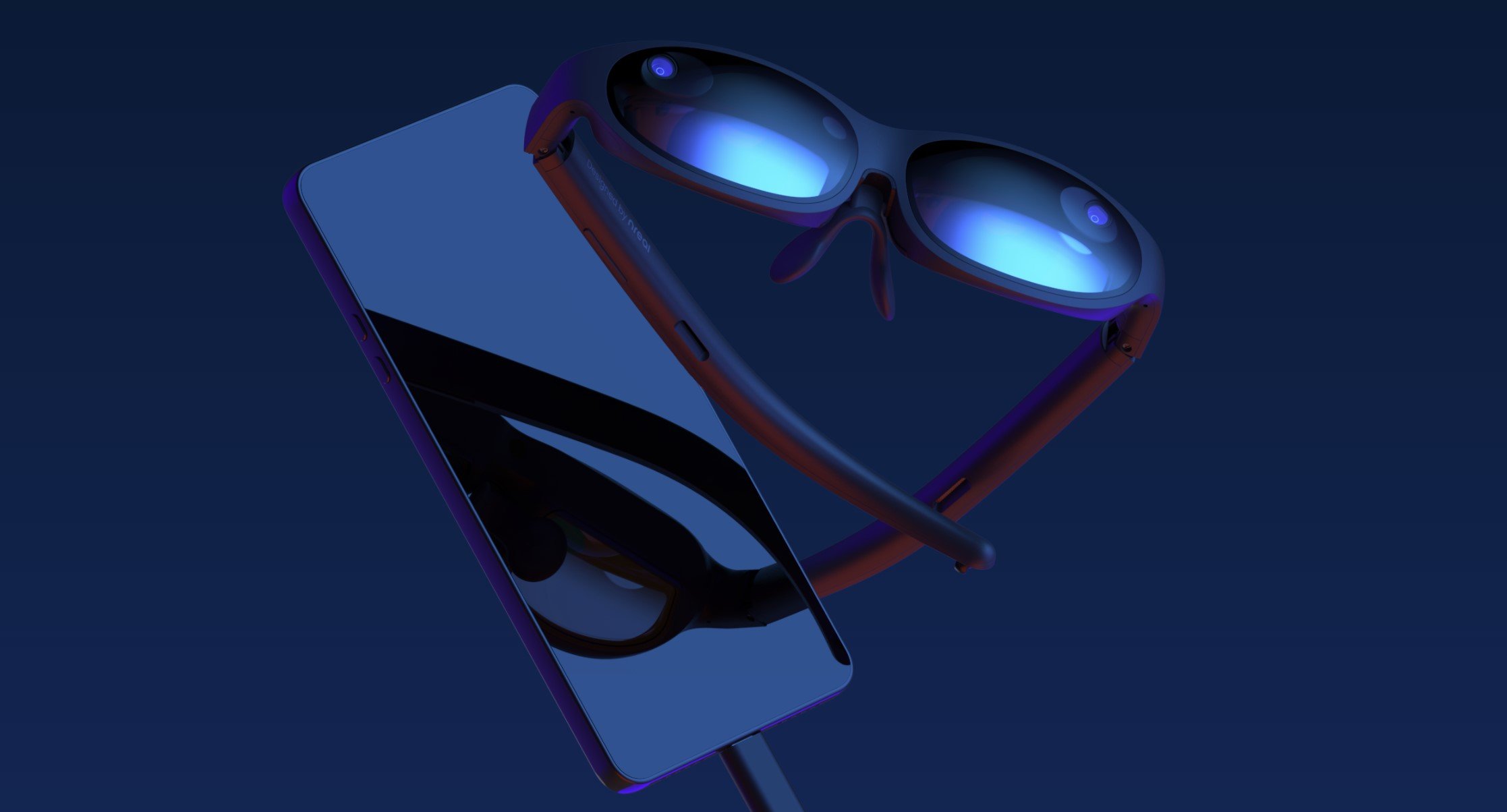 (Post picture: © 2021 Nreal)
The future starts soon. How - are you wondering now? Very simple, it's called Nreal Light.
The Nreal Light are AR glasses that are connected to a compatible smartphone by cable. This was announced in 2019 and had convinced many testers by then. It offers a better picture quality than the known one Microsoft Hololens 2for just under $ 600.
How exactly is that possible? Quite simply, the Nreal Light are wired AR glasses that are connected to a smartphone via Type-C. This means that the electricity and the graphics or the general computing power come from your smartphone. At the moment it looks like only Android smartphones with Qualcomm Snapdragon 855 and higher are compatible with the glasses for the time being.
Of course, this contributes to the relatively "low" price, since no graphics hardware has to be installed here.
Technical data
Weight: 106 grams
Optics: Compound Lightguide (reflective OLED screens)
Spatial Computing:

6 DoF (6 degrees of freedom)
Area detection
Image recognition

Audio:

Dual speakers (virtual surround)
Dual microphones (better intelligibility and voice commands)

Sensors:

2 spatial computing cameras (hand tracking)
Photo / HD Video RGB Camera
IMU (Accelerometer, Gyroscope)
Ambient light sensor
Proximity Sensor

connectivity:
Buttons:

Brightness regulator (in the frame of the glasses)
What exactly can it do, what does it look like?
As I said, the Nreal Light is connected to your Android smartphone. This enables you to use all of your Android apps in a virtual surface that Nreal calls "Nebula". This virtual surface lets you use normal Android apps in floating windows (up to three apps at the same time) in your room, floating freely or pinned to a wall. These should also remain there by the tracking cameras. This means that you can set up an AR environment in your room and if you use the glasses in this room, the objects will reappear in the same place.
There are also so-called MR apps, as can be seen in the first photo at the top right of the small MR button. How that looks can be seen in the picture below the paragraph. There are already a lot of apps in development for the Nreal Light that is to blame for the Telekom Deutschland Tech Incubator. Nreal is working with Deutsche Telekom and Vodafone in Germany to bring the Light onto the market here. The Nreal Light can either be operated with a smartphone or, soon, with hand tracking.
Availability
The Nreal Light is a very exciting development in terms of AR for consumers. Vodafone announced on March 2nd, 2021 that the Nreal Light will be available for pre-order on March 18th. Deliveries begin on April 1st. It will be in a tariff with the upcoming OPPO Find X3 Pro be available, although I hope that it will later be available on its own. A price for Germany has not yet been named. I calculate around 600 euros, which is very cheap compared to the Microsoft Hololens 2, which costs 3849 euros. I'll take a look and post a review here TechnikNews to write. It will soon be seen whether she can convince me.
Recommendations for you