OPPO ColorOS 13 officially presented: All features and news at a glance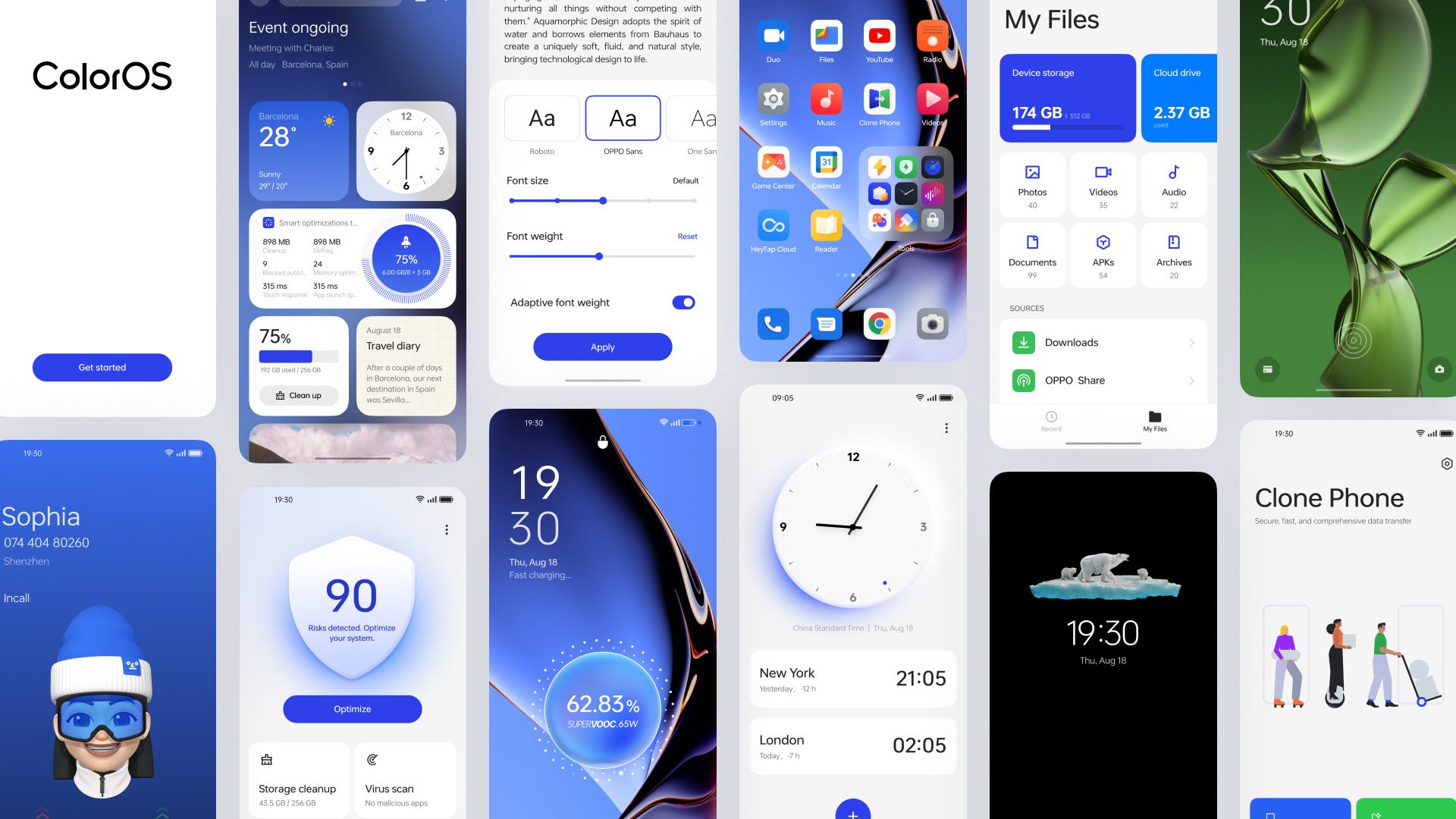 (Post picture: © 2022 OPPO Germany)
OPPO officially introduced their new operating system called ColorOS 18.08.2022 on August 13th, 13. This is of course based on Android XNUMX. You can find out what it offers here.
With ColorOS 13, OPPO wants to adopt all the new features of Google's Android 13 update and is relying on a new look. This goes by the name of "aquamorphic" design. It's water based.
It should continue to increase user-friendliness as well as clarity and comfort. The seamless connection between different devices, whether Windows or ColorOS should have been further improved, so that the Proproductivity is further increased.
ColorOS 13 will initially appear on this year's flagship models OPPO Find X5 and OPPO Find X5 Pro come. Incidentally, it is to be rolled out to a total of 35 other OPPO smartphones over the course of the year.
Aquamorphic Design in detail: Smooth animations and water physics
As already mentioned, OPPO's new aquamorphic design is based on natural water effects.
The entire UI is designed to adapt to the changing light of the day. Vibrant colors provide a more vivid feeling using experience. New fonts should be easier to read. The card design provides better contrast between the different elements.
Thanks to the new Quantum Animation Engine, aquamorph effects ensure that the system animations of the entire surface are lively and intuitive to use. The icons should offer a high recognition value. Adaptive layouts ensure better display options for different display sizes (tablets, foldable or maybe even TV?).
"Homeland" always-on display features flora and fauna
With the new Homeland AOD series in ColorOS 13, OPPO offers the possibility to send polar bears, penguins or clown fish with corals to the AOD (Always On Display). These should play animations when activated or deactivated and also adapt to the respective time of day.
Dynamic Computing Engine: Experience optimized performance
ColorOS 13 was the first operating system to be developed with the new Dynamic Computing Engine, OPPO's own development. This should ensure stable, smooth and optimized user experiences. The focus should be on longer battery life and the extended option of keeping several apps active in the background at the same time.
OPPO's Smart Always-On Display: Spotify and Bitmoji ahoy
Also on board are Spotify and Snapchat with their Bitmojis. OPPO's new Smart AOD supports interactive music playback through close cooperation with Spotify. You can control your music from the AOD and even select and play playlists. Without unlocking the smartphone, let alone having to go to the lock screen.
You can also display Bitmojis as AOD. Snapchat is used more intensively here.
Of course, AODs shouldn't consume a lot of battery either. The ColorOS team probably thought the same thing. Because thanks to the new LTPO 2.0 technology in the display, the Find X5 Pro lower its AOD to 1Hz refresh rate. Thus, in certain scenarios, up to 30 Procent electricity saved.
Large folders, shelves and start screen widgets are also available
Other smaller features would be the large folders on the home screen. In addition, shelves and widgets that boast their own design.
Meeting Assistant is also a new feature that OPPO has developed due to the many online meetings caused by the pandemic. This assistant automatically prioritizes data packets from meeting apps to ensure a smooth and disruption-free meeting.
Multi Screen Connect: Stable multi device work
If you work on several devices at the same time, you may already be familiar with Multi Screen Connect from ColorOS 12. So far, this has ensured very good integration of an OPPO smartphone and a Windows PC.
With the new update, among other things, several mobile apps can be displayed in different windows on the Windows PC. Data transmission is no longer hardware-dependent either. Stability and speed have also been improved once again.
OPPO x Google: The perfect experience
OPPO has long been working directly hand in hand with Google to share the best experience with its users. Therefore, devices like the OPPO Find X5 Pro and the Find N, which is unfortunately not available in this country, is equipped with a ColorOS 13 beta in order to be able to collect feedback from early users.
ColorOS 13 rollout and improved update policy
The global launch of ColorOS 13 will probably reach 2022 smartphone models in 35. This is the largest number of device updates in OPPO's history.
60 countries and over 160 million ColorOS users will soon be able to use the new ColorOS 13.
The rollout starts immediately with the Find X5 Pro and Find X5. From 2023, another 20 devices will be supplied with ColorOS 13.
In the past there was always a Western Europe rollout plan. Whether this separation still exists remains to be seen. If there is any news here, we will update this article accordingly. Also, for carrier models, like Vodafone, the update may arrive either earlier or later than open market devices.
Recommendations for you