OPPO Find N: Compact foldable officially presented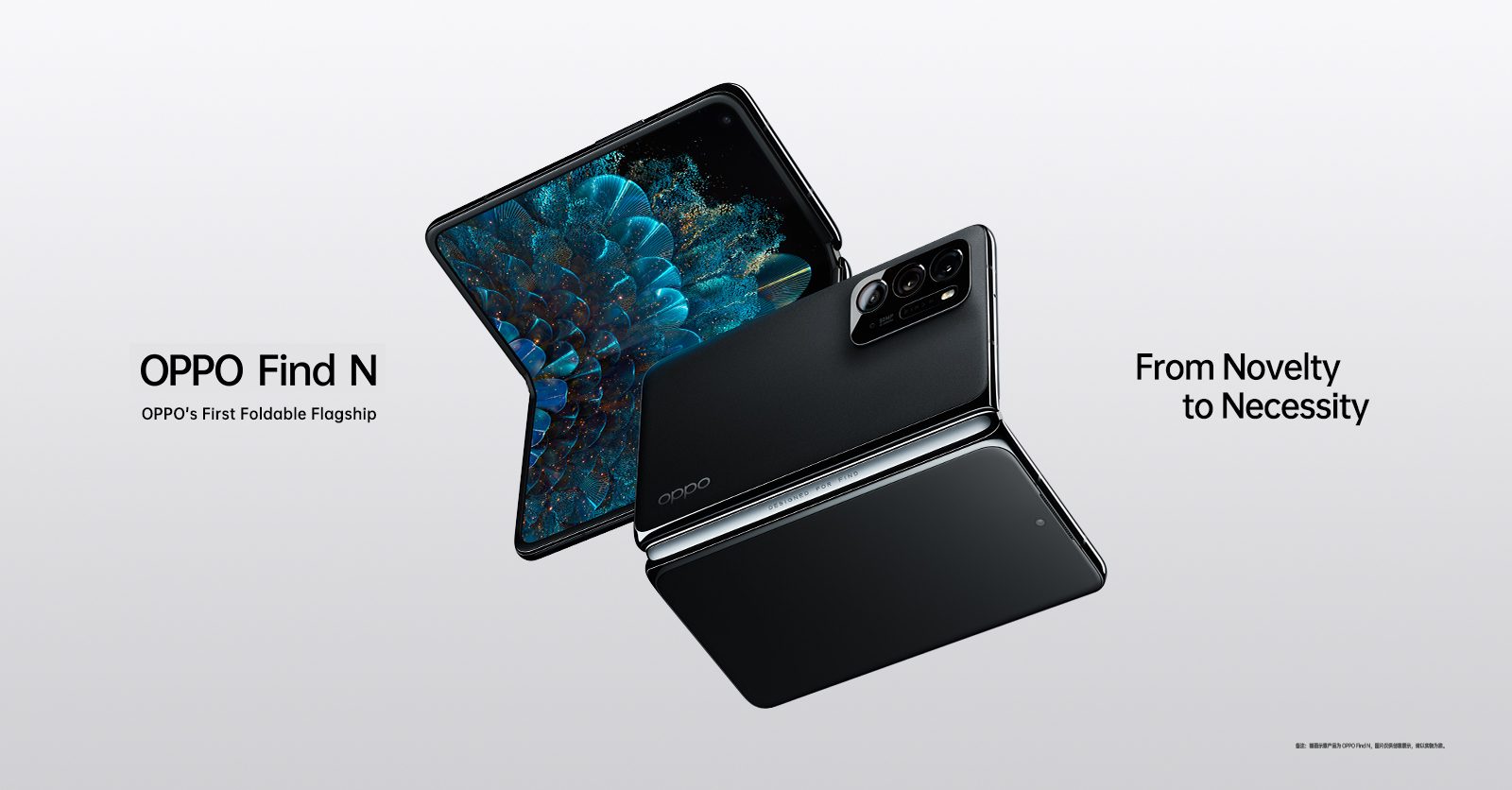 (Post picture: © 2021 OPPO Germany)
OPPO Find N will be the name of the first foldable smartphone from OPPO. This was now at its own launch event on the OPPO INNO DAY 2021 officially presented. Here you can find out what it can do.
Today it was finally presented, the Find N. As it was in the rumors a few months ago, OPPO is hereby reviving its old, high-quality OPPO N series. Let's take a closer look at the story behind the Find N.
4 years of development at 6 Prototypes
OPPO has been working on the development of the Find N for more than four years now. A total of six ProThere were prototypes during development, but according to OPPO none of them were really ready for the market.
"New form factors bring a breath of fresh air to smartphone technology. OPPO has gone to considerable lengths to develop its own approach to a foldable smartphone, experimenting with different form factors, hinge designs, display materials and aspect ratios. The result is a device that meets a wide range of requirements for users. With the OPPO Find N, we are showing new possibilities for smartphones and at the same time making foldable devices accessible to a wide range of users. "

Pete Lau, Chief Product Officer at OPPO as part of INNO DAY 2021.
OPPO wants to bring foldables into the mainstream
With its motto, OPPO goes to the limit at Find N: "From Novelty to Necessity" it says. This is emphasized by high quality and modern technologies. When folded, it can be used like a conventional smartphone thanks to its normal form factor.
In the unfolded state, on the other hand, you get a large 7,1 inch AMOLED QHD + LTPO display with a refresh rate of up to 120 Hz. The outer display should be for quick text messages and photos or videos, so it has "only" been given a 60 Hz refresh rate and an FHD + display. This also measures 5,49 inches on the diagonal. Incidentally, it also offers an 18: 9 aspect ratio, so you don't have to get used to using the outer display.
With a teardrop design for a wrinkle-free display
The built-in hinge in the Find N was developed by OPPO so that no or at least no visible crease (or fold) on the display can be seen. With a precision of 0,01 mm and 136 different components in the hinge alone, this has now finally been achieved.
The TÜV confirms that the minimum articulation angle is up to 80 Procent is less prone to damage than the devices of the competition. Because there are no vacancies when the device is closed.
FlexForm mode & Serene display
This mode enables the Find N to be used freely unfolded from 50 degrees to 120 degrees. This gives you a lot of flexibility and a number of new software functions make direct use of this technology. In the example of the Notes app, the Find N becomes a small mini laptop. This should also be very useful for video or photo recordings.
Serene display? What is that?
OPPO has installed a display (also made of ultra thin glass) here. This was designed with 12 layers to form a very robust and protected display. The new hinge also helps to keep the display long-lasting and to protect it from external influences. As a comparison, the glass in the Find N is just 0,3 mm thick, while normal smartphone glass is around 0,6 mm thick.
The Find N should be able to easily withstand up to 200.000 folding processes - even after that it should still work smoothly. It proFitted also by the almost crease-free, inner display. By the way, this is very bright, up to 1000 nits are possible here.
Even the best hardware is useless without software
OPPO thought along with it and made many useful adjustments and features possible with the Find N. Better app multitasking or more Proproductivity should become part of everyday life with the Find N. With "floating windows" or split-screen apps, you can use several things at once. It is also possible to create pairs of apps, or rather combinations, as shortcuts on the home screen in order to call them up more quickly.
The Find N comes from the factory with ColorOS 12 based on Android 12 software and will very likely be like the Find X Pro Devices get 4 years of security updates and 3 years of Android updates.
OPPO uses the Sony IMX 766 in Find N
The popular and quite capable Sony IMX 766 sensor is used in the Find N in the main camera. Also included is an ultra-wide-angle camera with 16MP, together with a telephoto camera accompanied by 13MP. Two selfie cameras, one on the front display and one on the inner display (each as a punch hole), round off the camera package. It is also possible to take selfies and videos with the high resolution main camera.
Gorilla Glass Victus provides sufficient protection
The Find N uses a Corning Gorilla Glass Victus glass on the back, as well as a ceramic camera plate to protect the design from scratches or other damage. A foil is applied to the inner display at the factory, this should also be left on.
Availability, price and other details
The OPPO Find N is available in three different colors: white, black and purple. Two memory versions (8 GB RAM + 256 GB ROM & 12 GB RAM + 512 GB ROM) are available at launch. It can be charged by cable with 33W SuperVOOC and 15W wirelessly with AirVOOC. 10W reverse wireless charging is also supported. A dual speaker system that supports Dolby Atmos is also on board. The battery is 4.500mAh, how long it lasts depends a lot on how you use it.
Unfortunately, the Find N is currently only available in China, where sales will start on December 23 at a starting price of 7.699 yuan (around 1073 euros) for the smallest memory version. The larger version costs 8.999 yuan (equivalent to around 1.255 euros). I would say a solid challenge to Samsung.
Let's see if we will also see the Find N globally and in Western Europe next year. I am very excited. What is your opinion on the OPPO Find N? Let me know in the comments.
Recommendations for you