>> Test the latest technology and much more: apply to us! <
OPPO Find N2 Flip released globally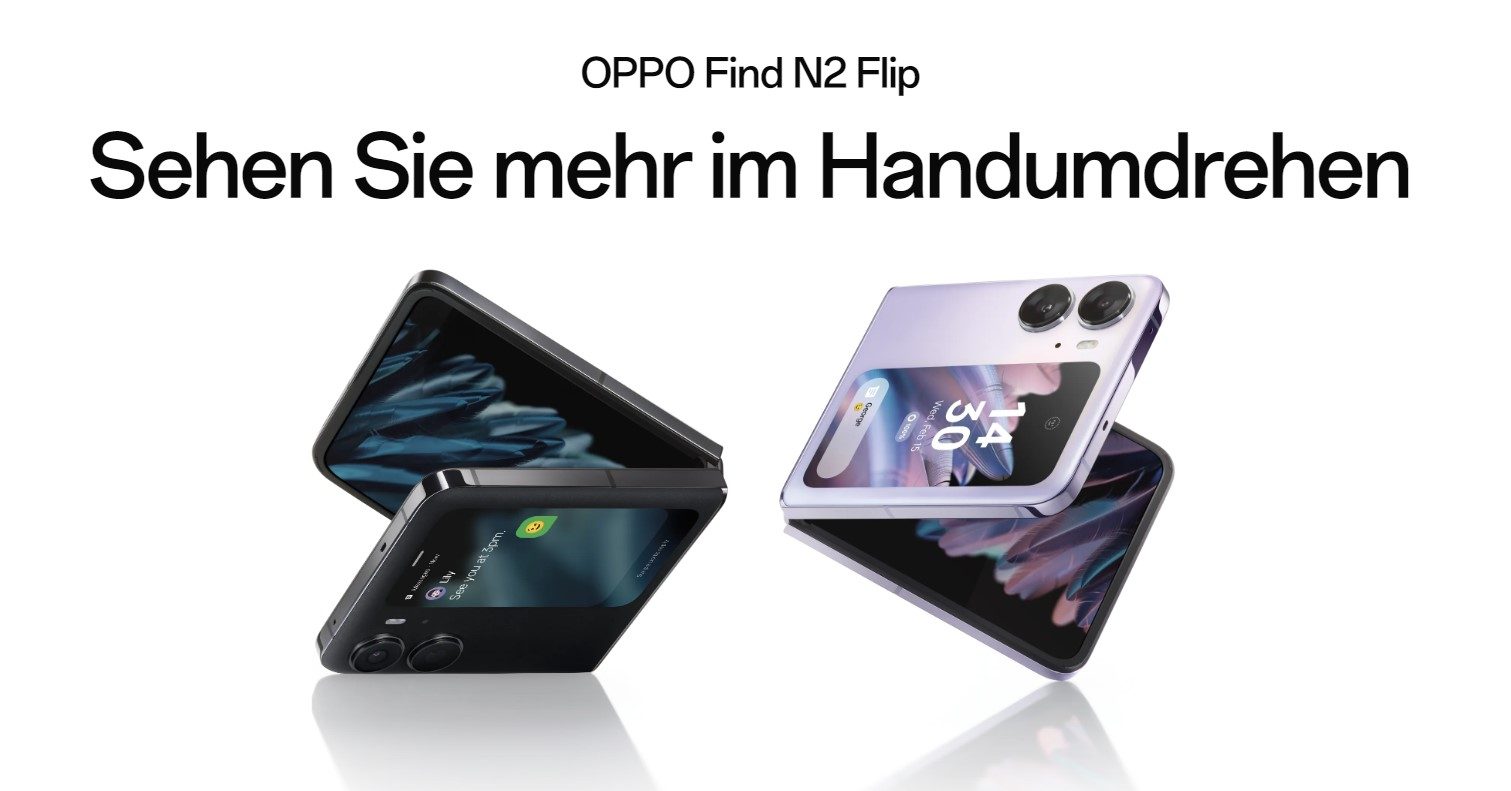 (Post picture: © 2023 OPPO)
OPPO held a launch event in London on February 15th. At this, the new OPPO Find N2 Flip was presented to the public and the international media. You can buy it from February 28th. We have summarized the most important information for you. 
Things had been relatively quiet around OPPO for the past six months. In the meantime, the subsidiary OnePlus has presented its flagship for 2023, the OnePlus 11. Now OPPO is following suit for their 2023 line-up. It starts with the new foldable, the OPPO Find N2 Flip. Unfortunately, like its predecessor, the tablet-like Find N2 will not appear globally for the time being.
Let's go from the outside in. The OPPO Find N2 Flip "cover screen" is definitely a big topic, literally. It measures 3,26 inches diagonally with a resolution of 720×382 pixels. This is more than sufficient for the size of the display, as it is seamlessly integrated into the case. The inner display comes with an FHD+ resolution of 6,8 inches and a 120 Hertz refresh rate. By the way, the inner display is also an LTPO-AMOLED display, which means it can be clocked down to one Hertz.
It weighs 191 grams. In Europe there will be the colors "Astral Black" and "Moonlit Purple". In terms of storage, there is only one version with eight gigabytes of RAM and 256 gigabytes of UFS 3.1 storage.
50 megapixel Hasselblad camera
The main camera in the Find N2 Flip was developed in cooperation with Hasselblad. The second camera is an 32-megapixel ultra-wide sensor. The front camera has a resolution of XNUMX megapixels and has an auto focus.
Among other things, you can show a preview on the outer display. OPPO also offers the "Camcorder" mode. You can hold the Find N2 Flip like you used to hold the camcorder back then. This is to provide better stability. Video recordings can be made with up to 4K at 30 frames/second. The front camera can shoot at up to 1080p and 30 frames/second. That should be more than enough for most people.
Proprocessor: MediaTek Dimensity is at the start
The Dimensity 2+ octa-core SoC works in the N9000 Flip. The GPU is a Mali G710. This should also display the latest games at a playable speed. In general, this is a flagshipProprocessor from MediaTek. So it should always run smoothly.
Charging: 44W SuperVOOC, no Qi charging
The battery holds 4300 mAh, which is the largest battery in a flip foldable to date. Unfortunately, like the Find N2, it doesn't offer Qi charging. The Find N2 Flip comes with a 44 watt SuperVOOC and 67 watt SuperVOOC charger in the box. A cable is also included. OPPO has remained true to itself so far and has not removed any power supply from the scope of delivery.
Other info: fingerprint sensor & face recognition
A fingerprint sensor can be found in the power button on the side of the Find N2 Flip. Face recognition with 2D recognition can also be found in the settings. Dual SIM is available with two simultaneous 5G connections. You cannot insert an eSIMprogrammar WLAN is supported up to 5,8 GHz and Bluetooth is available in version 5.3 with a low energy function.
NFC for Google Pay is of course also available. The Find N2 Flip is delivered with Android 13 and, according to OPPO, should be supplied with four Android versions and five years of security updates. That's really very good. And hopefully that will be the case for all new OPPO devices this year.
Unfortunately, OPPO is still not allowed to carry out any marketing or direct sales in Germany. We really hope that OPPO will come back here again this year. The Find N2 Flip does not seem to be available in Austria yet. However, you can get it from Amazon.es or Amazon.fr. Shipping will then take place from the regular Amazon Europe mail order company. Warranty should continue to exist normally. However, we give no guarantee on this statement. But it should still be a better choice than importing it from China, since it would have the Chinese software installed there, without Android Auto for example. The globable version now has all the Google services pre-installed that we need here.
Recommendations for you