OPPO Find X5 Series: Global launch confirmed on February 24th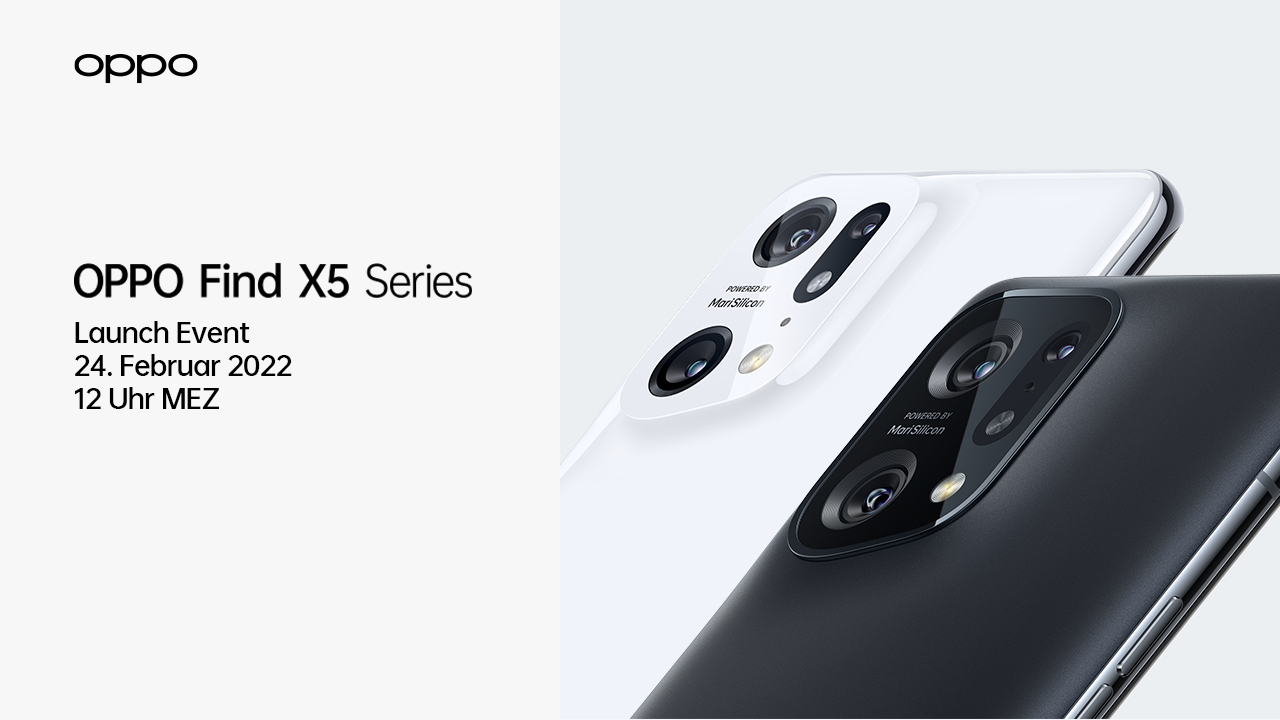 (Post picture: © 2022 OPPO Germany)
OPPO Find X5 - that's what the new Find X series will be called. This has now been officially confirmed by OPPO. At the same time, the date and time of the global launch live stream was announced.
With the Find X5 models, OPPO again relies on a very sophisticated design, which we should already know in part from the Find X3. However, the technology is said to have been perfected here. Therefore, the camera from the Find X5 and the Promodel set some standards in the industry in terms of image processing.
"Every moment. Just perfect."
The German slogan of the Find X5 series was also announced: "Every moment. Simply Perfect", derived from the English original "#EmpowerEveryMoment". According to OPPO, this should point to the groundbreaking camera technology of the Find X5 series. I'm curious to see if this promise can be kept.
Find X5 series sets "new standards"
As already mentioned, OPPO wants to present new standards in the field of image processing with the Find X5 series. This should underlie the Marisilicon X Imaging NPU. the neural Processing unit was already installed last year on the Inno Day 2021 presented. What the Marisilicon can do, you can do here ...
OPPO relies on Snapdragon 8 Gen 1
At the core of the OPPO Find X5 Pro comes the Snapdragon 8 Gen 1 Proprocessor to use. This is currently the most powerful and best Proprocessor from Qualcomm. This means that the device is equipped for everything you can imagine, whether gaming or demanding applications.
I am particularly curious how this very powerful but also warm system on a chip, SoC for short, can be cooled. In the Find X3 Pro at least the Snapdragon 888 could be cooled particularly well.
Design on a new level
Like last year, OPPO is pursuing a seamless integration of the camera module on the back. The stable ceramic back and the smooth surface, which is even supposed to repel fingerprints, ensure a special design that is supposed to fit the hand very well.
It will be questionable how "fingerprint-repellent" the back really is. On the blue Find X3 Pro At least thanks to the matte back, you managed to do it very well. This wasn't the case with last year's glossy black.
Follow the global live stream on YouTube
On February 24 at 12 noon (German time) there will be on the OPPO YouTube channel a launch event live stream. Maybe we'll see Pete Lau again.
Recommendations for you