OPPO Reno6 5G series comes to Germany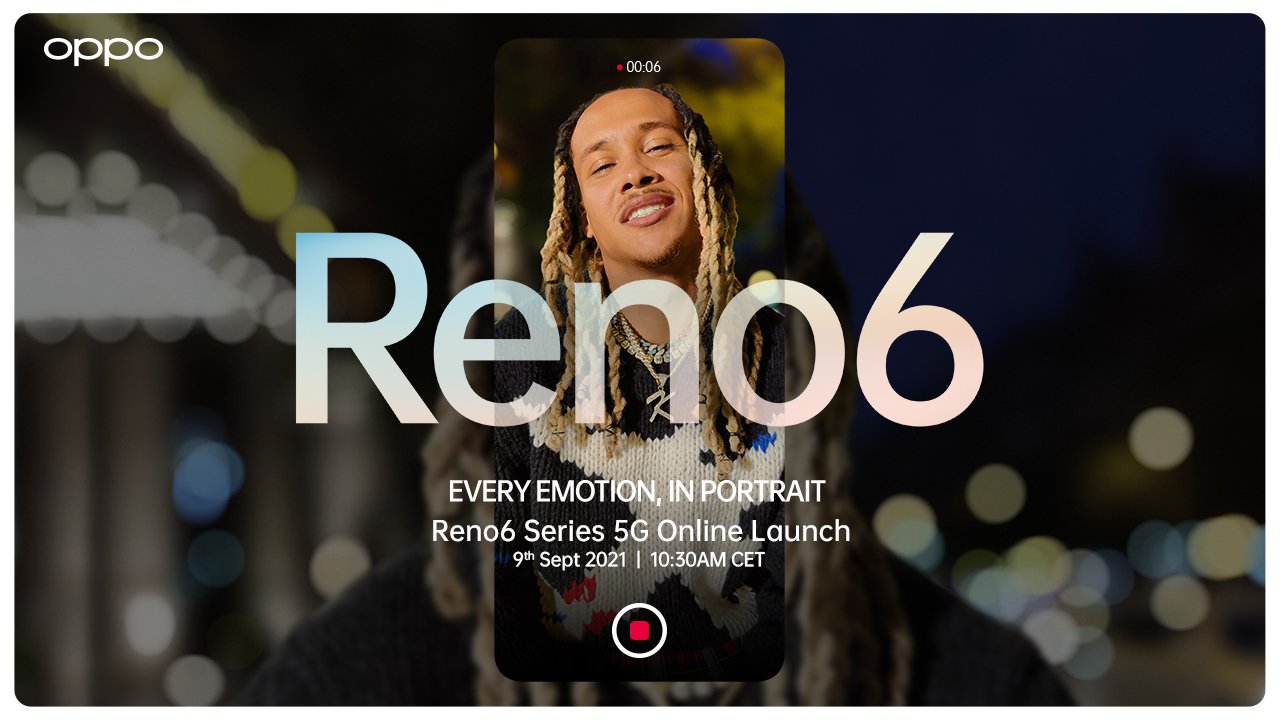 (Post picture: © 2021 OPPO Germany)
OPPO announced today that the new Reno6 5G series will be coming to Europe. You can find out when exactly the launch will take place here.
OPPO's Reno series is known to bring an innovation in design or software in some segments. In the case of the Reno6 5G series, the focus will be on AI-powered portrait video technology. The launch will be on September 9th at 10:30 am CEST on OPPOs YouTube, Facebook and Twitter Channels streamed.
Proprofessional portrait videos are in focus
Yes, you heard right. Instead of portrait photos, this time the popular portrait videos are in OPPO's focus. The Reno6 5G series ushers in the new era for AI-powered portrait video recording.
In addition to the good OPPO-typical camera in the Reno6 5G series, you also get OPPO's Reno Glow as a trademark. This finish on the back of the smartphone ensures that you don't leave fingerprints and the smartphone always looks stylish, even without a case.
The battery in the OPPO Reno6 5G series is also controlled by AI. There, the battery life has been optimized and thanks to the SuperVOOC 2.0 charging technology, the smartphones - should you run out of battery - are recharged in a flash without significantly affecting the service life. Here I already reported about the innovations in OPPO's VOOC technology.
Kelvyn Colt presents the Reno6 5G series
If you haven't heard the name Kelvyn Colt yet (I haven't heard it before), I'll explain it to you. Colt is a German-Nigerian music artist and aims to address and represent the young generation. He is known among his fans for expressive lyrics as well as for his melodious sounds. His fans call themselves TBHG (Triple Black Heart Gang). With this he has a close emotional bond.
OPPO Reno6 5G series launch event live from Paris
OPPO has enjoyed holding launch events in France for the past few years. Now another one follows for the Reno6 5G series. The launch event will take place at the Fondation Louis Vuitton. This is a private museum which opened in 2014, it was founded by the French LVMH group.
The Fondation is primarily committed to art and culture and to making them accessible to everyone. Among other things, art events such as concerts, film screenings or dances are performed. OPPO must have thought that this would be the perfect place to hold a launch event.
What is your opinion on the OPPO Reno6 5G series?
And how do you feel about the idea behind the OPPO Reno6 5G series? A lot is currently known on the Internet when it comes to technical specifications. But as you can already see, OPPO is relying more on a top-class event than on blunt "specification gelabers".
I suspect that two devices are shown. The OPPO Reno6 5G as well as the OPPO Reno6 Pro 5G. (Important: The global version of the OPPO Reno6 Pro is equivalent to the China version of the OPPO Reno6 Pro+ 5G)
Recommendations for you