>> Test the latest technology and much more: apply to us! <
Samsung Galaxy S20 FE: Event still in September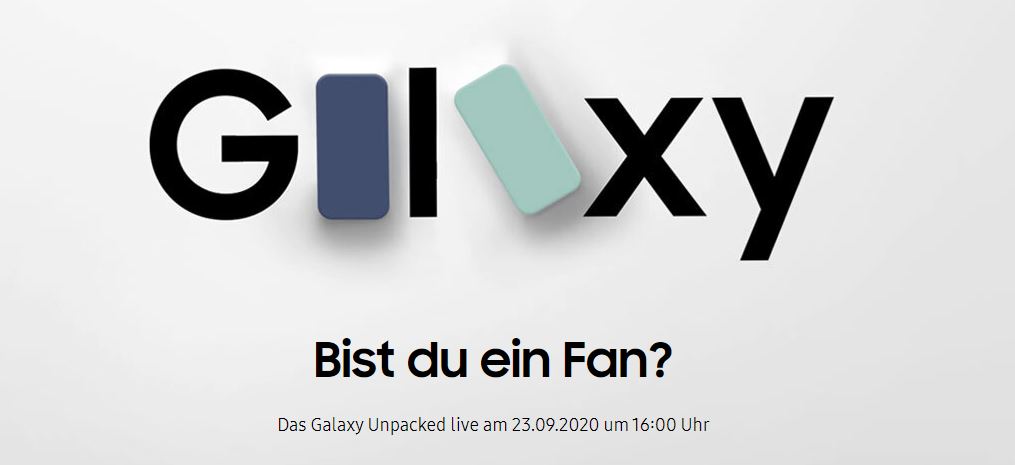 (Post picture: © 2020 Samsung)
With this message, Samsung announced the next Galaxy Unpacked Event for the Samsung Galaxy S20 FE (Fan Edition) and invites you to the event on September 23.09.2020, 16 at 00:XNUMX p.m. You can find out all the information here.
The tweet reads:
We asked. You answered. We delivered. Here's the Galaxy for every fan. Unpacked, September 23, 2020. #SamsungEvent pic.twitter.com/3r3q5iZfnT

- Samsung Mobile @SamsungMobile September 14, 2020
What Samsung means by this is that the currently "cheapest" Galaxy S smartphone, which is the Galaxy S20, is quite expensive with a starting price of 900 euros. The Samsung Galaxy S20 FE should be a cheaper smartphone with top specs.
More about the expected specs and leaks of the Samsung Galaxy S20 Fan Edition here .
What is not mentioned in the articleprowill be: For all those who exynos-Processors loathe, there is a small glimmer of hope. There's a chance the Snapdragon 865 will be used for the 5G version of the Galaxy S20 Fan Edition, as it already has 5G on board in the name. However, the 4G version should get the Exynos 990 again. This is an extremely pleasing leak, as it not only gives you the faster Processor, but also the more energy-efficient one, but you will probably have to pay 100 euros more for it.
Anyone more specific about the differences between the two Prowill here  find.
Recommendations for you