Samsung Galaxy Tab S8 renders and specs revealed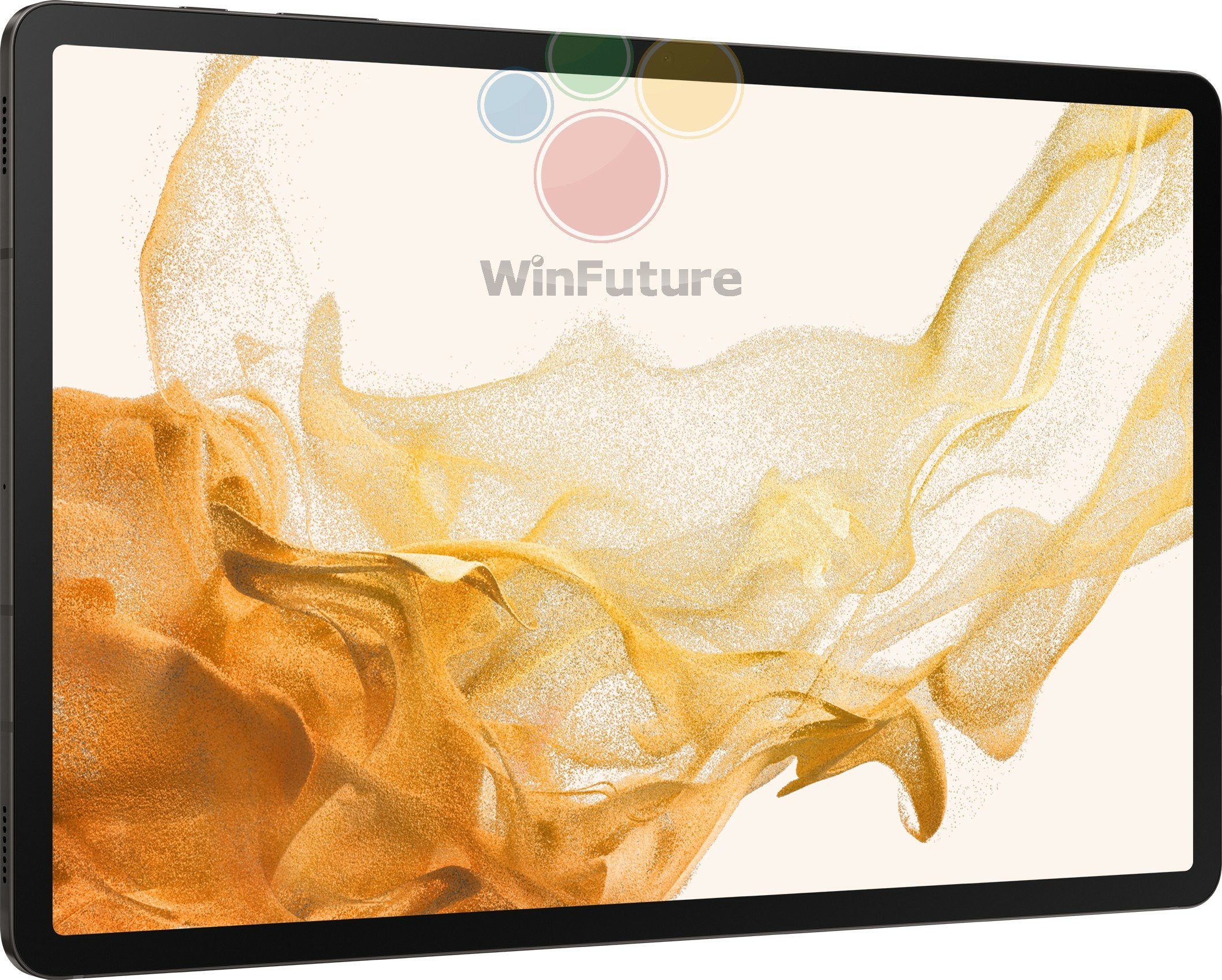 (Post picture: © 2022 WinFuture)
With the Samsung Galaxy Tab S8, Samsung would like to introduce the successor to the Tab S7 / FE. Now all the pictures and specifications have surfaced.
WinFuture editor Roland Quandt once again has the official press photos and technical data can find.
Galaxy Tab S8 / +:
The Samsung Galaxy Tab S8 and Tab S8 + will not differ fundamentally from each other. Both come with the Snapdragon 8 Gen 1 as well as with 8 gigabytes and RAM and optionally 128 or 256 gigabytes of internal memory. This can be expanded using a microSD card. When it comes to the display, there are the first differences. The Tab S8 is the smallest at 11 inches, the Tab S8 + is a little larger at 12,7 inches. While an LTPS TFT display is used in the cheaper model, the manufacturer uses an AMOLED panel in the Plus model. The Tab S8 has a resolution of WQXGA (2560 x 1600), the Plus model with WQXGA + (2800 x 1752). Both support a refresh rate of 120 Hertz.
Both tablets have four speakers for stereo sound and two cameras on the back. The main camera has a resolution of 13 megapixels, a second 6 megapixel sensor provides ultra-wide-angle photos. The front camera has a resolution of 12 megapixels. At 507 grams, the normal Tab S8 is a little lighter than the 567g heavier Tab S8 +. This is probably due to the different battery capacities. The Tab S8 has an 8000 mAh battery, the Plus model has a 10090 mAh battery. Android 12 with OneUi 4.1 Skin is preinstalled as software on all models, but it is questionable whether Android 12L is already being used.
Galaxy Tab S8 Ultra:
This year there is also a "flagship tablet" from Samsung, the Galaxy Tab S8 Ultra. This has a huge 14,6 ″ WQXGA + AMOLED display with a small notch. In addition to the normal 12 megapixel front camera, there is also a second front camera, also with 12 megapixels. What exactly this is used for does not emerge from the article by WinFuture. The Ultra model also comes with Snapdragon 8 Gen1, but in addition to the 8 gigabyte RAM version, there will also be a version with 16 gigabytes of RAM and 512 gigabytes of internal memory. At 11200 mAh, the battery is also a little bigger than the Plus model. At 728 grams, the tablet is also a lot heavier.
According to insiders, the prices are likely to be between approx. 700–900 euros for the normal Tab S8, 900–1100 euros for the Plus model and over 1000 euros for the ultra tablet. Would you buy such an expensive Android tablet? There is no official launch date yet, but according to several reports this should fall on February 9th.
Recommendations for you