TechnikNews Advent competition 2018 # 1: Vouchers from Amazon, Netflix, Steam and Xbox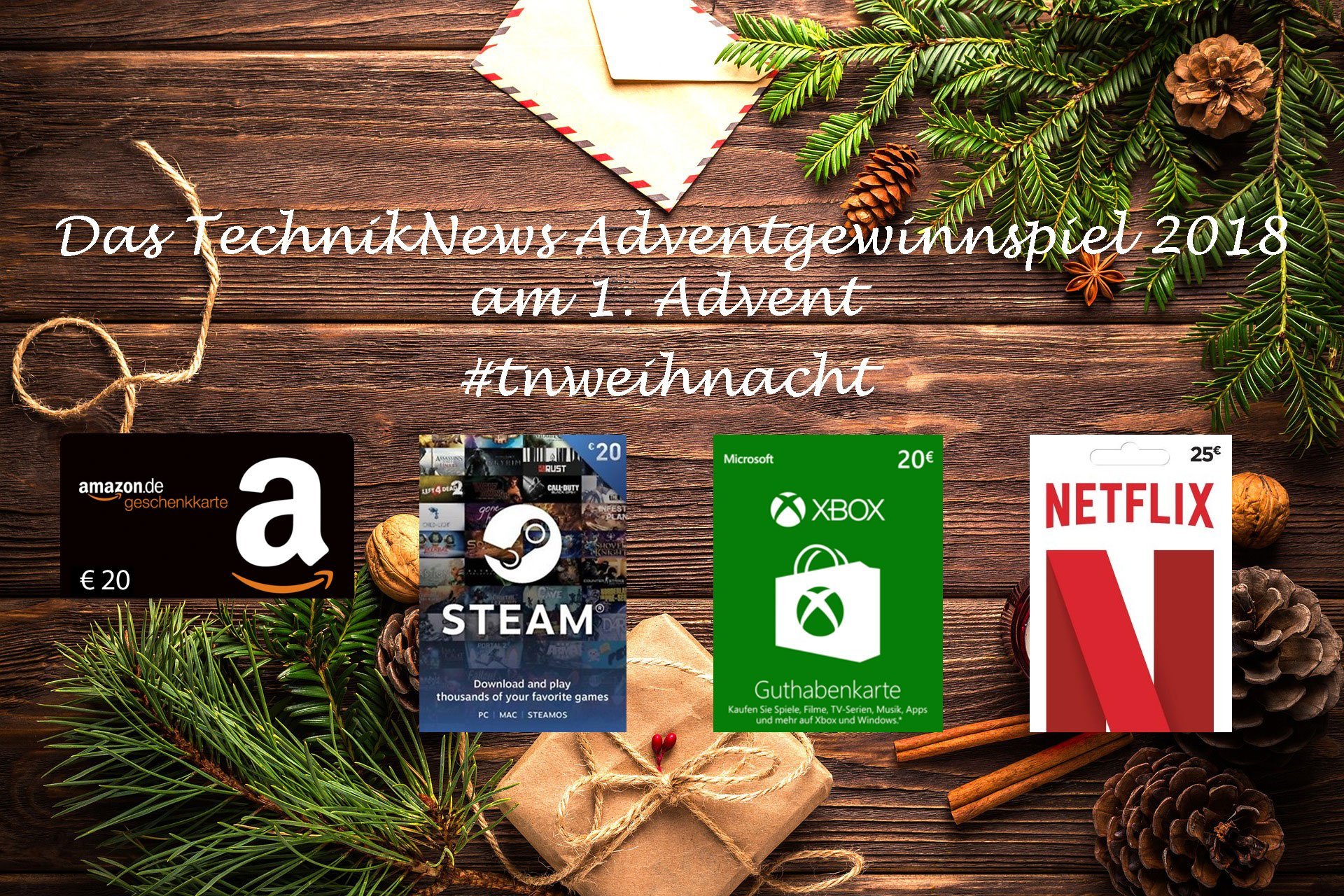 (Post picture: © 2018 TechnikNews/Assembly)
We're really looking forward to Christmas, are you too? To sweeten the waiting time for Christmas Eve, we are giving away four prizes here every Sunday in Advent from today TechnikNews. The 1st Sunday in Advent is here - we are ready to go!
All the Christmas markets are slowly opening and the first snow is falling outside these days. If you are not in the Christmas mood yet: at least now! Today we have a voucher from Amazon, Netflix, Steam and Xbox in our Sunday door on December 2nd. A big thank you goes to you at this point - without your support all year round, competitions of this kind would not be possible. Furthermore, we would like to thank our partners and press offices, who were able to provide us with such great profits for the coming weeks!
Update on December 10.12.2018, XNUMX: The winners
Congratulations to:
Alex R. (€ 20 Amazon voucher)
David R. (€ 20 Steam Voucher)
Dietrich E. (€ 20 Xbox voucher)
Lina S. (25 € Netflix voucher)
We have all notified you by email and you have one week to give us feedback. Otherwise we pull according to ours Terms and Conditions another winner. This is then shown and notified here as well.
That's how it works TechnikNews Advent competition 2018
This year, instead of a big raffle, we are starting an Advent raffle every Sunday from the 1st Sunday in Advent. We'll be celebrating the 4th birthday of next year TechnikNewsSo this year there are 4 × 4 prizes - all December until December 30th. Since the 4th Sunday in Advent falls on December 23rd this time, you still have time to win something even after Christmas until December 30th. Participation is possible every Sunday from 12:00 p.m. until the following Saturday at 23:59 p.m. The next competition starts on Sunday at 12:00 noon.
So you can win a voucher from Amazon, Netflix, Steam or Xbox
Everyone likes vouchers. Either to shop for yourself or to pass on as a great Christmas present: they really always fit. Thanks to the generous support of Charge, iGiftcards and MMOGA we can offer you three of these four great prizes today. The Christmas holidays also offer the perfect time to play some games on your own PC at home. On this occasion, we are putting a Steam gift voucher worth 20 euros out of our own pocket on top of it for all game fans.
TechnikNews Christmas raffle 2018: this is how you participate
As every year, we make it very easy to take part in our competition. But this year a little easier. Except for commenting on the article below, no tasks are mandatory this year. However, tweeting a message and following it on Facebook and Twitter increase the chance of winning. These tasks are possible every day and thus increase the chance considerably! Do not forget to enter a correct email address, this is the only way we can notify you in the event of a win.
Summary:
Enter your name and email address in the form
Comment on article
do additional tasks in the form for a higher chance of winning (possible every day!)
At this point we refer to ours Conditions of Participation. Participation in this competition is possible from December 02.12.2018nd, 12, 00:2 p.m. until the start of our 08.12.2018nd competition next Sunday in Advent, until December 23th, 59, 10.12.2018:2 p.m. The winners of this round will be drawn on the evening of December 09.12.2018, 12 and then informed of a prize by email. The 00nd Advent competition starts on December XNUMXth, XNUMX at XNUMX:XNUMX noon.
GDPR note: In this competition, we process personal data such as the name and email address of the participant. This data is only used to communicate the profit and is therefore absolutely necessary. We would like to point out that all personal data of the participant will neither be passed on to third parties nor made available to them for use without consent. An exception is the company Rafflecopter / Metric Feet LLC commissioned to carry out the competition, which must collect, save and use the data for the purpose of carrying out the competition.
More information about Data protection on TechnikNews.
Recommendations for you