TechnikNews Advent competition 2018 #3: PlayStation 4 Pro, Xbox One X, FRITZ!Box 7590 and gaming accessories from Razer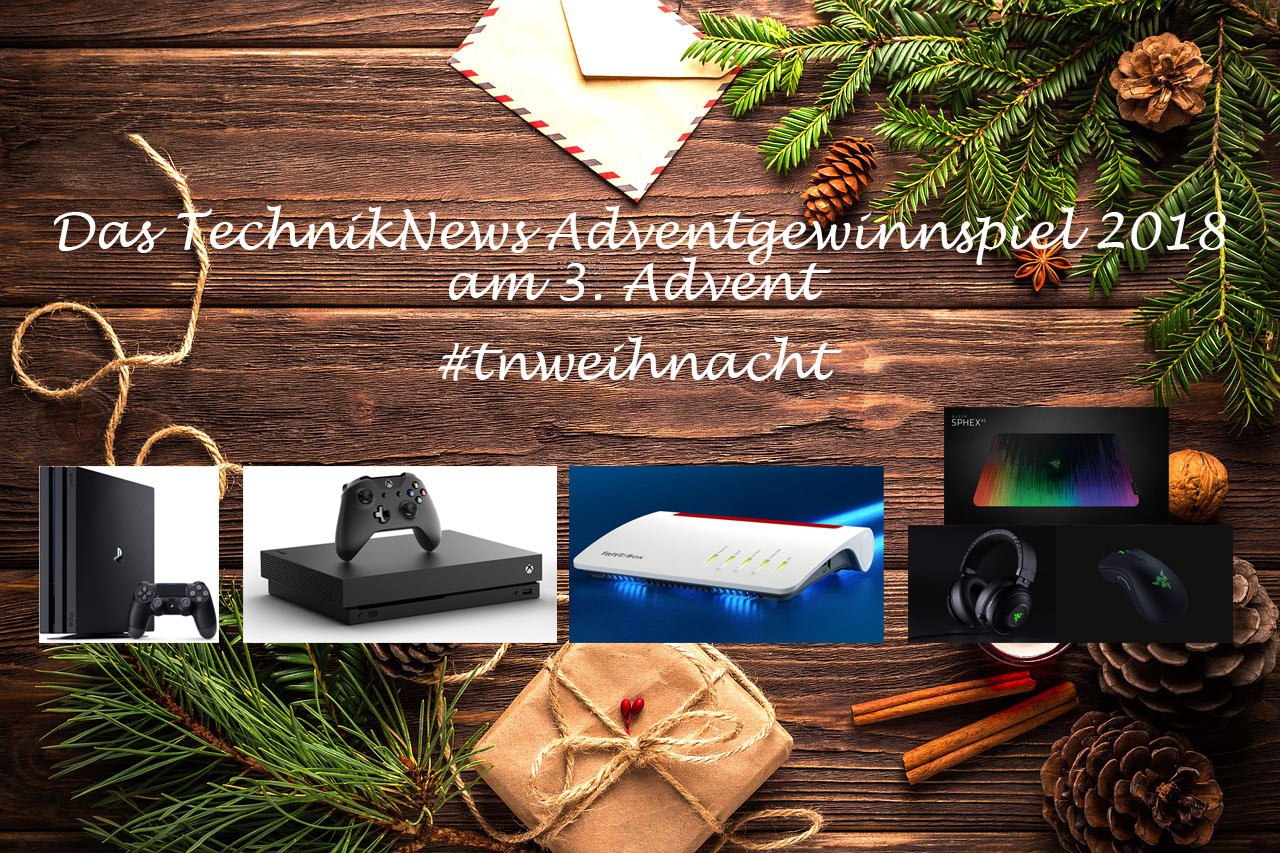 (Post picture: © 2018 TechnikNews/Assembly)
Christmas will be in less than a week. We on TechnikNews but are far from finished - after all, our 4th Advent competition, which starts on Sunday next week, is still pending. In order to shorten the waiting time for Christmas, we have great prizes for you in this competition.
The halfway point of Advent 2018 has already been reached - we are slowly approaching the end of the year and at the same time Christmas. If you're not busy working or studying for school, waiting for Christmas can get pretty boring. That's why we have a great selection of prizes for you this week thanks to great partners.
Update on December 23.12.2018, XNUMX: The winners
Congratulations to:
Flora K (PlayStation 4 Pro)
Emil J (Xbox One X)
Klaus E. (FRITZ! Box 7590)
Gregor P. (gaming accessories from Razer)
We have all notified you by email and you have one week to give us feedback. Otherwise we pull according to ours Terms and Conditions another winner. This is then shown and notified here as well.
#1: PlayStation 4 Pro
After some sportier gadgets last week, this week we follow up with great gaming essentials. This is how we start the 3rd Advent competition with the PlayStation 4 Pro. With us here TechnikNews can you do that Pro-Win the 1 TB version of the world's best-selling console. Thanks to 4K support, the console is also perfectly prepared for the future - you too, of course. In addition, the PlayStation 4 supports Pro HDR for even better color representation on your monitor or TV at home.
To take part, scroll down to the bottom of this article to the point "How to take part" and enter your details in our prize form. There is also the opportunity to increase the chance of winning by sharing or tweeting. We are giving away the color variant Jet Black with 1 TB storage for you.
# 2: Xbox One X
Not only the Sony friends can take part in our 3rd Advent competition TechnikNews dust off. Thanks to Microsoft we have an Xbox One X to give away to a lucky winner as a second prize. The self-proclaimed most powerful console in the world offers alongside the PlayStation 4 Pro as well as 4K and HDR support for even more beautiful games. The 12 GB DDR5 graphics memory inside makes gaming fun on the console perfect.
We are giving away the 1 TB variant in black for you. You can easily win the console - more information below.
# 3: FRITZ! Box 7590
With many devices at home, not only a fast internet connection is an advantage, but also a strong and stable WLAN. The market leader in German-speaking countries for WLAN and home networkProdukte - AVM - is providing us with the current top model FRITZ!Box 7590 for our advent competition. If you have a DSL connection at home, you won't have any with this box Protrouble. Our raffle model supports DSL connections in Germany and Austria.
# 4: gaming accessories from Razer
Thanks to the best support from GameStop As a last prize we still have some Razer gaming accessories to give away. Specifically, you can buy a package consisting of a Razer Sphex V2 Gaming Mouse Pad, a Razer DeathAdder Elite (Chroma RGB Illuminated Gaming Mouse) and the Razer Kraken Gaming Headset Pro win V2. So PC gamers don't go empty handed and are equipped with great gaming accessories before the New Year 2019. The winners of our advent competitions will receive their prizes by e-mail as soon as they have responded.
How you can win the gaming package from Razer, you will find a point below.
TechnikNews Advent competition 2018 # 3: How to participate
Entry is the same as last week to win one of these four prizes. Thus, apart from commenting on the article below, no tasks are mandatory. However, tweeting a message and following it on Facebook and Twitter increase the chance of winning. These tasks are possible every day and thus increase the chance! Do not forget to enter a correct email address, this is the only way we can notify you in the event of a win.
Summary:
Enter your name and email address in the form
Comment on article
do additional tasks in the form for a higher chance of winning (possible every day!)
At this point we refer to ours Conditions of Participation. Participation in this competition is possible from December 16.12.2018, 12, 00:4 p.m. until the start of our 22.12.2018th competition next (last) Sunday in Advent, until December 23, 59, 24.12.2018:4 p.m. The winners of this round will be drawn on the morning of December 23.12.2018th, 12 and then informed of a prize by email. The 00th Advent competition starts on December XNUMXrd, XNUMX at XNUMX:XNUMX noon.
We ask for your understanding that it may not be possible to send all prizes on time before 2019. But if you react quickly to our e-mail, you have a great chance of receiving the prize before 2019.
GDPR note: In this competition, we process personal data such as the name and email address of the participant. This data is only used to communicate the profit and is therefore absolutely necessary. We would like to point out that all personal data of the participant will neither be passed on to third parties nor made available to them for use without consent. An exception is the company Rafflecopter / Metric Feet LLC commissioned to carry out the competition, which must collect, save and use the data for the purpose of carrying out the competition.
More information about Data protection on TechnikNews.
Recommendations for you