TechnikNews Advent competition 2018 #4: Asus ZenBook S, Apple iPad Pro (2018), Huawei P9 lite mini and Sonos One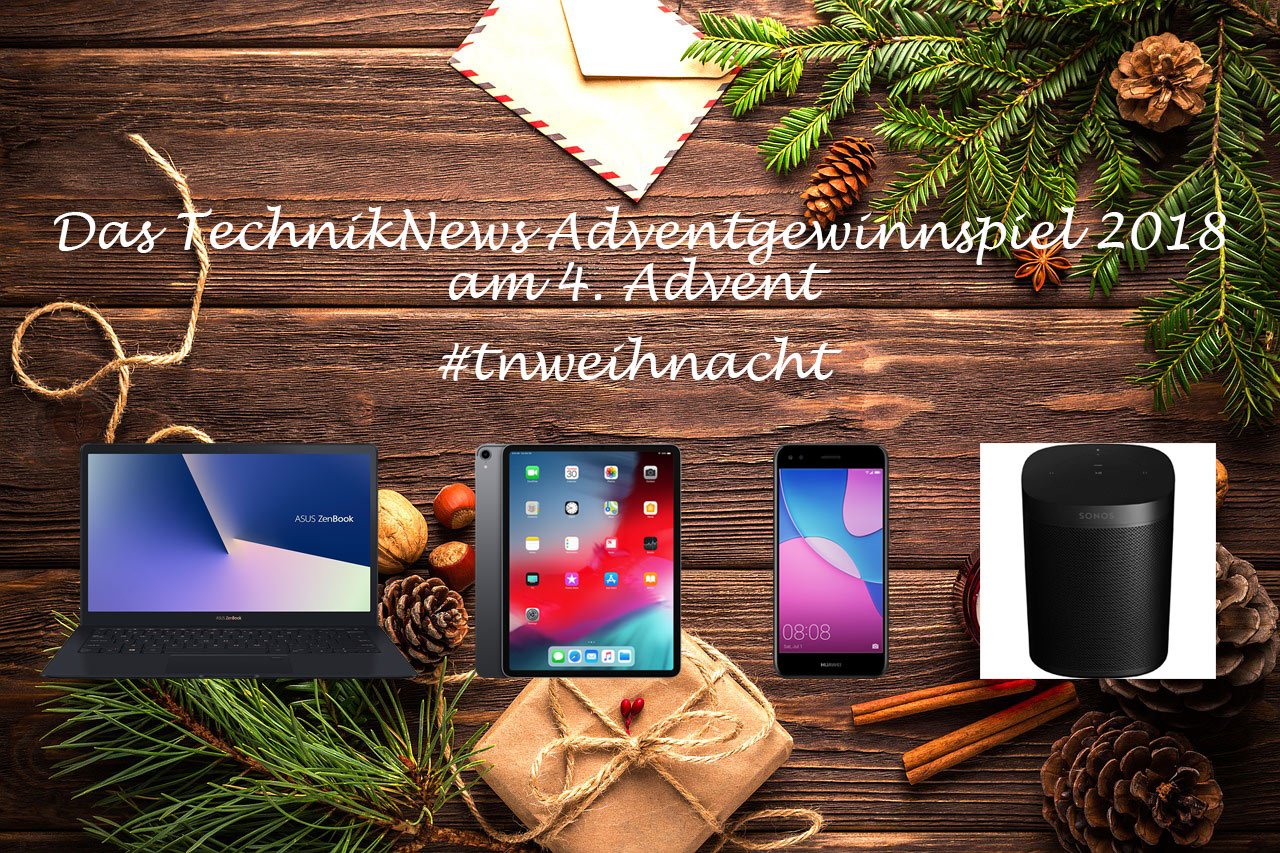 (Post picture: © 2018 TechnikNews/Assembly)
Tomorrow is Christmas. But we organize like versproa new Christmas competition every Sunday in Advent. A mixed bag this week: an Asus ZenBook S, Apple iPad Pro, a Huawei P9 lite mini and a Sonos One.
One day will be Christmas. The end of the year will be in eight days. December is the perfect time in the year to thank you readers together with our sponsors for the great past year. So you already had the opportunity to take part in our competitions three times. If you haven't won yet, that might change at the last minute. 🙂 This week we're giving away four prizes from a tablet to a wireless speaker. Thanks again to our partners for these winning opportunities!
We wish you a Merry Christmas in advance and wish you all the best for the coming year. Thank you for your support this year!
Update on December 31.12.2018, XNUMX: The winners
Congratulations to:
John M. (Asus ZenBook S)
Sebastian S. (Apple iPad Pro)
Anna R. (Huawei P9 lite mini)
Marilies K. (Sonos One)
We have all notified you by email and you have one week to give us feedback. Otherwise we pull according to ours Terms and Conditions another winner. This is then shown and notified here as well.
# 1: Asus ZenBook S
As the first prize for the 4th Advent competition, we have the powerful and at the same time compact Asus ZenBook S for you. The notebook comes with an i5-8250U Proprocessor, together with 8 GB of RAM and an integrated Intel graphics card. With the two USB-C 3.1 Thunderbolt ports, the ZenBook S is also perfectly equipped for the future. The Asus ZenBook S also offers good sound thanks to the Harman Kardon stereo sound speakers.
#2: Apple iPad Pro
Thank you very much Notebook cheaper for providing an Apple iPad Pro 2018 with 64GB. The iPad Pro 2018 is the most modern tablet from Apple. At 11 inches, you really get the largest display area of ​​any tablet on the market due to the thin display edges. Together with the resolution of 2388 x 1668 pixels at 264 ppi, it can be used on the iPad Pro work perfectly. Even Photoshop is going for a few months now now supported on the iPad.
# 3: Huawei P9 lite mini
Not everyone wants a large, high-end smartphone. So we are allowed to participate in the 4th Advent competition in cooperation with Huawei TechnikNews The Huawei P2018 lite mini, released in early 9, is giving away. The 5-inch smartphone comes with the latest Android 8.0 and offers a sufficiently large battery for a runtime all day long. With its dimensions of 7,1 x 14,4 cm, it is also quite compact.
If you want to win the smartphone, you will find the entry form below for your chance to win.
# 4: Sonos One
I have tested the Sonos One sufficiently over the past few weeks. The test report for the smart wireless speaker will appear here next week TechnikNews. We can now raffle a Sonos One for you. The chic WLAN speaker is compact and still offers a lot of performance. Even if you can't compare this with a high-end speaker, the Sonos One offers a smart app and integrated voice control with Alexa. Practical for your own smart home, which you can then control with Alexa. Music on Spotify or radio stations on TuneIn can also be easily controlled by Alexa.
TechnikNews Advent competition 2018 # 4: How to participate
Entry is the same as last week to win one of these four prizes. Thus, apart from commenting on the article below, no tasks are mandatory. However, tweeting a message and following it on Facebook and Twitter increase the chance of winning. These tasks are possible every day and thus increase the chance! Do not forget to enter a correct email address, this is the only way we can notify you in the event of a win.
Summary:
Enter your name and email address in the form
Comment on article
do additional tasks in the form for a higher chance of winning (possible every day!)
At this point we refer to ours Conditions of Participation. Participation in this competition is possible from 23.12.2018/12/00, 29.12.2018:23 p.m. to 59/30.12.2018/XNUMX, XNUMX:XNUMX p.m. The winners of the last round will be drawn on the morning of December XNUMX, XNUMX and then informed of a prize by email.
GDPR note: In this competition, we process personal data such as the name and email address of the participant. This data is only used to communicate the profit and is therefore absolutely necessary. We would like to point out that all personal data of the participant will neither be passed on to third parties nor made available to them for use without consent. An exception is the company Rafflecopter / Metric Feet LLC commissioned to carry out the competition, which must collect, save and use the data for the purpose of carrying out the competition.
More information about Data protection on TechnikNews.
Recommendations for you