>> Test the latest technology and much more: apply to us! <
TechnikNews Advent competition 2019 # 1: Sonos Move and Teufel ROCKSTER Go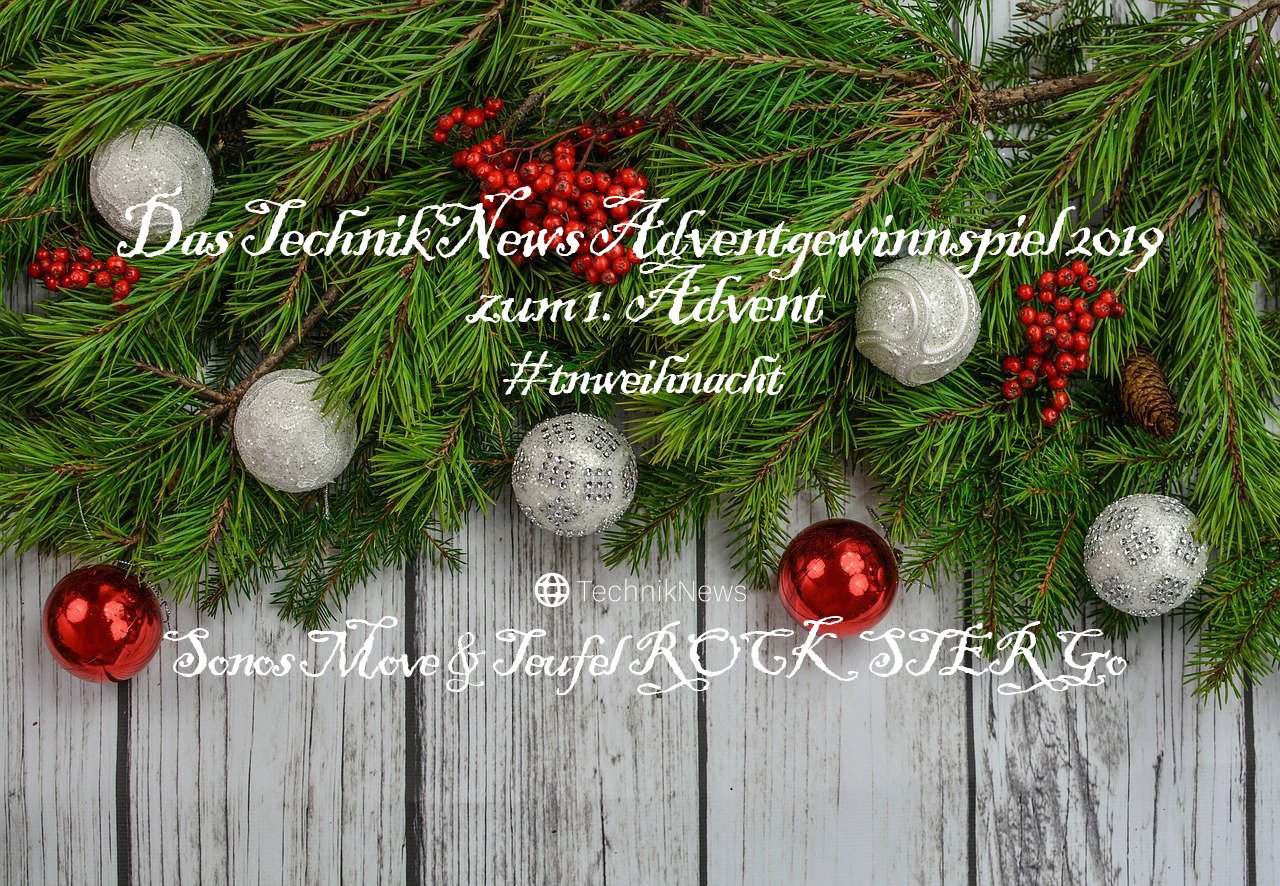 (Post picture: © 2019 TechnikNews)
Every year again: Again this year we sweeten you as part of the TechnikNews Advent competition again the Christmas season. From now on there are great prizes to be won every Sunday in Advent. And it starts today.
The 1st Advent is here! This year December 1st happens to coincide with the 1st Sunday in Advent. Sounds like a great start to Advent, doesn't it? Well, even better if there is one TechnikNews Advent raffle on top there. We have worked with great partners again and some of them have reached into our own pockets to enable you to have a great competition. A big thank you goes to you again this year - without your numerous support this year this would not be possible here in this form.
Update: We have drawn the winners & informed the lucky ones via email! Who won? Jump to comment
TechnikNews Advent competition 2019: this is how it works
From now on we are giving away two prizes every Sunday, which go together thematically. The new competition appears every Sunday in Advent at 12:00 p.m., in which you have almost a week until the following Saturday at 23:59 p.m. to take part. The last competition ends shortly before the 4th Sunday in Advent, on December 21st at 23:59 p.m. Are you ready? Then it starts!
The winner will be drawn in order - so the first winner gets the first Product and the second winner the second Product.
# 1: Sonos Move
As a first gift we have the new Sonos Move for you on the first Sunday of the competition. The speaker convinces with its portability and nestles proeasily into your (existing) Sonos system, now also suitable for outdoor use as a Bluetooth speaker. My colleague David Haydl has been able to take a closer look at the speaker for some time and has in his review described his experiences. The fun for Sonos fans and for those who want to become one is hereprogrammed.
# 2: Teufel ROCKSTER Go
So that the first Sunday is perfect, we have a devilish Bluetooth speaker - the Teufel ROCKSTER Go - for you. Our test report will follow shortly here on the blog: But we can already tell you that we are really impressed. So why not use the chance here to dust off a great loudspeaker for the next punch evenings or even for the next summer? You are guaranteed to like the Teufel ROCKSTER Go - with Bluetooth, it is also compatible with any smartphone.
TechnikNews Advent competition 2019: this is how you participate
Participation is the same as last year. Thus, apart from commenting on the article below, no tasks are mandatory. However, tweeting a message and following it on Facebook and Twitter increase the chance of winning. These tasks are possible every day and thus increase the chance! Do not forget to enter a correct email address, this is the only way we can notify you in the event of a win.
Summary:
Enter your name and email address in the form
Comment on article
do additional tasks in the form for a higher chance of winning (possible every day!)
At this point we refer to ours Terms and Conditions and our Privacy policy. Participation in this competition is possible from December 01.12.2019th, 12, 00:2 p.m. until the start of our third competition next Sunday in Advent, until December 07.12.2019th, 23, 59:08.12.2019 p.m. The winners of this round will be drawn on the evening of December 2, 08.12.2019 and then informed of a prize by email. The 12rd Advent competition starts on December 00th, XNUMX at XNUMX:XNUMX p.m.
Prize form:
GDPR note: In this competition, we process personal data such as the name and email address of the participant. This data is only used to communicate the profit and is therefore absolutely necessary. We would like to point out that all personal data of the participant will neither be passed on to third parties nor made available to them for use without consent. An exception is the company Rafflecopter / Metric Feet LLC commissioned to carry out the competition, which must collect, save and use the data for the purpose of carrying out the competition.
More information about Data protection on TechnikNews.
Recommendations for you