>> Test the latest technology and much more: apply to us! <
TechnikNews Advent competition # 3 - Smart Home: Arlo Ultra camera, FRITZ! Mesh WiFi set and 2x Philips Hue Play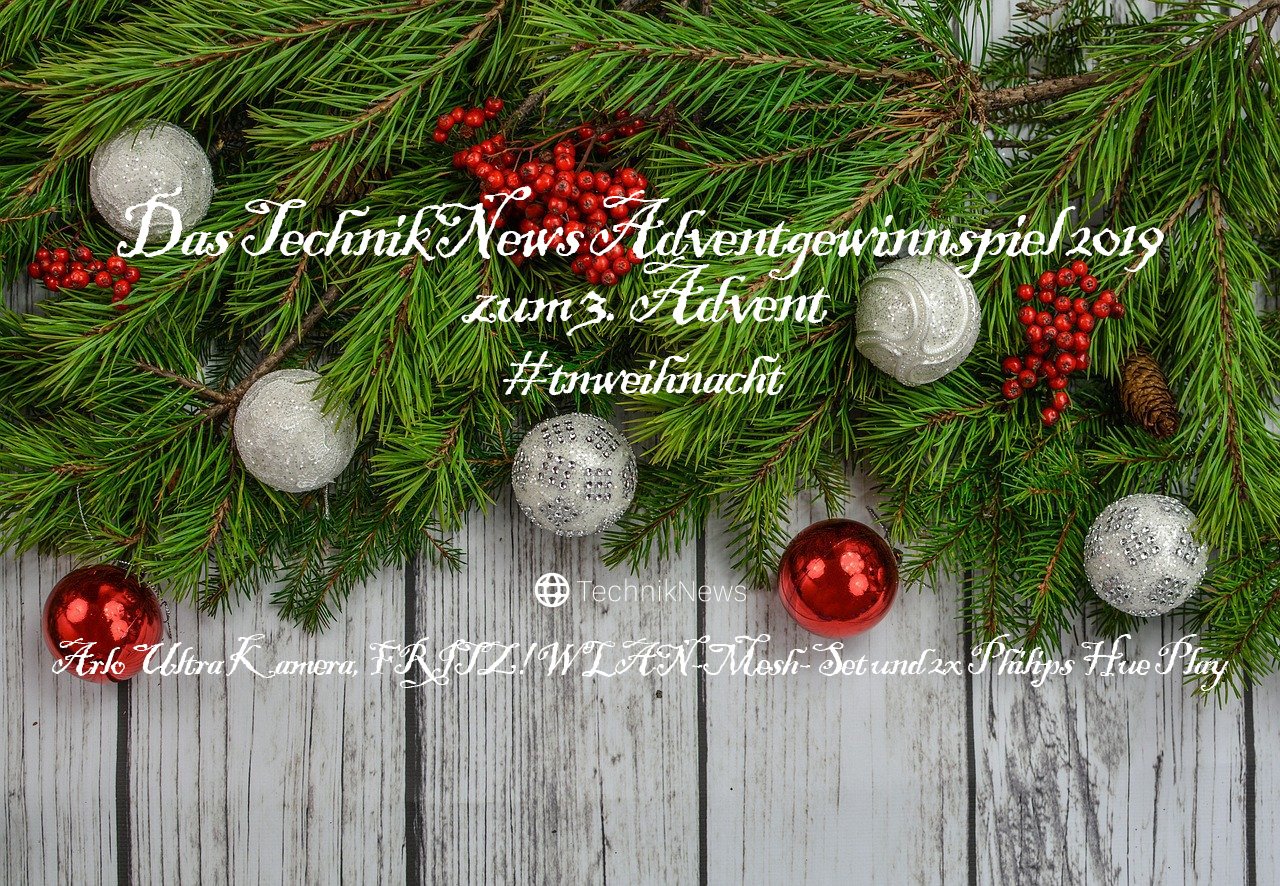 (Post picture: © 2019 TechnikNews)
A little more than a week and then Christmas is just around the corner: welcome to our third TechnikNews Advent competition. This time, our one-week competition is all about the topic of "Smart Home" - and we provide the winner with a whole package.
Third too TechnikNews We have come up with a theme package for the Advent competition. For all gamers among you, or who want to become one: we are raffling off a real Smart Home package for the week. The winner receives a complete FRITZ! Mesh WiFi set from AVM, together with the Arlo Ultra surveillance camera and two Philips Hue Ambiance Play light bars. The former offers you the perfect conditions for a perfect smart home - the latter two prizes give you the first gadgets. So there is only one winner this week, who wins the whole set worth a total of almost 750 euros.
Update: We drew the winner & informed them via email! You can find the winners of the competition in the comment here.
TechnikNews Advent competition 2019: this is how it works
We have been giving away two prizes every Sunday since the first Sunday in Advent, which go together thematically. The new competition appears every Sunday in Advent at 1:12 p.m., in which you have almost a week until the following Saturday at 00:23 p.m. to take part. The last competition ends shortly before the 59th Sunday in Advent, on December 4st at 21:23 p.m. Are you ready? Then it starts!
The winner will be drawn at random - he will receive the entire set consisting of the WiFi set, the Arlo Ultra camera and two Philips Hue Ambiance Play.
AVM FRITZ! WiFi mesh set
FRITZ! 7530
Of course, the perfect network is a prerequisite for a good smart home experience. So that you can put together the perfect mesh network, we have the fresh FRITZ! Box 7530 as a router in a bundle for you. It is significantly more compact than the large FRITZ! Box 7590, but still offers ADSL, VDSL, VDSL vectoring, supervectoring 35b with up to 300 Mbit / s and 2 × 2 dual-band WLAN AC + N with multi-user MIMO (866 Mbit / s + 400 Mbit / s). Four gigabit LAN ports are of course also included.
FRITZ! Repeater 3000
Since the WiFi is often not enough in every corner, we have also provided the right repeater. Here we have the FRITZ! Repeater 3000 on board, which was released at the same time as the new FRITZ! Box. Both devices are mesh-enabled and really easy to set up. This also has three radio units that work simultaneously with 2,4 GHz and 5 GHz (maximum throughput rates: 400 Mbit / s at 2,4 GHz (2 × 2); 866 Mbit / s at 5 GHz (2 × 2) and 1733 Mbit / s at 5 GHz (4 × 4). Full power in your network is guaranteed - the name of the WLAN and passwords are automatically adopted by the FRITZ! Box.
Arlo Ultra 4K security camera
In Arlo Ultra is one of many surveillance cameras that exist in the smart home area. But not just any: It convinces with a 4K resolution, color recordings at night, can automatically recognize & track objects and people and also record and reproduce the sound with crystal clearness. With the Arlo app, you can keep an eye on your home at any time, even when you're on the move, and receive notifications about unknown people.
Of course, we deliver the complete scope of delivery: the camera + battery, power supply unit, magnetic charging cable, magnetic bracket and a screw set for the wall bracket. In terms of security, there is certainly nothing to complain about in your smart home. If you still use smart assistants such as the Google Assistant or Alexa, you can also call up notifications directly from them.
2x Philips Hue Play light bars
The lighting will also be smart in 2019. Among the bestsellers is Philips with the "Hue" range. We are giving away two Philips Hue Play Ambience Lightbars as part of our third Advent competition. These are perfect for setting up in the living room - the Play can also decorate other rooms such as the bedroom or your gaming room. With the Philips Hue app and the assistants from Google or Alexa, you can control the lights smartly at any time and adjust the color, brightness or other properties.
With these two light bars, you have already covered the lighting in your smart home well - the Hue network can of course be upgraded at any time and can be expanded with additional elements. If you don't have a Philips Hue Bridge (necessary to operate Hue devices), we'll add it to the top.
TechnikNews Advent competition 2019: this is how you participate
Participation is the same as in the last competition. Thus, apart from commenting on the article below, no tasks are mandatory. However, tweeting a message and following it on Facebook and Twitter increase the chance of winning - these tasks are possible every day! Do not forget to enter a correct email address, this is the only way we can notify you in the event of a win.
Summary:
Enter your name and email address in the form
Comment on article
do additional tasks in the form for a higher chance of winning (possible every day!)
At this point we refer to ours Terms and Conditions and our Privacy policy. Participation in this competition is possible from 15.12.2019/12/00, 21.12.2019:23 p.m. to 59/22.12.2019/XNUMX, XNUMX:XNUMX p.m. The winner of this round will be drawn on the evening of December XNUMXnd, XNUMX and then informed of a prize by email.
Prize form:
GDPR note: In this competition, we process personal data such as the name and email address of the participant. This data is only used to communicate the profit and is therefore absolutely necessary. We would like to point out that all personal data of the participant will neither be passed on to third parties nor made available to them for use without consent. An exception is the company Rafflecopter / Metric Feet LLC commissioned to carry out the competition, which must collect, save and use the data for the purpose of carrying out the competition.
More information about Data protection on TechnikNews.
Recommendations for you