TechnikNews Christmas competition 2022 #2: Huawei Watch Fit 2, Libratone Air+, yeedi vac 2 pro, AVM FRITZ!Box 4060 and FRITZ!Repeater 1200 AX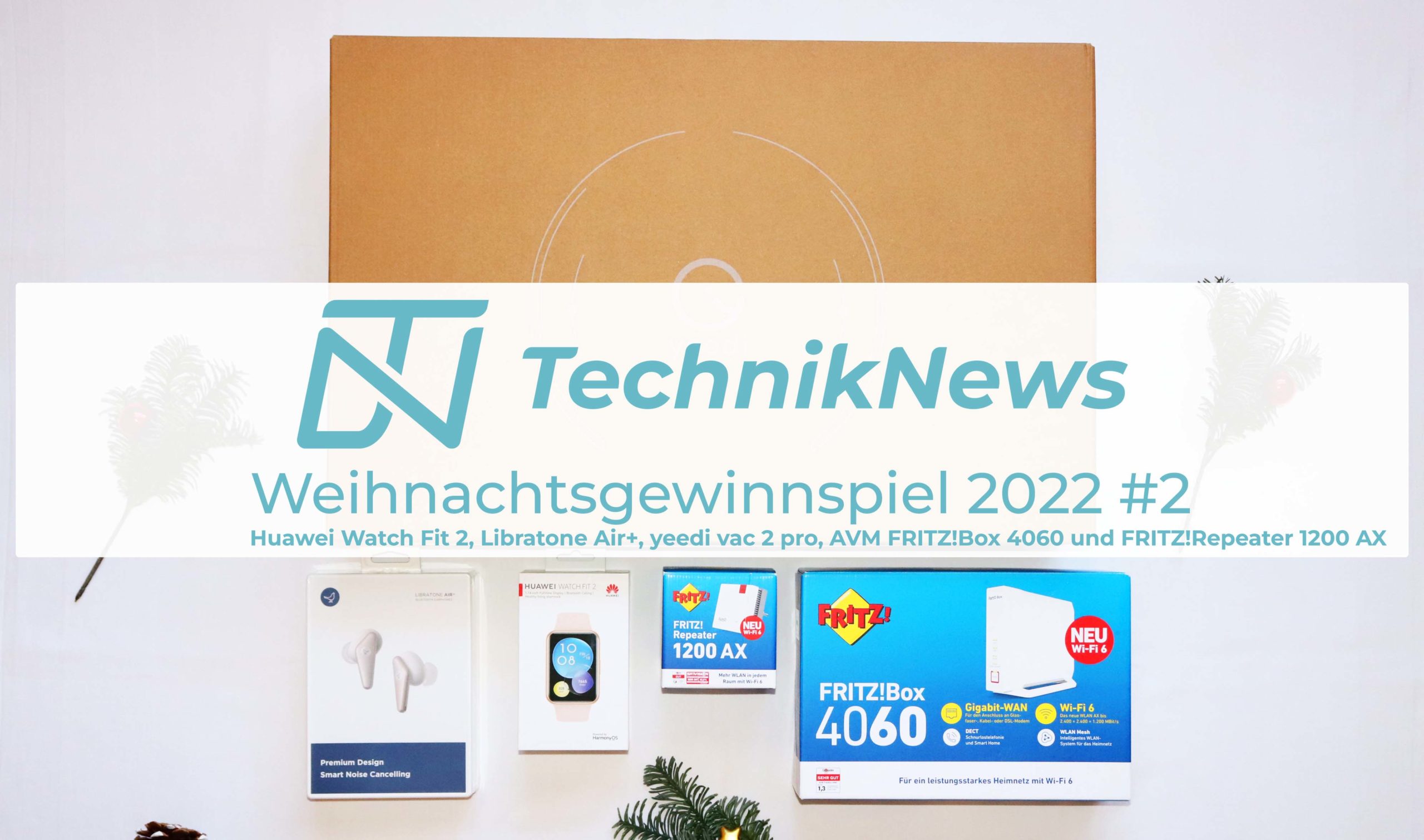 (Post picture: © 2022 TechnikNews)
We wish you a happy fourth Sunday in Advent. Today there is another raffle as part of the TechnikNews Christmas competition 2022. And that's up for grabs.
After last week's prizes, the Huawei Watch Fit 2, the Libratone Track Air+, the yeedi vac2 are up for grabs for the second raffle in our advent raffle pro and the AVM FRITZ!Box 4060, a wireless router that supports Wi-Fi 6. A FRITZ!Repeater 1200 AX is also available as a combination for the latter. A big thank you goes to all manufacturers who Proprovide products for today's raffle.
TechnikNews Christmas competition 2022: process
Today's prize draw is the second in this year's series, with the last one coming up on December 24th. The entry period for this raffle ends next Sunday, so you have another week to enter. The winners will be drawn in order and then informed by us via e-mail. So the first winner gets the first Product, while fourth goes to the fourth winner.
We wish you a Merry Christmas and good luck in the competition! If you have any questions, you can also ask them in the comments.
Next competitions:
TechnikNews Christmas Sweepstakes 2022 #3: December 24, 2022 – December 31, 2022
The profits
#1: Huawei Watch Fit 2
A frequently mentioned New Year's resolution is to exercise more. Our first win, the Huawei Watch Fit 2, might help you with that. It offers a 1,74 inch always-on display, a battery life of 10 days, quick workouts, a range of health features and more. It is also relevant for both Android and iOS users as it is compatible with both operating systems.
#2: Libratone Air+ (2nd gen)
Libratone was quiet for a long time due to bankruptcy proceedings and a change of ownership. Now the Danish audio company has been back with the Air +, the second win for today. In our test, the wearing comfort, the sound quality and the noise canceling of the headphones left a lasting impression. There is also an app for iOS and Android with various setting options for the in-ears.
#3: yeedi vac 2 pro
With the yeedi vac 2 pro your own four walls will be super clean to match the spring cleaning. The smart robot not only vacuums, but also wipes heavily soiled surfaces all by itself. Restricted zones can also be defined in the app so as not to drive around the Christmas tree or destroy Christmas tree balls. A suction station is also available as an accessory, with which the robot can clean itself for at least a month.
Looking for a Christmas present? There is also an Amazon deal until December 22nd that you can use to save a lot when buying the vacuum robot:
#4: AVM FRITZ!Box 4060 & FRITZ!Repeater 1200 AX
The fourth and last prize for today is the FRITZ!Box 4060 from AVM, a kind of all-rounder for the home network. The Wi-Fi 6 router not only ensures fast WLAN, it can also act as a NAS and hub for up to six cordless phones if required. In addition, you can easily set up a mesh network with the FRITZ!Box 4060 and the FRITZ!Repeater 1200 AX, which means that you have internet reception everywhere, even in larger houses.
TechnikNews Christmas competition 2022: Participate now!
Participation in this competition is as easy as in previous years. Simply fill out the form below and you're in the win. To increase your chances of winning you can contact us Twitter, Instagram and Facebook follow. Also share our competition post - even every day to increase your chances of winning! Don't forget to enter a correct email address, this is the only way we can contact you if you win.
Summary:
Name and email address into the form enter
do additional tasks in the form for a higher chance of winning (possible every day!)
Form not visible? Open directly here.
At this point we refer to ours Terms and Conditions and our Privacy policy. Participation in this competition is possible from 18.12.2022/12/00, 24.12.2022:23 p.m. to 59/25.12.2022/XNUMX, XNUMX:XNUMX p.m. The winners of this round will be drawn on the evening of December XNUMXth, XNUMX and will then be informed of a win by email.
No luck? Do not worry! At the 24 December 2022 starts already third round ours TechnikNews Christmas competition 2022.
Next competitions:
TechnikNews Christmas Sweepstakes 2022 #3: December 24, 2022 – December 31, 2022
In this competition we process personal data such as the name and e-mail address of the participant. This data will only be used to determine the winner and is therefore absolutely necessary. We would like to point out that all personal data of the participant will not be passed on to third parties without their consent, nor will they be allowed to use them. An exception is ViralSweep, the company commissioned to carry out the competition, which must collect, store and use the data for the purpose of conducting the competition.
More information about Data protection on TechnikNews.
Recommendations for you