TechnikNews Christmas Sweepstakes 2022 #3: Withings Body Comp, Oral-B iO Series 10, Sonos Move, Google Nest Wifi Pro and Google Chromecast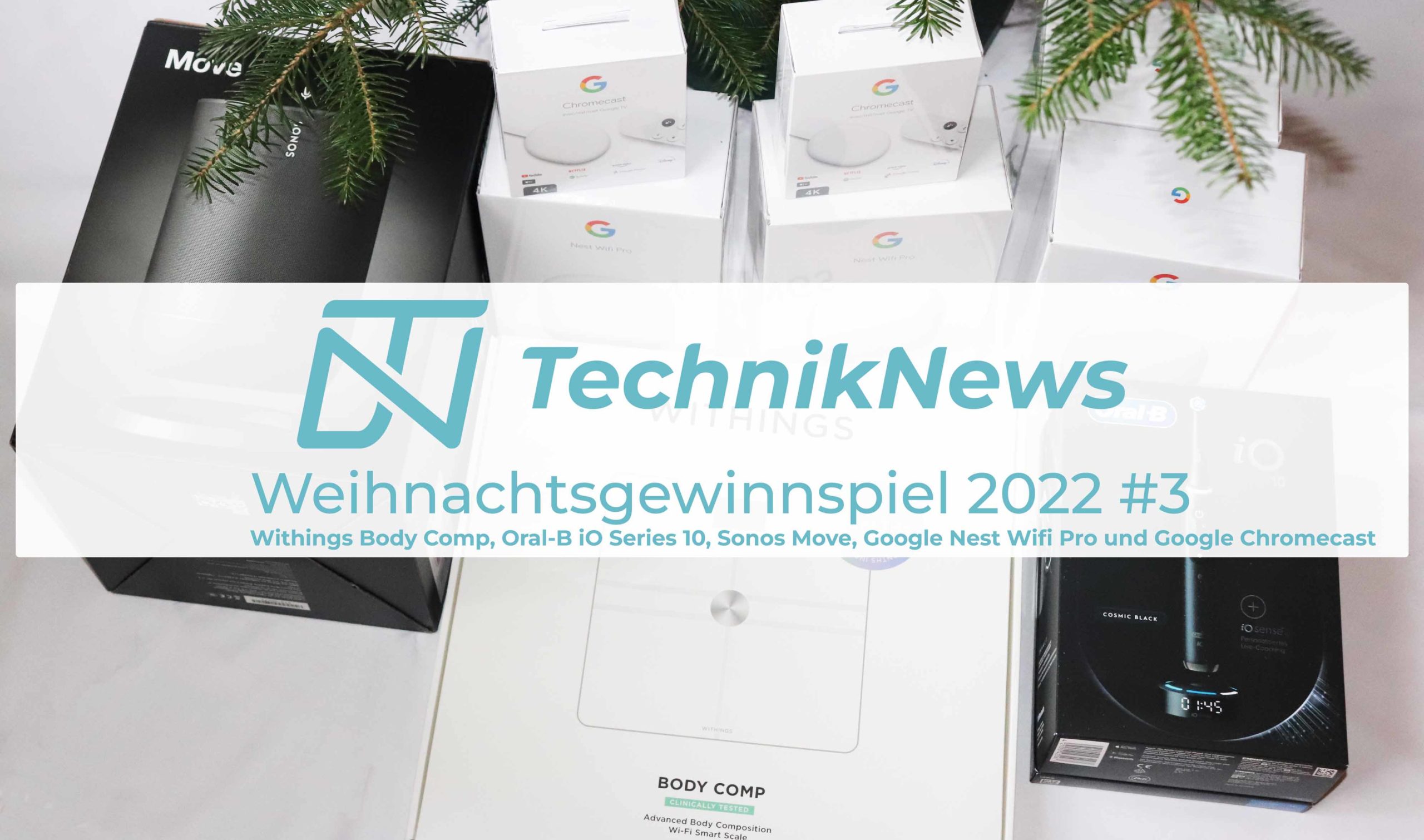 (Post picture: © 2022 TechnikNews)
We wish you a Merry Christmas! As part of our final TechnikNews Christmas competition 2022 we are giving away some more techProducts to you. You can read exactly what they are here.
The last Christmas competition of this year is here today TechnikNews instead of. The Withings Body Comp, the Oral-B iO Series 10, the Sonos Move, the Google Nest Wifi are up for grabs Pro and the Google Chromecast with Android TV. We would like to thank all manufacturers for providing the Proproducts.
Expiry of TechnikNews Christmas competition 2022
Today is Christmas Eve, which is why we want to give you a little more time to enter this competition. Therefore, the participation period ends this time on January 01.01.2023st, 23, 59:XNUMX p.m. The winners will be drawn in order and informed by us via email. So the first winner gets the first Product, while the fifth goes to the fifth winner.
We wish you all a Merry Christmas and good luck with entering this competition! If you have any questions, you can ask them in the comments.
The profits
#1: Withings Body Comp
Also first today we have the Withings Body Comp in stock. The smart scale is not only able to determine weight, it can also calculate things like bone mass or body fat percentage. Another feature is the measurement of the electrodermal activity value, which provides information about the general state of health.
#2: Oral-B iO Series 10
It continues with the Oral-B iO Series 10. The electric toothbrush is compatible with an app that shows, among other things, which teeth you brush how well and gives information on the pressure used. It also has an integrated timer, which is also visible on the dock from this generation of the toothbrush. So you always know how long you should brush your teeth.
# 3: Sonos Move
The Sonos Move, our third prize, can not only be quickly and easily integrated into an existing Sonos system, it is also suitable as a loudspeaker for on the go. In addition to WiFi, it also has Bluetooth and a battery, which should ensure several hours of music enjoyment away from a power outlet. It's also easy to carry around thanks to the handle on the back.
#4: 2x2 Google Nest Wifi Pro
Especially if you live in a larger house, it can happen that there is no longer a WLAN signal in some corners. Here's our fourth win, the Google Nest Wifi Pro, remedy. This is a mesh network router, which means it can extend the range of the signal without affecting the transfer rate. A router covers up to 120 square meters and this limit can be easily expanded by adding more. Thanks to Wi-Fi 6E, you can always access the Internet quickly.
Two winners will each have the chance to receive two Google Nest Wifi Pro to win.
#5: 2 x 1 Google Chromecast with Android TV
The Chromecast is traditionally a small dongle that you plug into the television and you can play Netflix series, music from Spotify and other media from your smartphone, tablet or computer. The Chromecast with Android TV is a little different because, as the name suggests, it comes with its own operating system and therefore a remote control. Sounds interesting? Then try your luck in the raffle, because this is the fifth prize for today, which two winners can win once each.
Two winners have the chance to win a Google Chromecast with Android TV each.
TechnikNews Christmas competition 2022: Participate now!
Participation in this competition is as easy as in previous years. Simply fill out the form below and you're in the win. To increase your chances of winning you can contact us Twitter, Instagram and Facebook follow. Also share our competition post - even every day to increase your chances of winning! Don't forget to enter a correct email address, this is the only way we can contact you if you win.
Summary:
Name and email address into the form enter
do additional tasks in the form for a higher chance of winning (possible every day!)
Form not visible? Open directly here.
At this point we refer to ours Terms and Conditions and our Privacy policy. Participation in this competition is possible from 24.12.2022/12/00, 01.01.2023:23 p.m. to 59/02.01.2023/XNUMX, XNUMX:XNUMX p.m. The winners of this round will be drawn on the evening of December XNUMXth, XNUMX and will then be informed of a win by email.
All Christmas competitions 2022 at a glance
In this competition we process personal data such as the name and e-mail address of the participant. This data will only be used to determine the winner and is therefore absolutely necessary. We would like to point out that all personal data of the participant will not be passed on to third parties without their consent, nor will they be allowed to use them. An exception is ViralSweep, the company commissioned to carry out the competition, which must collect, store and use the data for the purpose of conducting the competition.
More information about Data protection on TechnikNews.
Recommendations for you