>> Test the latest technology and much more: apply to us! <
TechnikNews Weekly #043: Huawei nova 4, Fitbit OS 3.0, Jaybird Tarah Pro and more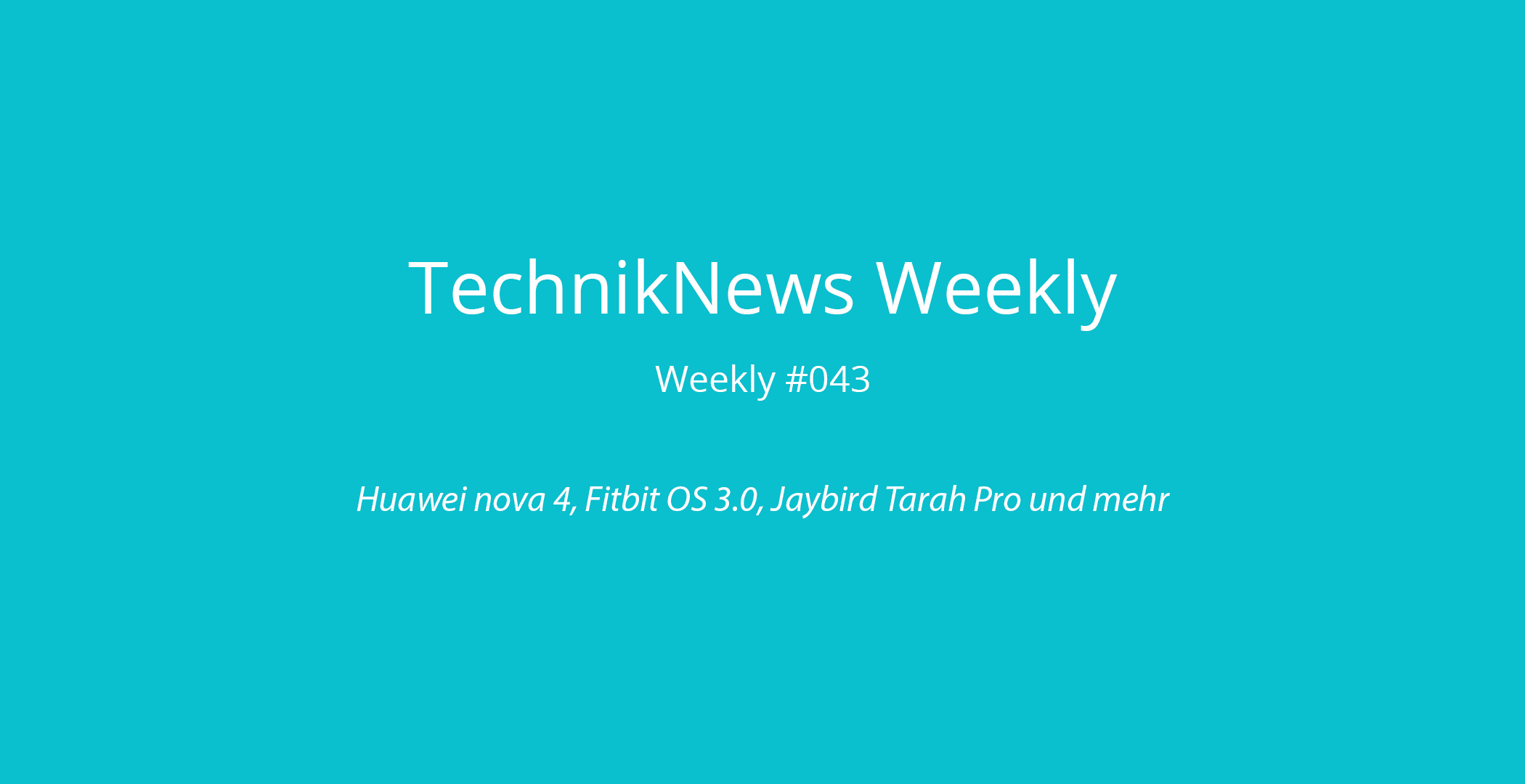 (Post picture: © 2018 TechnikNews)
Today there is another one TechnikNews Weekly and an Advent competition before Christmas Eve tomorrow. This week, among other things, the presentation of the Huawei nova 4 and the rollout of Fitbit OS 3.0 were topical.
Huawei nova 4 presented
After the Honor View 4, the Huawei nova 20 is the Group's second smartphone that has a hole in the display. This is where the front camera is located, which on the nova 4 has a resolution of 25 megapixels. The display has a standard 1080p resolution. Inside is the Kirin 970, not the newer Kirin 980. The RAM has a size of eight gigabytes, the internal memory is 128 gigabytes. The Huawei nova 4 is priced at an RRP of 430 euros.
Fitbit OS 3.0 is being rolled out
Fitbit OS 3.0 has been rolled out to Fitbit Ionic, Fitbit Ionic Adidas Edition and Fitbit Versa users since this week. What is new is that you pro training session can set its own goal. For example, you can now choose to run five kilometers in a certain time. Another new feature is that it is now possible to add the amount of water consumed and food eaten directly on the watch. Several well-known fitness apps are also supported with the update.
Jaybird tarah Pro review
I've been running the Jaybird Tarah non-stop for the past few weeks now Pro around to get a detailed impression of these in-ear headphones. I was particularly impressed by the very long battery life - 14 hours. But I also really liked the sound. I didn't think the design was bad, but it's nothing special as other Jaybird headphones look very similar. There are more details in my review.
Last one TechnikNews Advent competition
Because today is the fourth Sunday in Advent, we have another competition. Like the last two weeks, today there are four prizes: The Asus Zenbook S, an iPad Pro 2018, a Huawei P9 lite mini and a Sonos One. We would like to take this opportunity to thank you for providing these four prizes. All information about the competition and the conditions of participation can be found in the article.
The entire TechnikNews-Team wishes our readers a Merry Christmas.
Recommendations for you