TechnikNews Weekly # 049: New 4K monitor from LG, FaceTime bug, notebooks being tested and more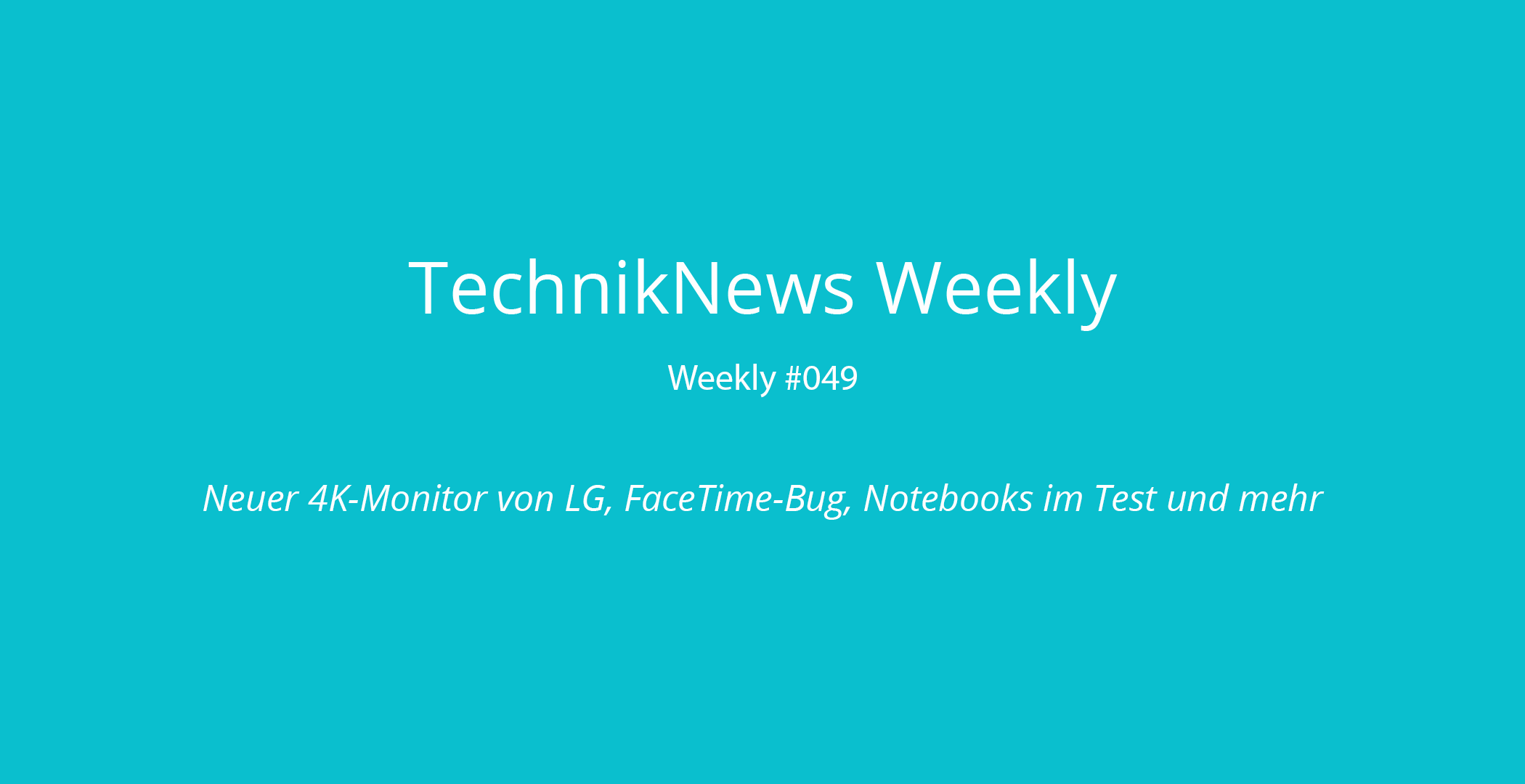 (Post picture: © 2019 TechnikNews)
We have almost the first 50 issues of the TechnikNews Weekly achieved. This week I am once again able to present you with the top 5 most-clicked posts. And what else happened this week.
Short notice: Celebrate in less than two weeks TechnikNews his 16th birthday on February 4. On this day there will be great birthday surprises on our blog. So be sure to stop by! But now we look with that TechnikNews Weekly back to your most-clicked news and the other news from last week.
LG presents a new 4K monitor
The new monitor from LG is not necessarily the cheapest, but it comes with decent equipment. The 32UL750-W resolves in 4K (UHD) and is also state-of-the-art in terms of connections. There is USB-C, HDMI and Displayport 1.4. If you connect the notebook or Mac with a USB-C port, you can also use the two USB-A ports on the back as a hub. The display diagonal is an impressive 31,5 inches. Further information on prices can be found in our article.
Lenovo ThinkPad X1 Extreme in TechnikNews Test
This week we tested two current notebooks for you here on the blog. The review of the Lenovo ThinkPad X1 Extreme ranks second among the articles you have clicked the most. Even if the ThinkPad X1 Extreme is aimed more at business customers, it could also be of interest to the power users among you. It's best to click directly into the test and get an idea of ​​it yourself.
asus zen book Pro 15 tested
As a second test report, we have our experiences with the Asus ZenBook last week Pro 15 shared with you. The model with an i9-8950HK Proprocessor from Intel and 16 GB of RAM was able to score particularly well with its strong equipment. There is also an Nvidia GTX graphics unit. We have clarified in our detailed test whether it can really be described as the multimedia notebook for everyone. There you will find all information including pictures of the Asus flagship.
Notion releases version 2.3 with Web-Clipper
With the latest version 2.3 for the increasingly popular tool Notion (here there is our field report on this) you will now also become a pocket competitor. You can now save your favorite pages directly in the browser and transfer them to your personal NotionPropack file. The apps for Android and iOS have already received the update.
This is the new Galaxy M10 and Galaxy M20 from Samsung
Samsung presented two new smartphones this week. These are aimed specifically at beginners and, with their price of just under 100 euros, are also quite interesting for them. Even if you can't expect top equipment here, both smartphones are solidly equipped. A maximum of three GB of RAM and 32 GB of internal storage are possible here. All information on prices and equipment can be found in the article.
More articles last week
All articles that are not in your toplist of the TechnikNews Weekly are available for you to read in chronological order below.
Recommendations for you