>> Test the latest technology and much more: apply to us! <
TechnikNews Weekly # 050: About Cyberbullying, Pixel 3 XL, Return of Newtons, and More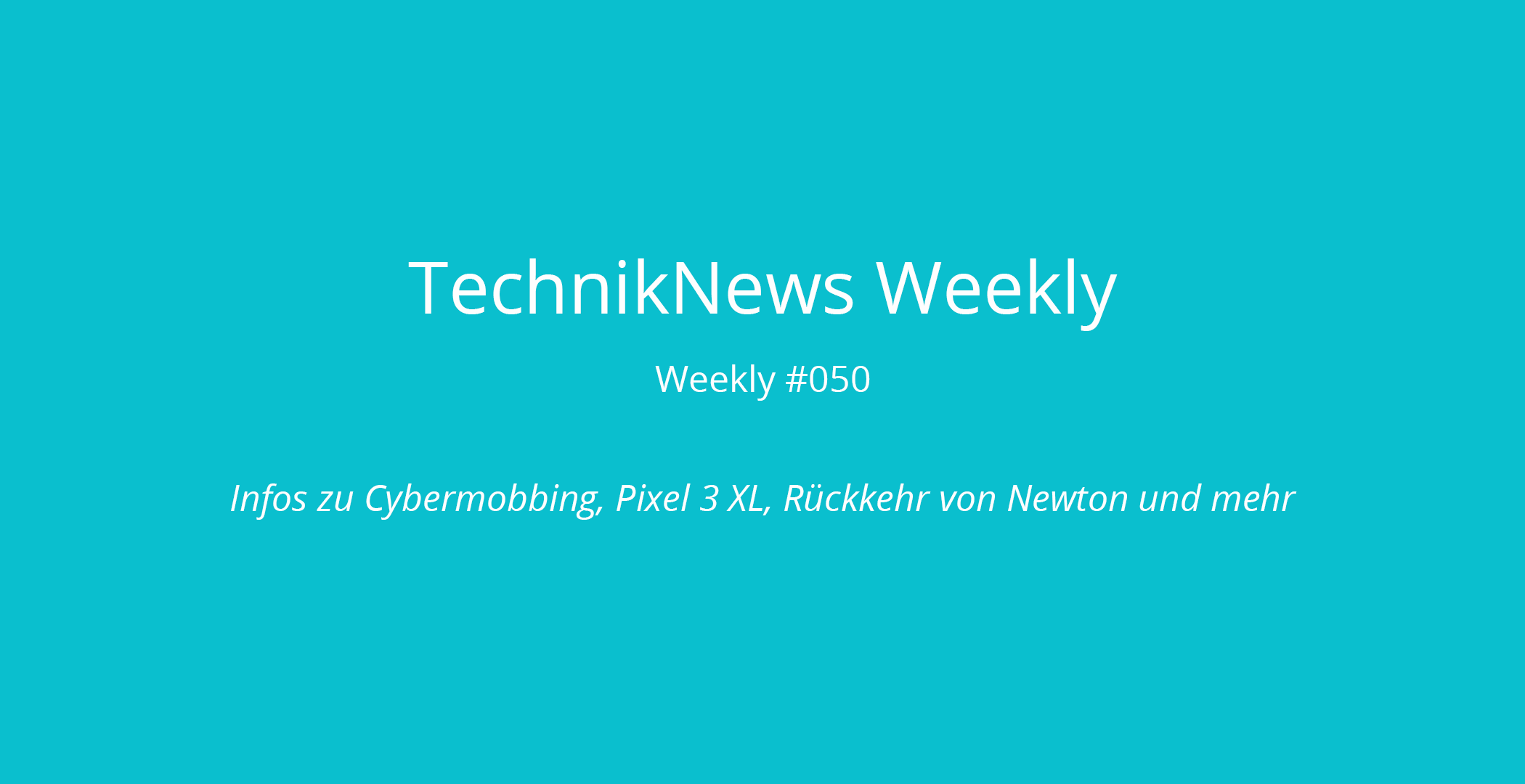 (Post picture: © 2019 TechnikNews)
The return of Newton, the build 2019 announcement, and the Galaxy Buds photo - these are just a few of the things that have been covered over the past seven days. Here in TechnikNews Weekly there is the weekly overview with all news.
About cyberbullying
An informational article on cyberbullying was published last Sunday. Editor-in-chief David Wurm described the current legal situation, the exact definition of cyberbullying and what you can do about it. It also mentions the consequences of cyberbullying for victims and the contact points to which those affected can turn. A topic that receives far too little attention these days.
Google Pixel 3 XL
The next day, on Monday, the first smartphone test in 2019 came off TechnikNews on-line. I was now able to deal with the Pixel 3 XL for a while. I noticed some things positively and some things negatively. The latter includes the notch, for example. This could have been a bit more compact. On the other hand, I liked the software. Stock Android 9 Pie with the simple Pixel Launcher. All further information about the Pixel 3 XL can be found in the detailed review.
This is what the Galaxy Buds should look like
On February 20th, Samsung will introduce the Galaxy S10 and its offshoots, the Galaxy S10 Plus and the Galaxy S10e. In addition, the manufacturer could show new wearables, about which there have been some rumors in the last few weeks. These wearables also include the Galaxy Buds, for which a press photo appeared. This shows the headphones in the charging case, which is on one of the upcoming smartphones. This suggests that the Galaxy S10 smartphones have wrong wireless charging and that the charging case can be charged wirelessly.
Newton Mail returned
Last summer, CloudMagic, the developers of Newton, announced that the Mail app would be shut down at the end of September. That also happened, months followed without a word from the company. This week Newton was unexpectedly reactivated. There is only one subscription plan with annual billing. This costs 55 euros.
Surface headphones are coming to Austria and Germany
In October of last year were held in New York next to the Surface Pro 6, the Surface Laptop 2 and the Surface Studio 2 unveiled the Surface Headphones. However, these over-ear headphones have not yet been for sale from us. Until now. The headphones will be available from March 7, 2019 in the Microsoft Store and at selected retailers. The suggested retail price: 380 euros.
More articles last week
Recommendations for you