TechnikNews Weekly # 057: Article 13, Apple Pay, Spotify Premium Duo and more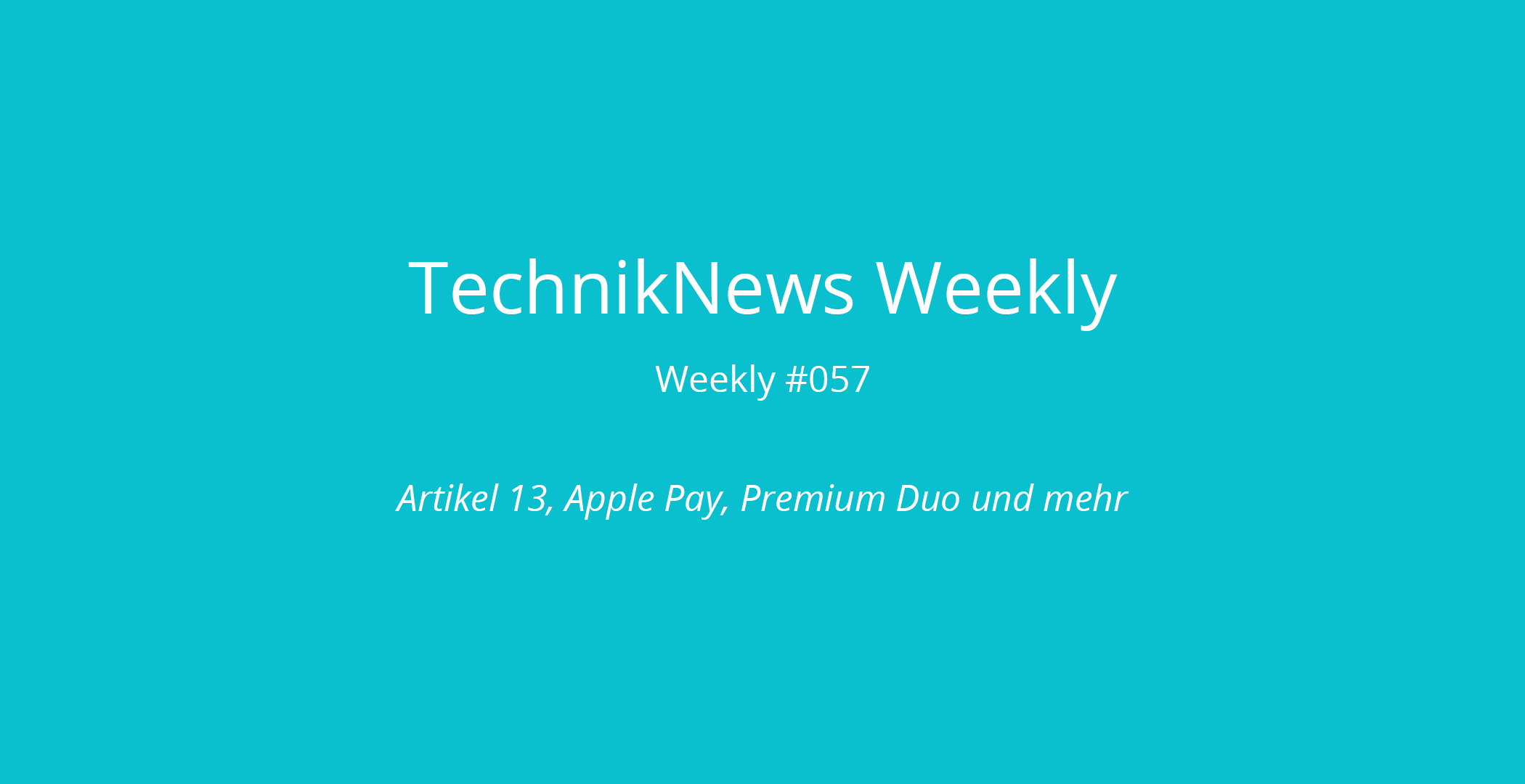 (Post picture: © 2019 TechnikNews)
Once again we have come to the end of a week. As always, that means it's time for you TechnikNews Weekly is which today is about Article 13, Apple Pay, Spotify's Premium Duo, and some other interesting stuff.
Article 13 (or Article 11 and Article 17) are through
On March 26th, several politicians met in the EU Parliament to vote on Article 13. And even if the live stream of the vote broke off, the result is now clearly certain. 348 politicians voted for the copyright reform, 274 against and 36 eligible voters did not vote. This means that Article 13 will now finally enter into force. Our editor-in-chief David Wurm summarized in his detailed article what this ultimately means for the Internet as we know it.
Apple Pay is coming to Austria soon
As we have often reported in the meantime, Austria is not really well equipped with mobile payment services. A big player in this area will soon come, namely Apple Pay. Erste Bank, N26 and boon announced on Twitter that they will support Apple's service when it is launched. However, it is still not known when this introduction will take place. Erste Bank only announced that the launch will definitely be in the current year.
Apple cancels AirPower
Another thing we wrote about a lot lately is AirPower. The smart charging station from Apple was shown at the iPhone X keynote in September 2017. Even there, Apple did not give a specific date for a release, "in the next year" one should look out for AirPower. But 2018 passed and there was no sign of life from the gadget. At the beginning of the year there were some glimmers of hope, but it has now been announced that AirPower will not come onto the market. In an official statement, Dan Riccio from Apple states that the company's quality standards cannot be met. It is not known whether Apple is now working on improvements to the charging mat.
Huawei P30 series presented
In addition to the Article 13 vote, the launch event of the Huawei P26 series took place in Paris on March 30. Both smartphones are powered by a Kirin 980. There are also six gigabytes of RAM and 30 gigabytes of memory in the P128 and in the P30 Pro Eight gigabytes of RAM and 256 gigabytes of internal storage. Huawei placed a special focus on the cameras of the smartphones, which are triple cameras in both cases. Lars explains exactly what this can do in detail in the article. But how much does this fun cost? The RRP of the P30 is 749 euros, pre-orders are already underway. There is also a Sonos One during this phase. The first devices will then be delivered at the beginning of April. For the variant of the P30 mentioned above Pro Huawei demands 1099 euros. Pre-orderers will again receive a Sonos One and a Qi charging station.
Spotify is currently testing a third plan called Premium Duo. The name suggests that this includes two different accounts and is particularly suitable for couples. In addition, Premium Duo is cheaper than the family subscription, it costs only 12,49 euros per month. Premium Duo is currently being tested in Colombia, Chile, Ireland, Denmark and Poland. Spotify wants to promote this subscription especially with the "Duo Mix" playlist. This includes songs that are selected based on the musical tastes of both partners. There is also the ability to share playlists with the other person with just one click.
All other articles from the last week
Recommendations for you