>> Test the latest technology and much more: apply to us! <
TechnikNews Weekly #061: OnePlus 7 Pro, iPhone 11 and more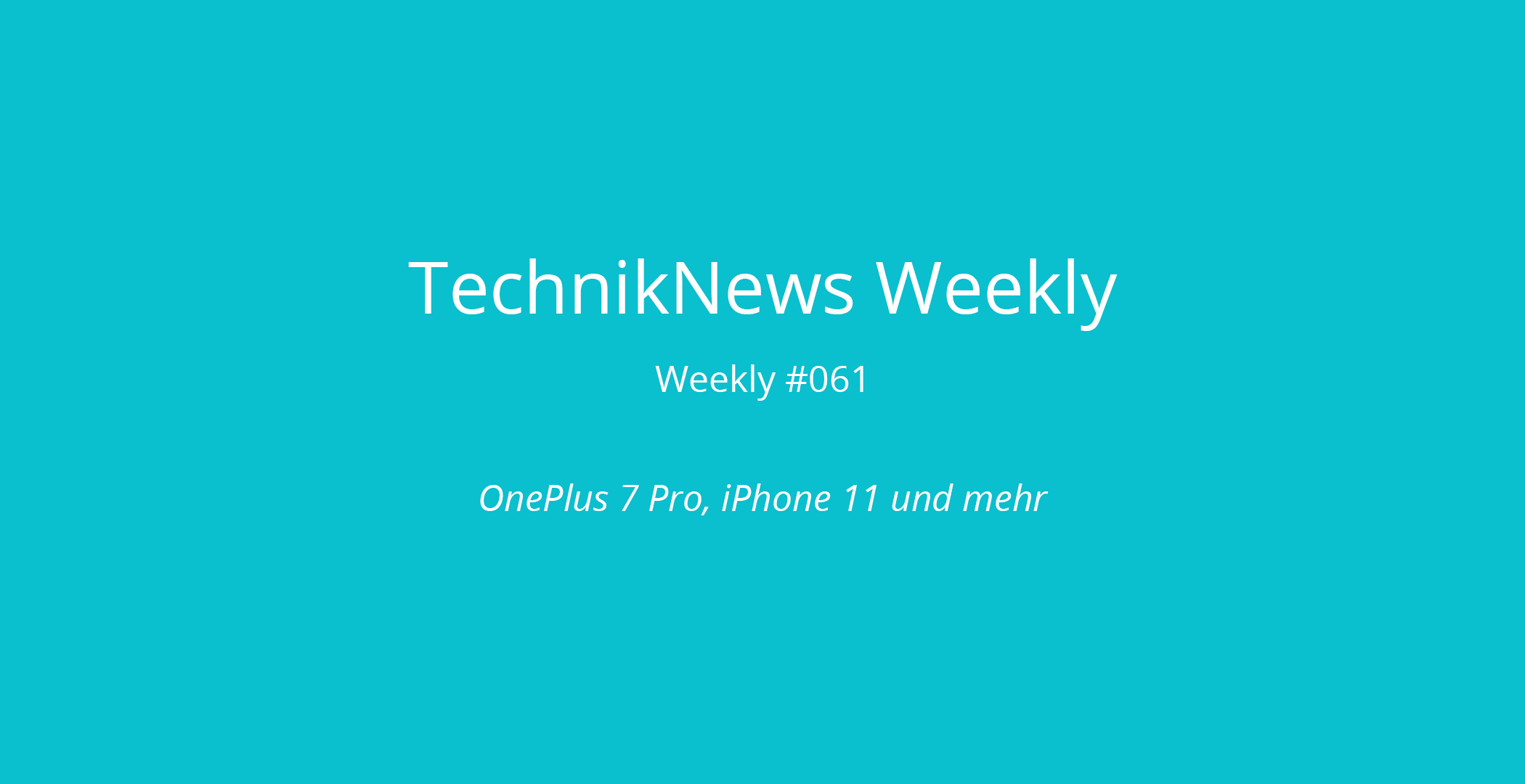 (Post picture: © 2019 TechnikNews)
Oops, it's Sunday again! As has been a tradition for over a year now, there is also one today TechnikNews Weekly. This time with leaks and information about the OnePlus 7 Pro and iPhone 11 and other exciting news.
OnePlus 7 Pro with groundbreaking display
OnePlus CEO Pete Lau spoke to The Verge this week about the OnePlus 7 Pro and confirmed some leaks from the past. Lau says that this time more money was spent on the display than in previous years. The CEO also says that the display is "super smooth and very crisp". If you believe the rumours, the panel has a resolution of QHD+ and a refresh rate of 90 Hertz. The smartphone should also have 5G and a triple camera. All the latest news about the OnePlus 7 and 7 Pro you can find here:
The back of the iPhone 11 has a new design
In less than half a year, Apple will again invite you to an iPhone event, where we will see the next generation of Apple smartphones. There is now an interesting rumor about the back side: The well-known Leaker OnLeaks claims that the upcoming iPhones will have a back side consisting of a single glass plate into which the camera hill will also be embedded. So this should not be as noticeable as in the years before. The pictures provided by the leaker also show that there is a Lightning port on the underside, not a USB-C connector, and that the mute switch can now be pushed differently.
iPad Pro with touch screenProtrouble
A Proproduct from Apple is doing it again Probleme, this time it's the iPad Pro. Users of the 2017 and 2018 models report that the touchscreen is unresponsive. In all cases, this was hardly noticeable at first until the tablet's display gradually became more and more unreliable. A software error is ruled out, since downloading updates and resetting the devices did not help. An official statement from Apple is still pending.
Galaxy Fold release postponed
There is probably no one who has not heard that several test devices handed out to the Galaxy Fold broke. Therefore, Samsung decided to postpone the release, which would have taken place soon, indefinitely. In the meantime, the manufacturer has withdrawn the test devices that have been distributed and media events are also gradually being postponed. Now they will work on improving the device so that there can be a new release soon.
Apple Pay starts in Austria
On Tuesday it was suddenly announced that Apple Pay would start the next day, that is, on Wednesday in Austria. And that's how it happened: Apple Pay has actually been available in Austria since Wednesday morning. As reported last month, Erste Bank, N26 and boon will be on board at the start. To use the Apple service, you need at least an iPhone 6, an iPad Air 2 or an iPad mini 3 and a Mac with Touch ID.
All other articles from the last week
Recommendations for you