>> Test the latest technology and much more: apply to us! <
TechnikNews Weekly #088: Apple TV+, Google buys Fitbit, Apple AirPods Pro and more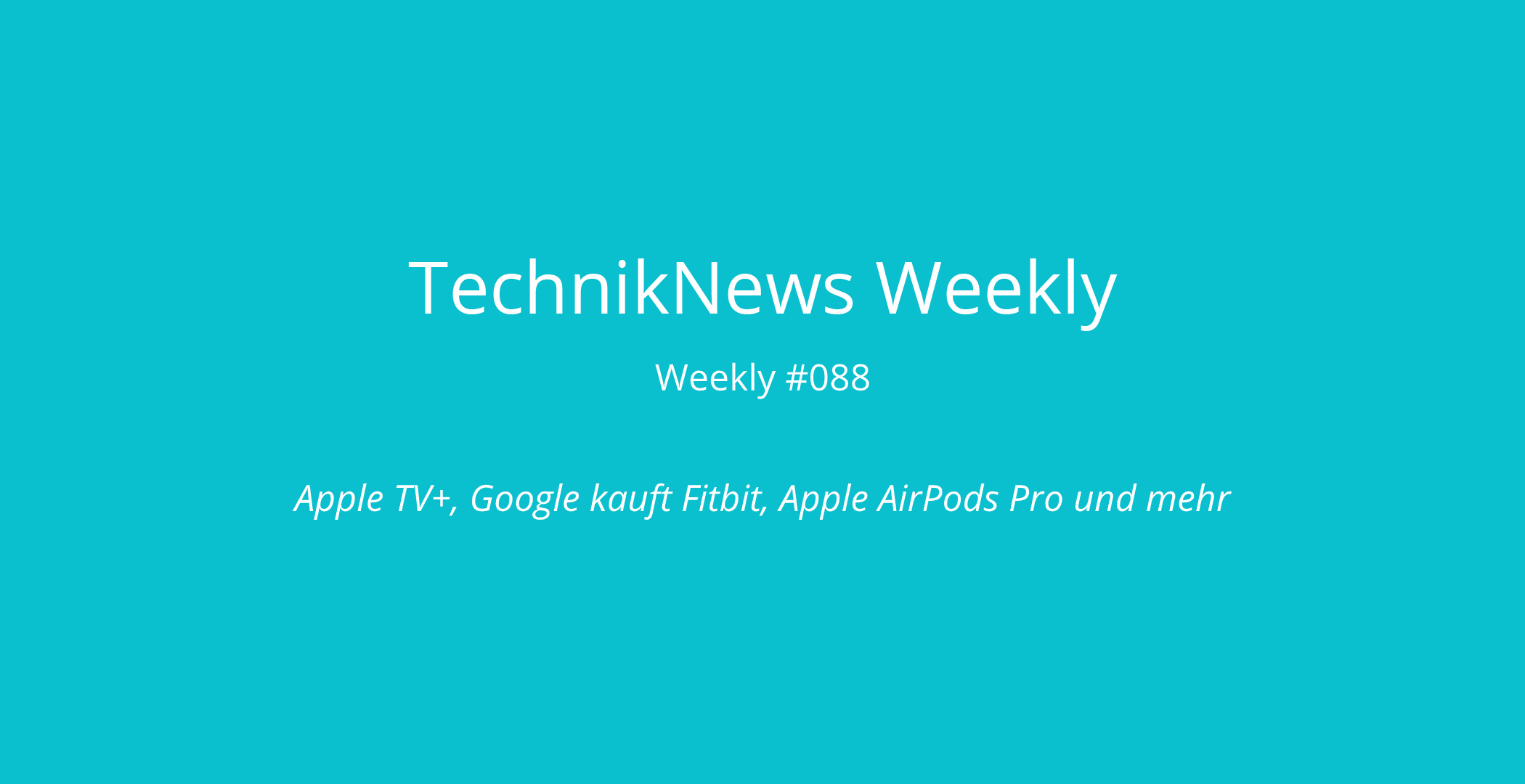 (Post picture: © 2019 TechnikNews)
Just in time for the first Sunday of November we have ours again TechnikNews Weekly for you. This week, among other things, in the luggage: Apple TV + is here, Google is buying Fitbit, the Apple AirPods Pro are there and much more.
We're honest: this week was up with us TechnikNews not really busy. Some of us are stuck in the review phase, which often means that we don't have enough time to write articles. Nevertheless, we will keep you up to date and have the highlights of this week this one TechnikNews Weekly. This time there are not only your most-clicked articles, but also other, short "short news".
Apple TV + has started
This Saturday we reported on the launch of Apple TV+: the new streaming service from Apple. This comes with a fairly manageable selection at the start, but at a reasonable price. Apple charges 4,99 euros pro month – this price also includes the divisible family subscription. In addition, all users with a new Apple device after September 2019 will receive one year of free service.
Google buys Fitbit for $ 2 billion
It didn't cost a lot: Google spent a good 1,8 billion euros this week to buy the fitness company Fitbit. So you get a price of 7,35 dollars pro Stock - not a bad deal for the CEOs at Fitbit. The reason for the purchase is probably Google's weak wearables division, which they now want to improve with Fitbit's know-how. Remember: Google's wearOS hasn't really worked until now and Apple is the top dog on the smartwatch market with the Apple Watch.
Fitbit currently has around 28 million active users who have saved a lot of health data. However, these should not be used for personalized advertising, assured Google during the takeover in the company blog. Affected users of the takeover should be given the opportunity to check and delete the data before the data change to the Google server. When exactly this will take place is unclear.
Apple AirPods Pro are here
On Monday of this week, Apple's new wireless headphones came unexpectedly. The better version of the Apple AirPods now comes with ANC (noise cancellation) and should now sit even better in the ear. For the latter, you now have attachments with you, which are placed on the front of the pods - before these were just hard and caused pain in the ears of some users. All further details are available on the Apple homepage. They come on the market at a price of 279 euros.
24 hours without push notifications: Our experiment
I "dared" the experiment with 24 hours without push notifications and wrote about it in detail here on the blog this week. It should be about the experiences in everyday life, if you simply mute the smartphone completely and also completely deactivate all notifications. What I experienced there and why everyone explains it themselvesproshould beer, you can read in my column.
Razer Hammerhead True Wireless Earbuds Introduced
We still have news for you in TechnikNews Weekly: Actually presented, so at an event, you don't really have the Razer Hammerhead this week. So it was announced rather silently via press release to numerous media. The Razer Hammerhead are the gaming brand's first earbuds and complement the Proproduct range in addition to headphones, gaming accessories and other gaming stuff. In the article we have explained in more detail what the buds can do for the price of just over 100 euros.
Recommendations for you