>> Test the latest technology and much more: apply to us! <
TechnikNews Weekly #094: Apple AirPods Pro & Fossil Sport Test, Mac Pro (2019) and more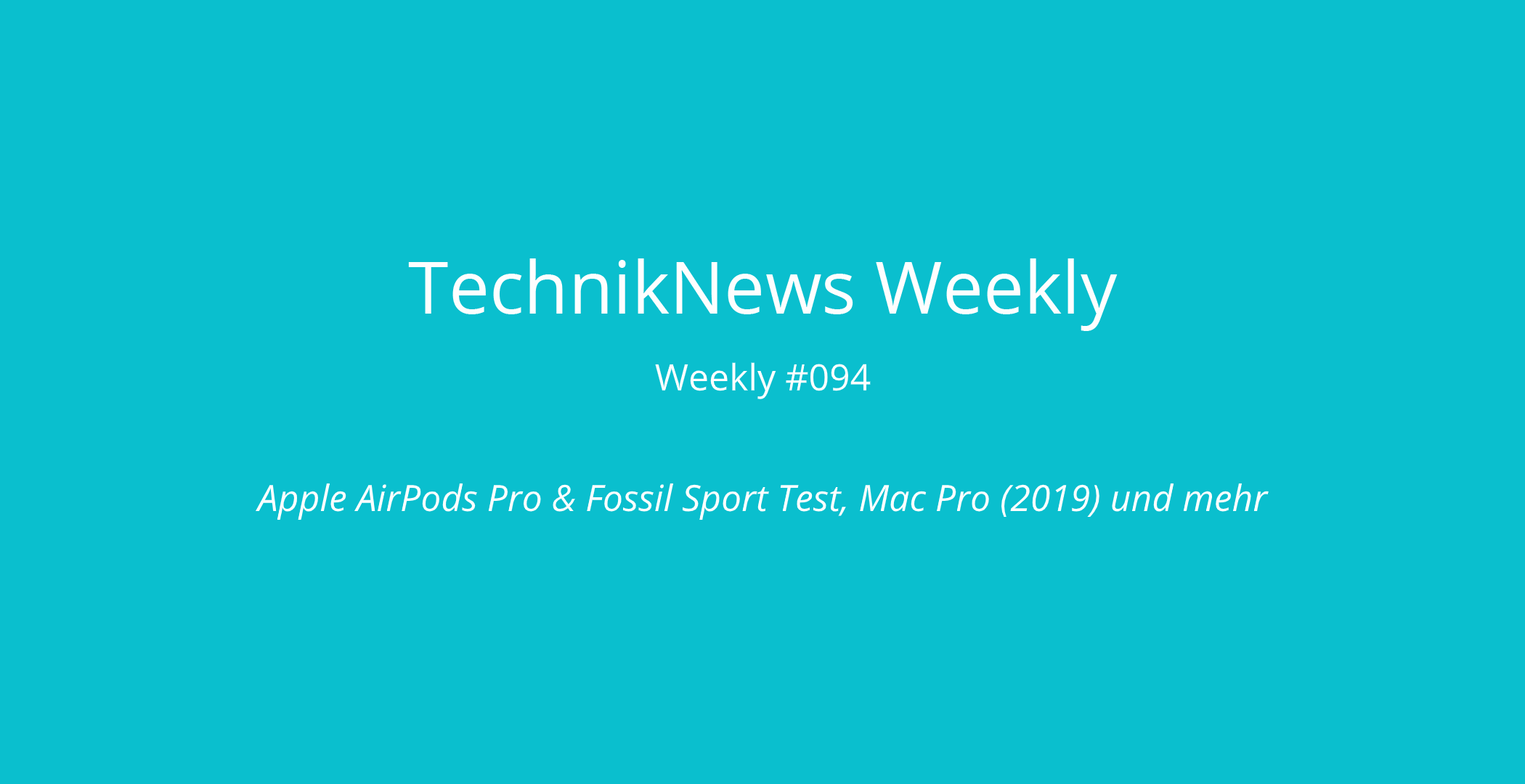 (Post picture: © 2019 TechnikNews)
We hope that you had a really good end to the third Sunday in Advent: here comes ours as usual TechnikNews Weekly. In the 94th issue we deal with the reviews of the Apple AirPods Pro and the Fossil Sport, plus there is an overview of the most important news of the week.
If we from TechnikNews Speaking weekly, we mean the weekly summary of the most important news from the world of technology. These are put together by your clicks, which we then present in an overview here in the Weekly. This Sunday we start with two test reports that you clicked the most.
Win a Smart Home Bundle at the 3rd TechnikNews Advent competition!
We have been sweetening the waiting time for Christmas since December 1st and raffling off great technology every Adventproducts to you. In our third round of the competition you can really equip your apartment with smart home gadgets. The winner receives the complete bundle consisting of Arlo Ultra camera, FRITZ! WiFi mesh set and two Philips Hue Play lightbars.
So don't waste any time and join in, you have until next Saturday at 23:59 p.m.
Apple AirPods Pro examined more closely
The top article (most clicked by you) this week was our test report on the Apple AirPods Pro. Editor Kevin has been using it continuously for a few weeks since the release and has compiled his first findings in the article. He particularly liked the new ANC, which the new design of the AirPods also contributes to. You can read what else he liked and which aspects didn't come off so well in his test report.
Apple AirPods Pro: My first impression
Fossil Sport long-term review
Not enough of the test reports, our editor David has tested the Fossil sports smartwatch for you for several months. He also particularly went into the differences to his Fossil Q Explorist HR, which are already clear in some points. Is the Android smartwatch worth it for the price of 200 euros? He clarifies that in his test report, which you can find right here:
Apple Mac Pro (2019) available now
Are you looking for a new computer that can cost up to 63.127,98 euros in its entirety? Then the Mac Pro (2019) maybe something for you. This starts in Germany at an RRP of 6.499 euros and can be individually configured to the buyer's wishes. so can proUpgrades in terms of RAM or SSD can be made without any problems. From December 18, the thing will be delivered to the first interested parties.
TechnikNews Weekly: 

More articles this week
All articles that are not in the above TechnikNews Weekly are available for you to read in chronological order below.
Recommendations for you