>> Test the latest technology and much more: apply to us! <
TechnikNews Weekly #224: DS 4 E-Tense, Motorola Edge 30 Pro, Sony Xperia 10 IV unboxing and more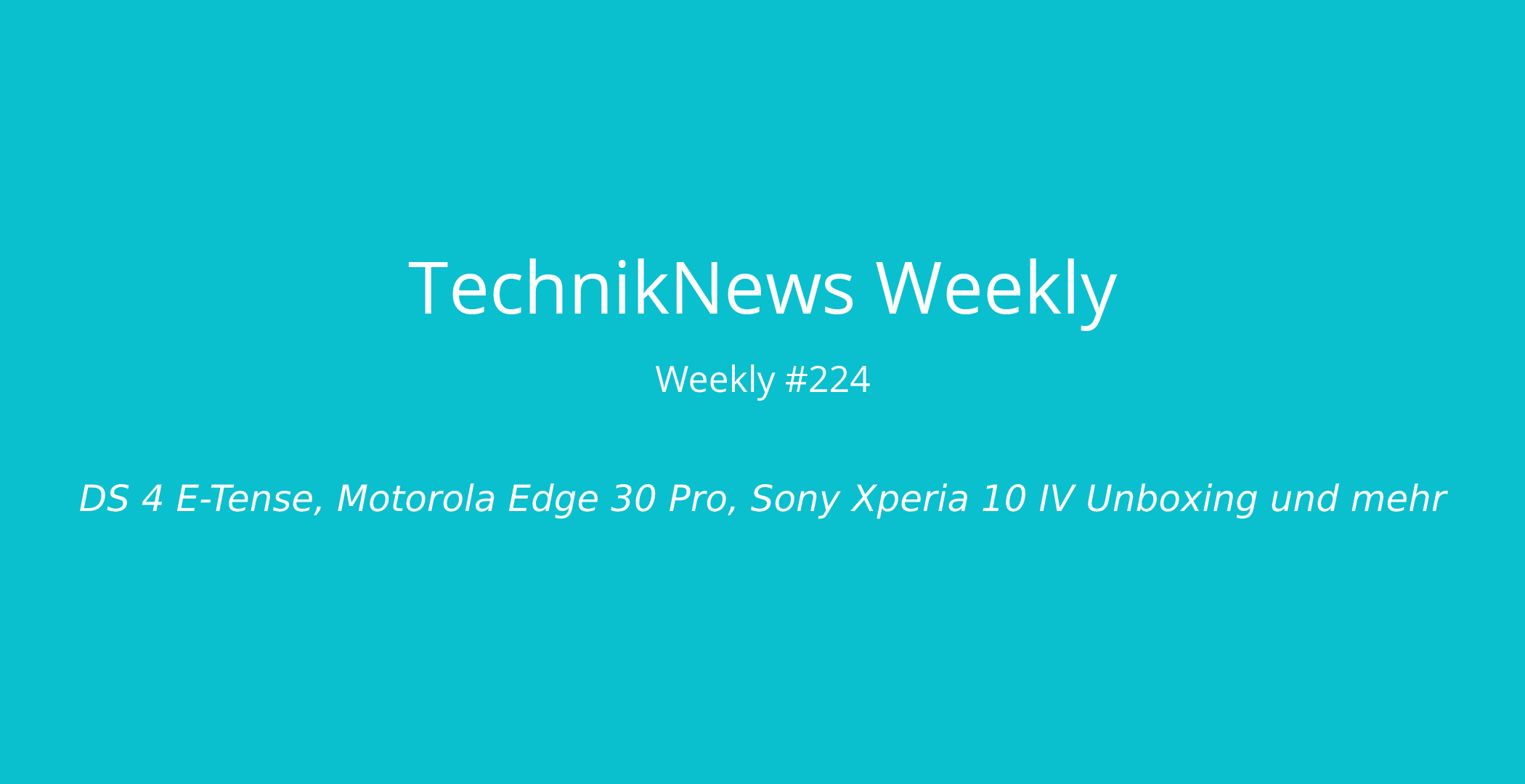 (Post picture: © 2022 TechnikNews)
Today is Sunday again, we summarize the most relevant of the past week in this one TechnikNews Weekly for you together.
Also in the past seven days was up TechnikNews There's a lot going on again - this week we tested particularly hard. As usual, the articles with the most clicks can be found in our summary for technology enthusiasts, dem TechnikNews weekly.
DS 4 E-Tense review
The DS 4 E-Tense is a hybrid crossover from the French luxury manufacturer DS. my colleague Dominik tested the DS 4 for you. Since the DS brand is not yet very well known in Germany, Dominik was often asked about the DS 4prochen. He thinks that the DS brand can keep up with the premium manufacturers Audi and Mercedes. Overall he quite liked the DS 4, its build quality and also its interior.
Motorola Edge 30 Pro review
my colleague Jacob has the Motorola Edge 30 Pro tested for you by the somewhat forgotten brand Motorola. It's the Edge 30 Pro a good smartphone without major strengths, but also without major weaknesses. It has a really good performance and a good battery life, which is always enough for a day of use. The camera is good too. It takes really good and detailed shots during the day, but only the main camera is usable at night. Jacob thinks the Edge 30 Pro is a step in the right direction, but the Edge 30 Ultra could potentially be a better deal.
Sony Xperia 10 IV Unboxing & First Impressions
After testing the Sony Xperia 1 IV, my colleague Fabian unpacked the Xperia 10 IV. There is nothing in the scope of delivery apart from the smartphone and some paper stuff. Neither a cable nor a power adapter are included. Due to its compact size, the smartphone feels good in the hand, but does not feel very high-quality due to the inferior plastic back. The performance makes a solid first impression, although the Prozessor is not the newest and strongest in this price range. The main camera does not leave a very good first impression, since the recordings do not have a high dynamic range and are quite noisy in poor light. Fabian finds the telezoom camera positive, which enables a 2x zoom and takes good pictures.
iPhone 14 Pro and Vivo X80 Pro Camera Comparison & Realme 10 Pro+ Information leaked
Fabian also has the cameras of the iPhone 14 this week Pro and the Vivo X80 Pro compared to each other. The Vivo X80 Pro has the slightly better main camera and the zoom is better than the iPhone 14 Pro. The iPhone's ultra-wide-angle camera takes better pictures than the X80 in good light Pro. At night, however, the tide and the X80 turn Pro makes the better, more detailed pictures. Overall, the X80 does Pro better pictures at night. Fabian also shared the first specs of the Realme 10 this week Pro+ reported.
Recommendations for you