>> Test the latest technology and much more: apply to us! <
TechnikNews Weekly #229: Xiaomi 13 series, Christmas competition and more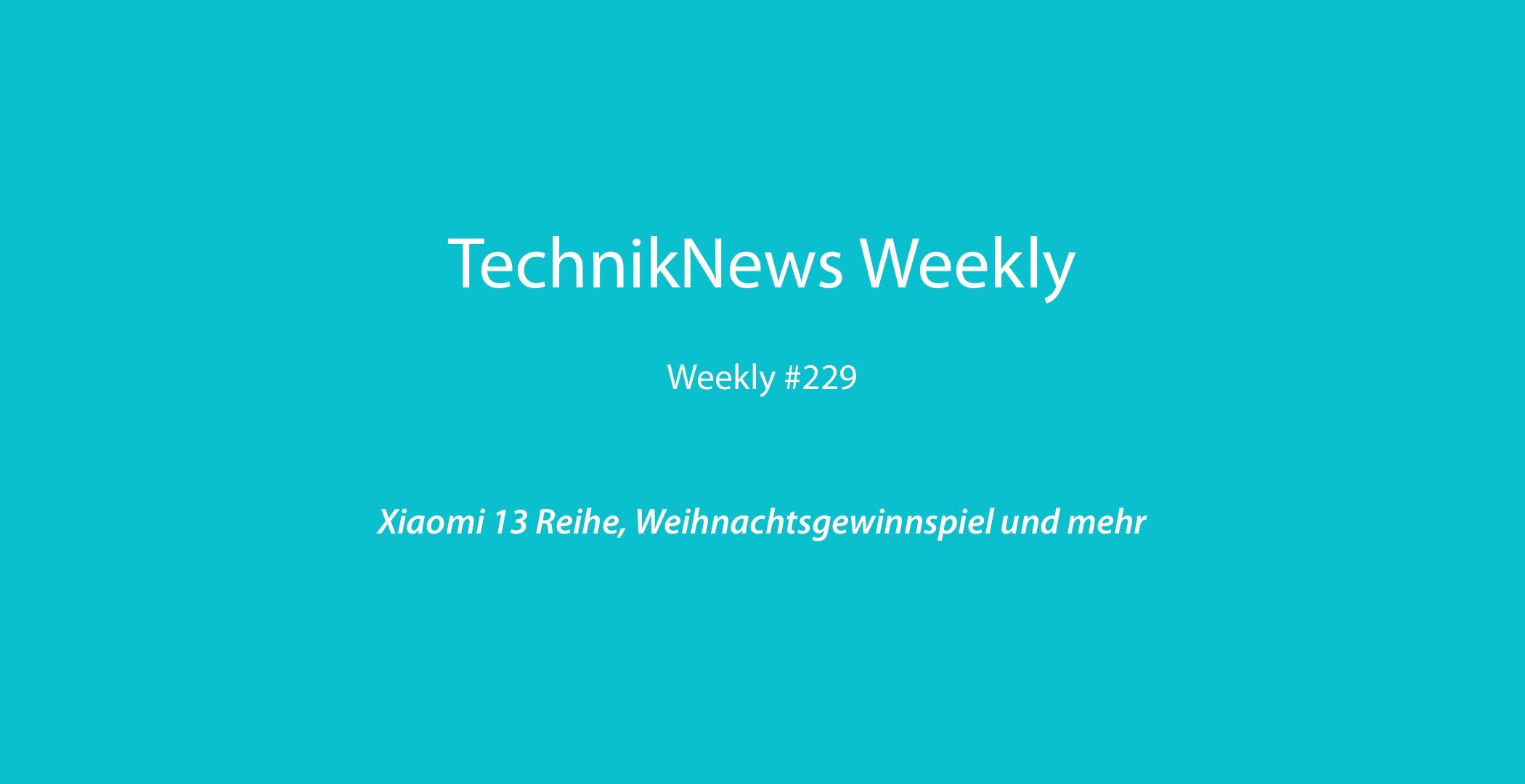 (Post picture: © 2022 TechnikNews)
There was a lot going on again this week TechnikNews. We have summarized the most relevant news for you again. 
Xiaomi 13 & 13 Pro
We would like to start with the Xiaomi 13 series. This was presented by Xiaomi for the Chinese market last Sunday. The Xiaomi 13 scores among other things with a compact housing, a bright 120 Hz OLED display and the Qualcomm Snapdragon 8 Gen 2. We have summarized all relevant information about the Xiaomi 13 for you in one article.
The Xiaomi 13 Pro is, as the name suggests, the "ProVersion of the Xiaomi 13. Unlike its little brother, for example, we have a higher-resolution QHD+ display and a maximum charging speed of 120W. But the biggest difference is probably the cameras. Because Xiaomi brings with the 13 Pro the 1 inch sensor into the mass market. This was already used in the Xiaomi 12s Ultra and is to be used with the Xiaomi 13 Pro are now also finding their way into the Western market. If you like the Xiaomi 13 Pro interested, we have summarized all relevant information here.
Realm GT Neo 5
Let's continue with a smartphone that some probably don't even have on their radar. The Realme GT Neo 5. Last week, the first render images and information about the new Realme smartphone appeared, which my colleague Fabian summarized for you in an article. As already with Realm GT Neo 3 there should be 2 versions again. This time charging with 150 watts and proud 240 watts. That's really impressive. Under the hood, the 150 watt version will use the Dimensity 8000, while the 240 watt version will use the Snapdragon 8+ Gen 1. Unfortunately, due to the patent dispute with Nokia, the devices are not supposed to come to Germany at the moment.
OPPO Find X6 (Pro)
Let's stay in the BBK group, because this week the leaker "evleaks" has a first picture of the upcoming flagship, the OPPO Find X6 (Pro) released. What is particularly striking here is the new, huge camera bump. This should contain a triple camera setup, consisting of a Sony IMX989 as the main camera and two Sony IMX890, which should act as an ultra wide angle camera and as a zoom camera. As with the predecessor, they are once again working together with the Swedish camera manufacturer Hasselblad.
A Snapdragon 8 Gen 2 is also at work under the hood. This should give everyone enough power reserves for the future.
Unfortunately, the OPPO Find X6 (Pro) not appear in Germany.
Christmas raffle
We would like to conclude this issue of TechnikNews Weekly with the second part of TechnikNews Christmas competition. Among other things, you have the opportunity to win a Huawei Watch Fit 2, an AVM FRITZ!box 4060 or the Libratone Air+ (2nd generation). All information about the prizes and how you can participate can be found here:
TechnikNews Christmas competition 2022 #2: Huawei Watch Fit 2, Libratone Air+, yeedi vac 2 pro, AVM FRITZ!Box 4060 and FRITZ!Repeater 6000
Recommendations for you