These devices get Apple iOS 14, iPadOS 14, watchOS 7, tvOS 14, and macOS Big Sur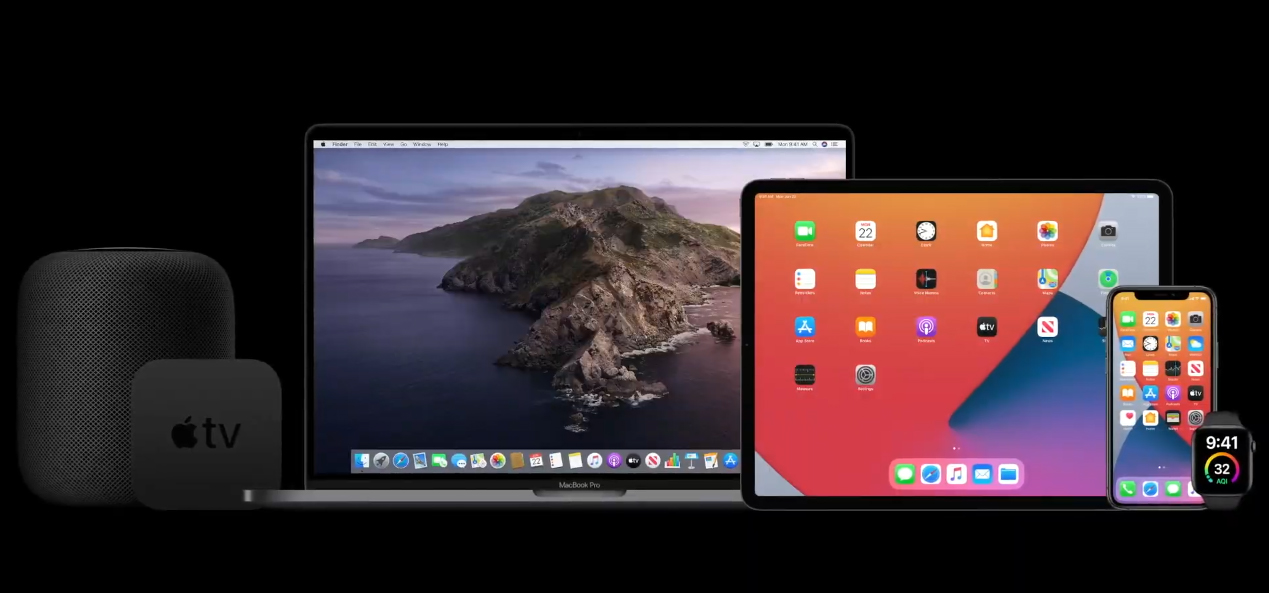 On WWDC 2020 As usual, Apple set off a large software fireworks display on Monday evening. So there is now the new iOS 14, iPadOS 14, watchOS 7, tvOS 14 and macOS Big Sur. The question now arises as to which devices receive which software. We did some research.
In our news articles we have reported in detail about all software innovations. Now in this article we want to take a closer look at which devices receive the update to the new version. There are a few differences here - and Apple is letting down some older devices. For reading, here are all the articles on the innovations:
These iPhones get iOS 14
Apple doesn't bother too much with a software policyprochen, because quite a lot of devices get the update to the new version. Basically, it can be said that all devices with iOS 13 will also receive iOS 14. For the sake of accuracy, however, all supported devices are listed:
iPhone SE (2020)
iPhone 11, iPhone 11 Pro, iPhone 11 Pro Max
iPhone XS, iPhone XS Max, iPhone XR
iPhone X
iPhone 8, iPhone 8 Plus
iPhone 7, iPhone 7 Plus
iPhone SE (2016)
iPhone 6S iPhone 6S Plus
iPod touch (7th generation)
That's quite a lot of devices when you consider that iPhone 6s was published in 2015. Other manufacturers can really learn from this.
These iPads receive iPadOS 14
As with the iPhones, many supported tablets from Apple are included with iPadOS 14. Again, all models with iPadOS 13 also run with the new version. About will be at the iPad Pros the same all models supported. The detailed list is below:
iPad Pro 12,9 inch (1st & 2nd & 3rd & 4th generation)
iPad Pro 11 inch (1st & 2nd generation)
iPad Pro 10,5 inch
iPad Pro 9,7 inch
iPad (5th & 6th & 7th generation)
iPad mini (5th generation)
iPad mini 4
iPad Air (3rd generation)
iPad Air 2
These Apple Watches get watchOS 7
The list of supported Apple Watches looks a little shorter. There are only three models on board that receive the update to watchOS 7. Unfortunately, the Apple Watch Series 2 and Series 1 are completely phased out, both models have received watchOS 6 before that.
Apple Watch Series 5
Apple Watch Series 4
Apple Watch Series 3
These MacBooks, Macs, and iMacs get macOS 11 Big Sur
While the list of watches looks a bit meager, the desktops and laptops offer pretty good software support. Only the models older than 2013 are now out - otherwise all models are supported without exception. We also list all models here again:
MacBook Pro (from 2013)
MacBook Air (from 2013)
MacBook (from 2015)
Mac Mini (from 2014)
iMac (from 2014)
iMac Pro (all types)
Mac Pro (from 2013)
These Apple TVs get tvOS 14
For Apple TVs, Apple has not yet released any exact information on availability. We will of course add these here as soon as possible. You can assume that all models from the last three years will definitely receive the update, but whether this is really the case can currently only be speculated.
Recommendations for you