>> Test the latest technology and much more: apply to us! <
Aiways U5 review: Big car for little money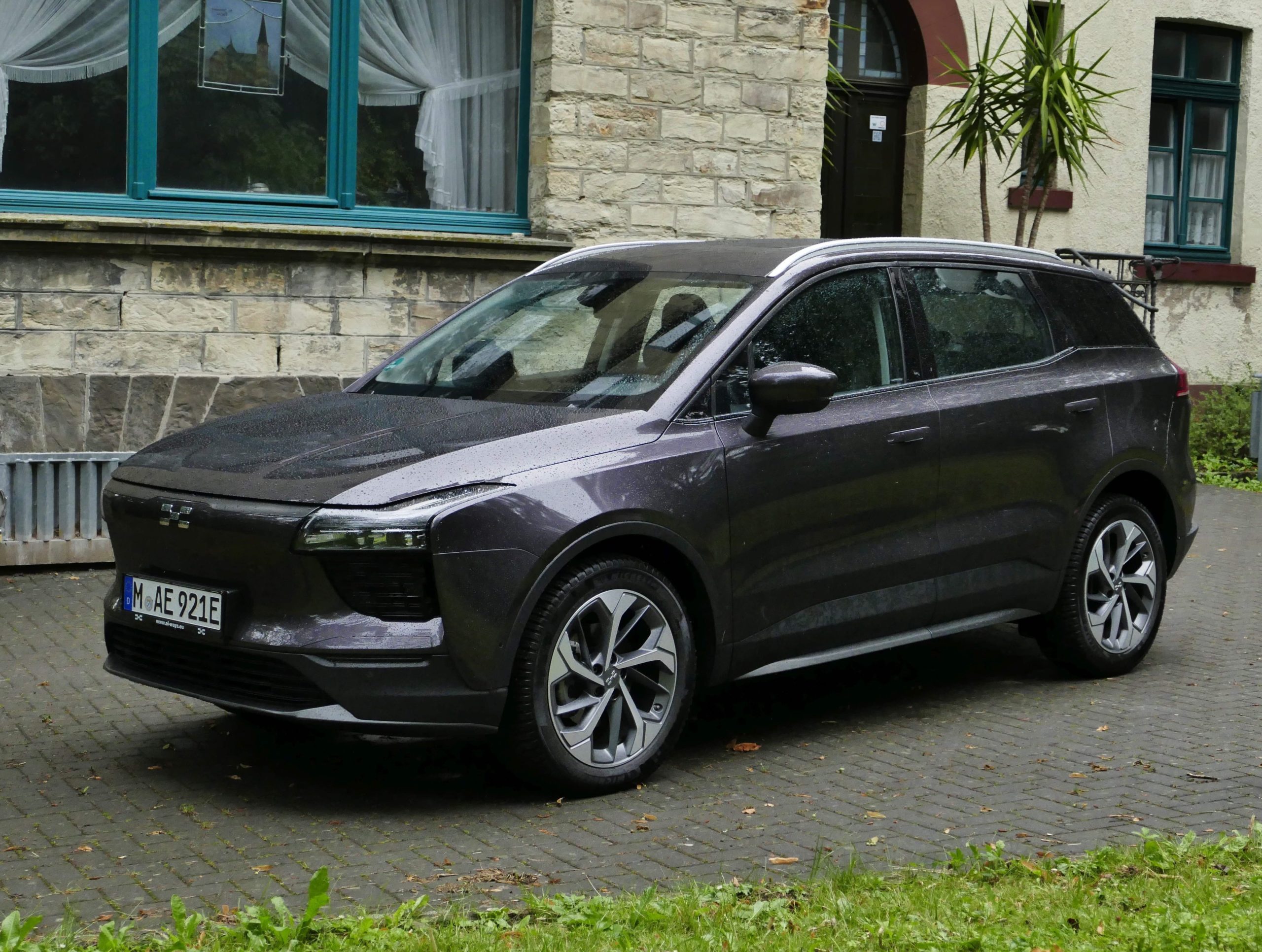 (Featured image: © 2022 Alexander Karwig for TechnikNews)
Aiways, this name is probably not yet known on the German car market. This company released their first car, the Aiways U5, for sale with us after just three years. We were allowed to test the car for you.
We were able to test the Aiways U5 SUV in everyday life for ten days. In this test report you can find out what we particularly liked and what wasn't so good. We had the U5 in the Prime version.
Design: Modern SUV
If you look at the U5, you'll notice that it doesn't actually look that "unusual" at all. Only the design of the front attracts one or the other glance. The rear is largely unspectacular except for the continuous rear light. This one stands out from the crowd.
Light sight
There is only one option for the lights: full-fledged LED headlights. Sure, you can expect that for around 43.000 euros. The headlights are "bent" around the corners at the front for a classy look. The Aiways U5 also provides good illumination at night.
Unfortunately, the U5 does not have an automatic high beam. At least our headlights never dimmed when oncoming traffic was coming.
The light control is controlled via the left indicator lever, which is not particularly difficult to operate. For flashing, the turn signal lever is set a little hard, you have to press a little harder. But it still worked very reliably in our test.
Interior: Modern interior to German standards
If you are in the interior of the U5, you will find a really good build quality. Here, Aiways can definitely keep up with traditional German manufacturers, without a doubt. The screens are high definition and get bright enough. We'll come to the subject of software later. But in terms of "look & feel", Aiways U5 is definitely on par with cars that cost significantly more. A few words about the driver information display, or rather the displays, because we have three of them. Unfortunately, the display on the right only shows the current media source. On the left you can at least switch through different views.
The seats are made of artificial leather and are available in black or beige. I personally would prefer the black ones. You sit very comfortably in the U5. Incidentally, there is a lot of legroom and space in the rear. It was done right here and there was no central tunnel from the old days with combustion engines. The head and neck rests of the front seats are still relatively comfortable for people who are 1,80 meters tall. But for taller people, this can become uncomfortable in the long run.
Furthermore, Aiways relies on four electric door handles and an electric trunk lid for the U5. This can be opened either by foot or by key. Of course, there is also a button under the flap. For the price, these are features that cost extra from other manufacturers. In the basic version of the U5, however, the trunk lid can be opened manually.
Driving experience: Sporty on the go
The U5 can definitely be driven in a sporty way, as it weighs just 1,7 tons. This is an extremely good value for an electric SUV in this class. You can also drive it sparingly. Unfortunately, the hoped-for advantage of the lower weight does not materialize. It still drives quite well on normal roads. The suspension is okay, but I don't expect miracles here either.
Assistance systems in the U5: BMW wants its name back
That's right, Aiways calls the combination of spacers, adaptive cruise control and lane departure warning "iDrive". This name should be familiar to BMW fans, because that's actually the name of BMW's infotainment controller system. Already for some years. But apparently there is no copyright on this name (otherwise Apple would certainly have secured it by now).
Apart from the name, the systems work quite adequately. The spacer acts at many different levels of spacing. But he brakes a bit too hard when someone pulls in from another lane in front of the U5. Sure, safety comes first, but braking could still be a little softer. Incidentally, cars are recognized very quickly, almost too quickly. Unfortunately, parked cars are also classified as "moving" by the system, which means that the U5 also brakes when cars are parked. Perhaps this can also be improved via OTA.
Yes, you heard that right, the U5 can receive OTAs. Well, in today's world maybe not a big specialty anymore. But at least it's good that this is possible.
On the other hand, I am very satisfied with the cruise control and lane departure warning system. However, the lane departure warning system with narrow lanes has its advantages Probleme and does not recognize them at all. Everything works smoothly on wider roads with clearly visible markings.
Infotainment: Unfortunately not so good
Unfortunately, one of the biggest criticisms of the U5 is the infotainment system. And this is not about the fact that Aiways does not offer an integrated navigation system with loading route planning. Rather, the speed and inertia of the system is the big thing Prostated problems.
The radio still works best, although DAB+ is not even usable. The system usually only reacts to the respective setting after the second press. You could overlook all this, since Apple CarPlay is available via cable. But this also jerks very strongly and runs with what feels like 15 frames pro seconds. This is definitely not a good user experience. Incidentally, Android users are left in the dark because there is no support for Android Auto. This should probably be submitted later in the new model year - at least something. But should this then run just as jerky and unstable, that would be another no-go.
In summary, one can say that Aiways absolutely has to do something with its software and infotainment hardware. The hardware is definitely limited here. And a slightly more up-to-date interface (in terms of design) would also be nice.
App: Android & iOS available
There is an Aiways app for the U5, which lets you control some vehicle functions. Unfortunately, we couldn't turn off the app in our testprobeer Since the U5 has an LTE-capable eSIM, the connection should actually work well.
Range in practice
Aiways gives the U5 a WLTP range of 400 kilometers. Quite tolerable for the price. Realistically, you can get around 340 to 360 kilometers without a freeway. You should look for a charging station after 200 kilometers to 250 kilometers on the motorway, provided you drive the recommended speed of 130 kilometers pro Lesson.
Loading Speed: Could be faster
Aiways promises a charging capacity of 90 kilowatts, which is also achieved. However, the car levels off relatively quickly at 50 kilowatts to 60 kilowatts. A charging curve with 120 kilowatts to 130 kilowatts would have been a little better here. While we're on the subject of charging: The CCS connection is rotated and placed at the front under the right headlight. You can clearly see that the U5 in China is delivered with a CHAdeMO connection, because it can be a bit difficult to twist a thick CCS cable on the fast charger until it fits in.
Front loaders or nose loaders are not a bad idea per se. But the sideways rotated CCS connector is definitely not a good solution. Hopefully this will be different with the successor U6.
My conclusion to the Aiways U5
After a relatively short development period, Aiways has already brought its first car to the European market as a newcomer. From the quality and equipment point of view there is not much to criticize. But when it comes to the increasingly important point of software, you realize that they didn't have much time to build a good system. Hopefully the upcoming facelift will be a little better there. If DAB + works smoothly, you can use it quite ok in everyday life. Don't expect a smooth system like the Tesla, but at least the infotainment should be on par with other manufacturers in the price segment. And Android Auto should of course be included by default.
If you are looking for a good electric car to drive and can ignore the software defects, you will find a really great electric car in the Aiways U5. There is still another negative point: the electric trunk opens a little too low. You hit your head with a height of 1,80 meters.
Thanks to Aiways Germany for providing the U5 for this review.
Recommendations for you