>> Test the latest technology and much more: apply to us! <
Asus ROG Zephyrus M16 (2021) in review: A classic gaming laptop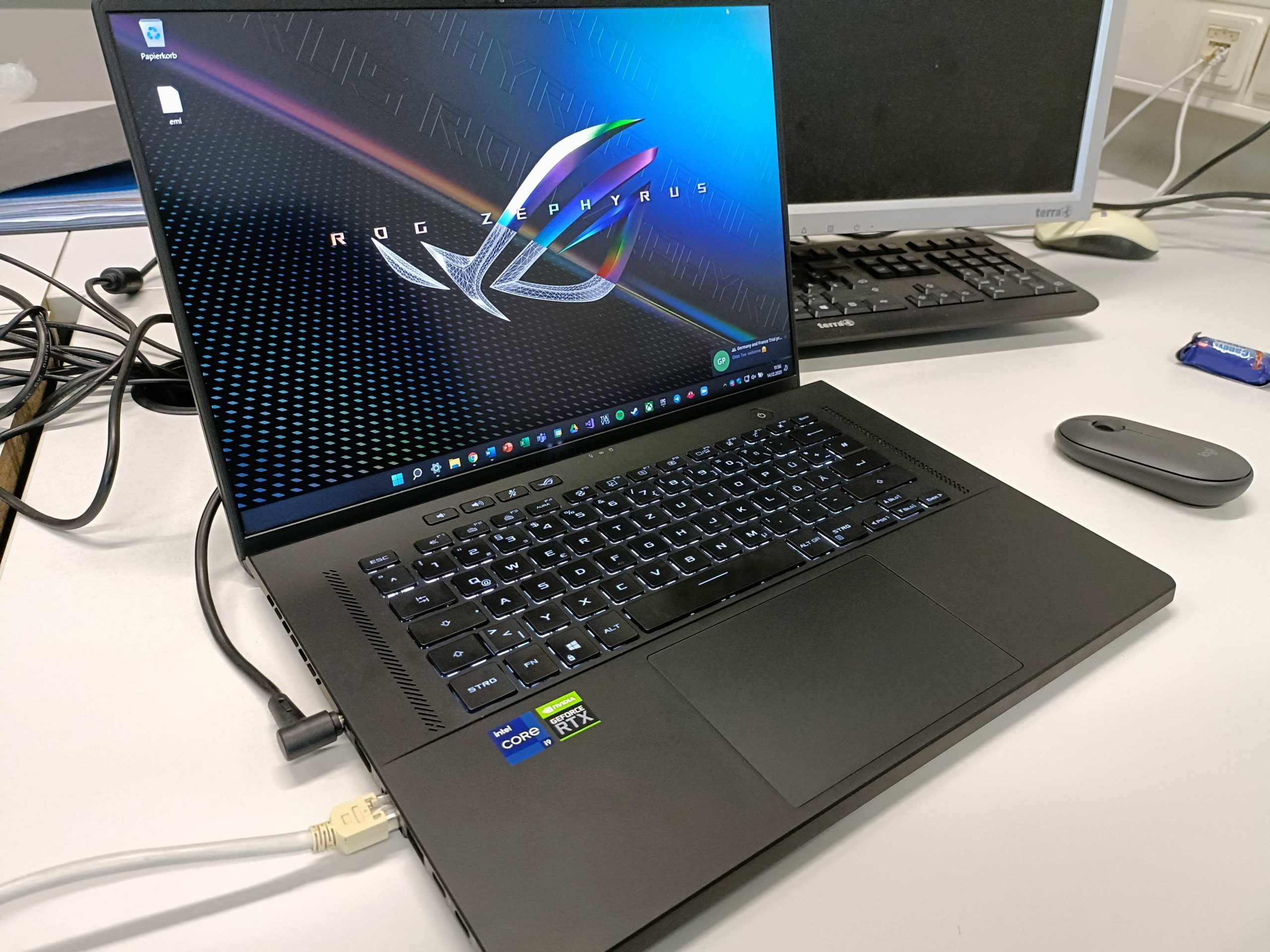 (Post picture: © 2022 TechnikNews)
ROG or also Republic of Gamers is the gaming division of Asus. This is where gaming accessories and hardware are sold. This also includes the Asus ROG Zephyrus M16 (2021). What can this one do? We tested that!
Technical data
First we come to the technical data, these refer to my test device.
Operating system
Windows 10 Pro

(Update to Windows 11 possible)

Proprocessor
Intel® Core ™ i9-11900H Processor 2.5 GHz (24M cache, up to 4.9 GHz, 8 cores)
graphic card
NVIDIA® GeForce RTX™ 3070 Laptop GPU
Display
RAM (working memory)
16GB DDR4 onboard
storage
2TB M.2 NVMe™ PCIe® 4.0 SSD
I / O

1x 3.5mm combo audio jack

1x USB 3.2 Gen 2 Type-C, supports DisplayPort™ and "Power Delivery"

1x Thunderbolt™ 4, supports DisplayPort™ and "Power Delivery"

Keyboard
With white LED lighting
High-end performance
With an RTX 3070 and an i9ProOf course, this is not an eleventh generation processor Proproblem No matter which ProGram or game, the ROG M16 easily cut through whatever I ran on it.
Of course, the ROG M16 is in a completely different class than that ZenBook 13OLED, which I tested last. But that's not a big one Proproblem if you can get warm with loud fans and another point of criticism. The ROG M16 spins relatively high when running a current game title. The highest fan level is intended more for headphone users with noise canceling. Performance must be well cooled. It also got correspondingly warm, despite powerful cooling.
But these are the cons of all gaming laptops. One disadvantage that I personally found a little annoying was the contact surface for the palms of the hands. In gaming, for example, you can sweat quickly in intense matches. And the rubber-like surface of the ROG M16 is not exactly resistant to and then shines strangely in the light. Here I would have found another material, which is less susceptible, better.
Battery life, display and speakers
This performance also requires quite a bit of power. Therefore, you won't be able to avoid the socket under load with a current game. For example, I was able to play Just Cause 4 in full resolution for a good two hours. That's "still" okay. But since this is more of a "desktop replacement" device, you can get over this.
Not much can be said about the display, it is an LCD display in 16:10 with 165 Hertz and a WQXGA resolution. No OLED, but that doesn't have to be the case. After all, a gaming laptop is all about responsiveness.
I wasn't expecting much from the speakers. But despite all that, they didn't sound bad, at most a little quiet. But you could hear everything loud and clear. A good standard I would call this.
Conclusion after four weeks of intensive use
As already mentioned, almost every modern game runs on the ROG M16 without any loss of performance. The only points I had to complain about are the fan noise and the "weird" choice of surface for resting the palms of the hands. It is currently still competing with the best gaming laptops in 2022. Can I use the ROG M16 now, if you can overlook the smaller criticisms, without further ado Prorecommend problems? Not quite, because there is still the price. Asus would like to have almost 3000 euros for the ROG M16 in the top configuration that I tested here. That's a lot of money, of course, but you also get top equipment that should be among the best for several years. Incidentally, there is already a version for 2022, which actually only differs in the Prozessor, one of the twelfth generation from Intel.
Asus ROG Zephyrus M16 (2021): Availability
Recommendations for you