>> Test the latest technology and much more: apply to us! <
Asus VivoBook Pro 14X OLED review: A new era for the VivoBook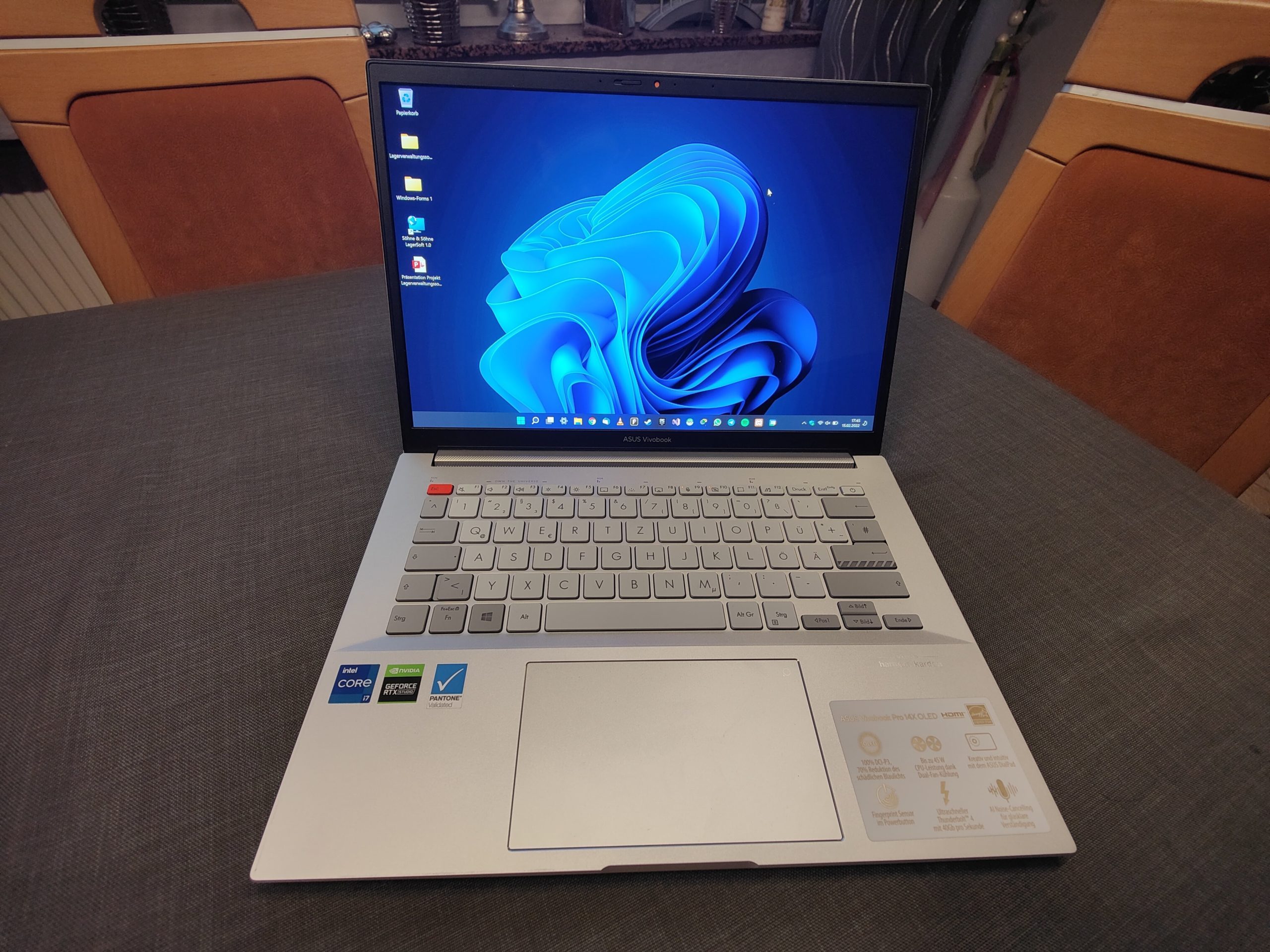 (Post picture: © 2022 TechnikNews)
When people think of Asus' VivoBooks, they usually picture entry-level or mid-range laptops. With the new VivoBook Pro However, Asus would like to enter the high-end range of devices. We have the Asus VivoBook Pro 14X OLED tested for you.
As the name suggests, no savings are made here: A 14-inch (approx. 36 cm) OLED is used as the display, the design looks very high-quality and a special keyboard design and logo are intended to set the new VivoBooks apart from the crowd.
Inside the VivoBook Pro 14X OLED works an Intel Core i7 i7-11370H. This has four cores with up to 4.8 GHz. In the test period, this proved to be very performant. There were no jerks, everything is jagged without major Proproblems executed. In my case, a 512 GB NVMe PCie 3.0 Express SSD was installed. The model is also available in a 1 TB version, which even has 32 GB of Intel Optane memory installed.
When it comes to RAM, you get 16 GB of LPDDR4 soldered in, which unfortunately cannot be expanded.
Graphics: Intel and Nvidia RTX in a combo package
For the graphics, the Intel Iris Plus and an Nvidia RTX 3050 with Studio drivers are used in my test model. The latter is automatically switched on for graphically demanding applications. The Nvidia RTX has 4 GB GDDR6 graphics memory available, which can be used for light Full HD gaming.
The Nvidia Studio drivers should probably differ from the normal gaming drivers in the application. In detail you can get the information directly from Nvidia here ...
I/O ports: Large selection
Many laptops these days are missing some important ports. Asus, on the other hand, has some in the new VivoBook, even some that I personally didn't expect.
On the right, on the other hand, the variety of connections really comes into its own. (Image: TechnikNews)
On the right side of the VivoBook Pro 14X OLED we find an HDMI 1.4 port, a Thunderbolt 4 Type-C for power supply and data transmission.
There is also space on the right side for a DC-in port and a 3,5 mm jack connection. Asus has also thought of a micro SD card reader.
Asus definitely offers a good selection of ports here. However, I would have preferred to see two of the 2.0 standard instead of the two USB 3.1 ports.
Keyboard and touchpad: special design
Asus wants to set its VivoBook apart from the crowd with a rather unusual design. While the ESC button comes in bright orange, the rest is colored white and gray. The keys have a key travel of 1,35 mm. You can also write longer texts (like this test report) on the device without regretting it.
An LED backlight is also on board. The touchpad is very well done. It's a good size and of course supports multi-touch. Asus has also built something special into your touchpad. While the ZenBooks let you light up a number pad, here you get a kind of wheel when you swipe down from the top right corner. This allows you to adjust the brightness or volume, for example.
Audio: Harman Kardon delivers rich sound
Of course, you can't expect the deepest bass from a relatively thin laptop. However, it already has Asus ZenBook 13 OLED proved that Asus can get very good sound in small laptops with the help of Harman Kardon. It is very detailed and delivers a good average volume. (I think it could have been a little louder)
Display: Never again without OLED
Personally, I wouldn't buy a laptop without an OLED display again. Since the cheaper VivoBooks now also have a very good OLED, I see no reason to rely on LCD. Also with the VivoBook Pro A high-quality and very sharp 2.7 K OLED panel with a smooth 90 Hz refresh rate is used, which can become very bright.
Battery: Long runtimes are guaranteed
Asus scored well with me when it came to the battery. I always managed a good 13 to 14 hours with normal use in everyday life, which are really good values. Asus doesn't have too much versprochan.
My conclusion
Finally, we come to the conclusion. Can I give you the VivoBook Pro Recommend 14X OLED? Yes, and without any major negative points in terms of hardware, but the price of 1.499 euros (RRP) is unfortunately extremely high. You can get the Asus ZenBooks in this price range. However, I don't see a major hardware difference between these two classes of devices. The design is more likely, so in the end you have to decide for yourself which device you like better in terms of looks. At least I liked it relatively well in everyday life.
We would like to thank Asus Germany for providing the VivoBook Pro 14X OLED!
Asus VivoBook Pro Buy 14X OLED
Recommendations for you