Asus ZenBook 13 OLED review: OLED laptop for less than 1.000 euros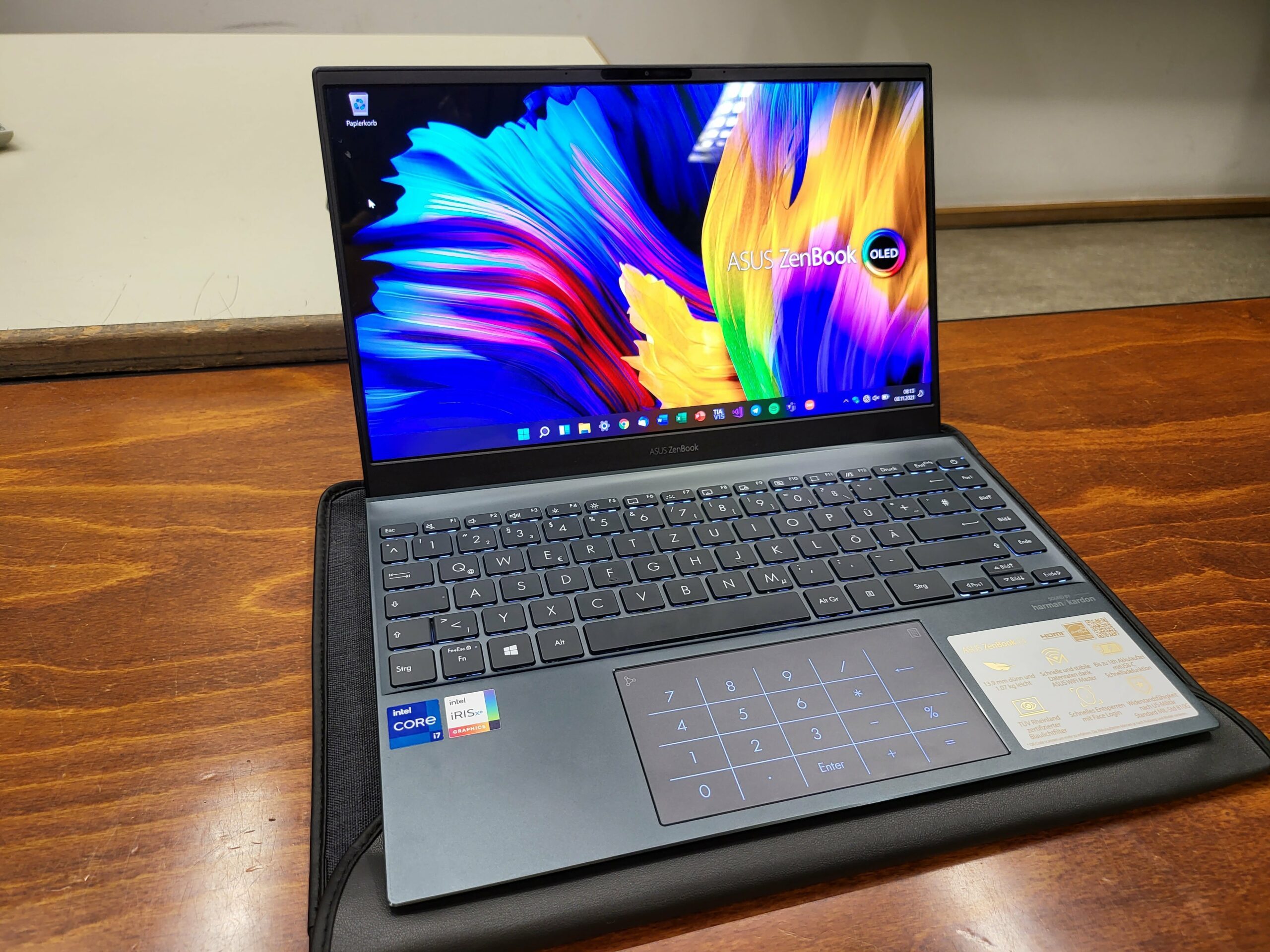 (Post picture: © 2021 TechnikNews)
OLED. What is actually standard on smartphones has only been around for a few years in the laptop sector. In this review, I'll show you what the Asus ZenBook 13 OLED can do.
I have that in daily use ZenBook 13OLED Thoroughly tested to give you a good insight into the 13 inch (approx. 33 cm) OLED notebook.
Technical data
Let's start with the equipment of my test device:
CPU (Proprocessor)
Intel® Core i7-1165G7
GPU (graphics card)
Intel Iris Xᵉ Graphics
RAM (working memory)
32 GB LPDDR4X
screen
13,3 inches, FHD (1920 x 1080) OLED 16: 9
Keyboard
Backlit chiclet keyboard / 1,4 mm key travel
storage
512 GB M.2 NVMe ™ PCIe® SSD with 32 GB Intel® Optane ™ memory
Connections (I / O)
1 x USB 3.2 Generation 1 Type A

2x Thunderbolt ™ 4

1x HDMI 2.0b

Micro SD card reader

Camera
HD camera with IR function (With Windows Hello Secure Face Unlock)
Operating system (OS)
Windows 10 Pro (Update to Windows 11 as soon as available)
connectivity
Bluetooth 5.0 dual band, WiFi 6
What's in the box
In addition to the notebook, the Asus ZenBook 13 OLED comes with a fabric cover with a magnetic closure. Like the 65W fast charging power supply based on USB Type-C.
I especially like the supplied case. As a side dish, it is definitely very commendable. Oh yes, don't forget, Asus also includes a Type-C to Ethernet adapter and a Type-C to jack (3,5 mm) adapter.
Can Intel catch up with the 11th generation?
Asus either installs an 11th generation Intel chip (either i5 or i7) in the ZenBook 13 OLED. But there is also a Ryzen version of the same device. Here a Ryzen 5 or Ryzen 7 is used (each of the 5000 series).
It should be clear to many that AMD is the better choice in the laptop sector (apart from Apple). Nevertheless, the Intel i7 of the 11th generation can completely convince in my test: It flies through all possible standard applications without Probleme (as expected). Also more intense Proprograms like video editing in 4K or a few (older) PC games like GTA 5 on the highest settings. Everything is going as expected, even a little better. Thanks to the Intel Iris Xe graphics unit (which is a lot better than the standard Intel UHD graphics units), you can also play a few modern games on medium settings.
However, it should be said that the ZenBook series is primarily intended for everyday use in business life. And that does it more than satisfactorily. Windows Hello works - lightning fast. And, in my opinion, it should be a standard feature in every laptop over 500 euros (Apple can also learn a thing or two here). The ZenBook 13 OLED never got really hot in my tests. This is probably due to the Asus ErgoLift design. This lifts the laptop slightly when it is opened to provide better cooling.
Battery life
One thing can be said about the battery: it is better than I expected. With standard tasks such as Office and Co., it can easily last 15 hours or more. With more demanding tasks, such as video editing, it logically ends earlier. Charging is very fast thanks to 65W and with Type-C, as it should be.
the display
In short, it's just great. OLED as you know it, real black. Very bright with over 400 nits. Colors very realistic. Asus also installs a blue light filter here to protect the eyes. HDR is also supported. Films and videos look terrific. Here, too, you only get a 1080p resolution, but that's perfectly adequate on a 13 inch display. By the way, the edges of the screen are very thin, which is another plus point.
Asus delivers a top OLED display, which you will enjoy for a long time. You just have to see it in reality. Pantone validated (Company that performs color reproduction tests) is too. Support from DCI-P3 color space to 100 Procent is of course also included.
Asus NumberPad
Something has crept into the well-made touchpad, which has solid pressure points. A full-fledged number block becomes visible on the pad via a touch button in the upper right corner of the pad. I thought a nice gimmick - in everyday life when typing numbers, not a bad idea. And it works very well too. In addition, the brightness of this LED number pad can be set to 2 levels or completely deactivated.
Loudspeaker powered by Harman Kardon
With his audio know-how, Harman Kardon ensures the very good, full sound of the ZenBook 13 OLED. With this size (and especially the thickness of the notebook), I would have expected semi-good speakers. But I was pleasantly surprised. The heights are very well matched. Furthermore, the depths are very full for a laptop of this size (of course don't expect a subwoofer bass now).
Summary
After about four weeks of use, can I only list positive things in everyday life with the ZenBook 13 OLED? Or is there something that bothered me about the notebook? On the whole: no, not really. It delivers wonderful performance without any loss of performance. It remains comparatively cool. The built-in speakers are also very good (for the size).
Asus has done a very good job here. But no less important: the price. My tested version costs 1.299 euros in its RRP. Currently (probably still on Black Friday The version I tested (however with 16 GB RAM instead of 32 GB) is available in the Asus online shop for 999 euros. That is a very fair price. For what is offered here, you get less from the competition in terms of display and other performance.
Buy Asus ZenBook 13 OLED
Recommendations for you