>> Test the latest technology and much more: apply to us! <
ASUS ZenBook 14 Duo (2020) review: Is the second display worth it?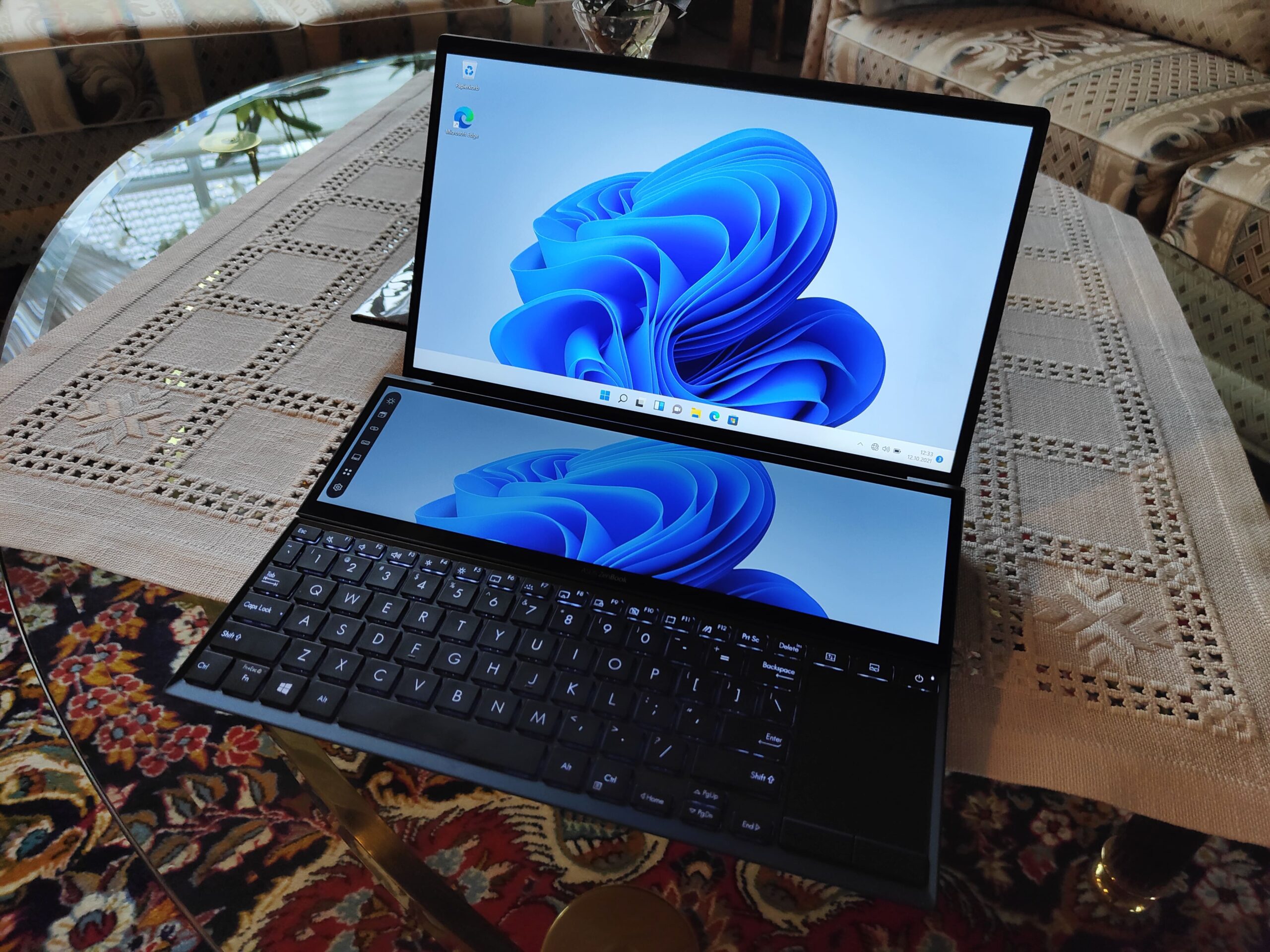 (Post picture: © 2021 TechnikNews)
Two displays in one notebook? What sounds pretty much impossible, ASUS makes possible. How well this works with the ZenBook 14 Duo, I'll tell you in my review.
ASUS is experimenting more and more with new, futuristic notebook designs. The Asus Screenpad + is also used in the ZenBook 14 Duo (2020). This time it even stands out from the notebook chassis when you open it.
What's in the box
Asus ZenBook 14 Duo
Laptop sleeve with magnetic closure
Asus stylus pen
Stand for the laptop
65W USB PD Type-C charger
The scope of delivery is impressive, we even get a stylus here. The case is also of very good quality.
Technical data
Intel Core i7-1165G7 Proprocessor
Intel Iris Xe Graphics
14 inch (approx. 36 cm) main display with full HD resolution
ScreenPad Plus (12,65 ″ 1920 x 515 IPS-Level Panel Support Stylus)
16 GB or 32 GB RAM LPDDR4X depending on the configuration
512 GB or 1 TB M.2 NVMe PCIe SSD
HD webcam with Windows Hello infrared detection
Chiclet keyboard with LED backlight
Harman Kardon sound system
70Wh battery
Type C 65W PD Easy Charge
The Asus ZenBook 14 Duo is very well equipped. In my case, I had the version with 1 TB of internal storage and 32 GB of RAM. So the "high end" model, if you want to call it that.
In everyday life I have done various activities with the ZenBook 14 Duo. Due to the fast SSD, as well as the i7Pro11th Gen processor, these were (as expected) a no brainer for the ZenBook. Among other things, home office with Microsoft Teams, as well as a little gaming via the Epic Games Launcher. There was no WiFi Probleme, nor other crashes during my test period. Everything went as it should. The second display is easily recognized as a second monitor under Windows. All presentation functions (mirroring, extending, showing only on one display) are here proeasily possible.
Both displays are touchscreens, so you can theoretically use the included stylus on both. In my opinion, however, it makes the most sense on the ScreenPad +.
The software that came with me was Windows 10 as the operating system and (surprisingly) only one Proprogram called "MyAsus". This software makes it possible to get current driver updates for your Asus notebook. Fan speed, battery mode and much more can also be configured here.
As an aside, it should be mentioned that I was offered Windows 5 during the test on October 11th. I installed this right away. And what should I say? It feels like it's going even better than before.
Implementation of the ScreenPad + better than expected
An integrated software panel, which can be freely arranged on the ScreenPad +, can be used to trigger various functions. Among other things, organize windows, open apps in fixed locations and more. The ScreenPad + was a great help to me in everyday life. Even if I was a bit skeptical at first whether a second display really made sense. It might not do that for one or the other, but it was an extraordinary experience for me. ASUS mentions video editing and image editing with Adobe Photoshop as other use cases for the ScreenPad +.
Keyboard and touchpad: getting used to it is necessary
If you look at the ZenBook 14 Duo, you will immediately notice that the keyboard and mouse have slid down. The mouse has even slid to the left so as not to break the compact dimensions. I can only say about the keyboard that it has a good pressure point and that you can type well with it. It feels high quality, just as it should be for a high-end notebook. The touchpad or the mouse, on the other hand, takes a lot of getting used to if you were used to a normal central design. After a bit of getting used to, this worked for me without any major hurdles.
Connections and speakers
Here you can see the left side, where most of the ports are located. We have a full-fledged HDMI port, two USB Type-C Thunderbolt ports (so data, power, images and a lot more can be output via both Type-C ports). The only thing missing from the variety is actually one LAN socket, which, however, had to give way due to the thin design. On the right side there is still a full-fledged USB-A 3.1 port.
As for the speakers, I can only say that they are surprisingly good. ASUS has bought expertise from Harman Kardon here. This is immediately noticeable, because the sound is full and nothing tinny even at the highest level. Highs are good, lows (for a notebook) are very good.
The picture also shows the stand that ASUS has supplied with the ZenBook 14 Duo. This erects the notebook vertically so that both screens can be read better. The ScreenPad + tilts upwards as soon as the ZenBook is opened.
Summary
In the configuration that I was allowed to test, the ZenBook 14 Duo costs an MSRP of 1.799 euros. This is a lot of money, but you still get top equipment and excellent workmanship. In addition, an almost full, second display. And a bright main display. The hardware like CPU and 32 GB of RAM do the rest to make it a very fast work device. But there are likely to be many who prefer a traditional laptop. Either because the second display is too daring experiment for some, or because they only need one display. I therefore recommend the ZenBook 14 Duo (2020) to those who are keen to experiment and see video editing and image processing as the main argument for the useful second display.
Recommendations for you